2012 Vezina Race: Why Henrik Lundqvist Should Win It over Jonathan Quick
April 5, 2012

When it comes to the Vezina Trophy this past season, it has largely been a two-horse race between a pair of goalies: the New York Rangers' Henrik Lundqvist and the Los Angeles Kings' Jonathan Quick.
Let me start by saying that both are extremely deserving.
They have both played more than 60 games, both have a save percentage above .930, a goals-against average under 2.00, and at least 35 wins.
To only award one of them the trophy would be a huge disservice to the other goaltender, considering both are putting up record breaking numbers—no goalie has ever put up over a .930 save percentage or a sub-2.00 goals-against average playing over 60 games in a single season.
Now, much has been made the last week on how Quick has caught up to Lundqvist and, in some cases, has passed him for the award, despite Lundqvist being a virtual lock all season.
I wouldn't say those making the case for Quick are necessarily wrong, but there is more to it than just "East Coast bias" when it comes to Lundqvist, which is absurd, considering 30 general managers vote on the Vezina anyway.
The Kings' own beat writer from the Los Angeles Times, Helene Elliott, gave Lundqvist the Vezina in an article this past week, much to the dismay of Kings' fans, considering their unfavorable opinion of her anyway. Still, I highly doubt thats any reason to not take her pick seriously nonetheless.
Lets look at each goaltenders' respective stats as of April 5:
Lundqvist has 39 wins, a .9314 save percentage, a 1.93 goals-against average and eight shutouts in 61 games.  
Quick has 35 wins, a .9309 save percentage, a 1.89 goals-against average, and 10 shutouts in 67 games.
Despite the Rangers being among the best teams in shot-blocking, the Kings still average fewer shots against and are still a stout defensive team themselves. Quick averages 27 saves a game while Lundqvist averages 28.
Sure, the different is slight, but then consider that if Lundqvist were to match Quick's number of games played at 67, current pace suggests he would have 98 more shots against. Quick has 1,809 saves in 67 games. Lundqvist would have 1,907 saves in 67 games.
Considering Lundqvist has 39 wins in 61 games, he also has the higher win percentage.
Most would attribute this to him being on such a good team, but really, is Lundqvist not the major reason for the team's success this season?
You'd be hardpressed to find any Ranger fan willing to give any other player on the team (and there are a few that are worthy) the team MVP award. Frankly, he is the main cog and backbone of this team, and has been since the Jagr Era ended.
Now, looking at save percentage, Lundqvist has the edge there as well, and some might say save percentage is the best individual indicator of goalie performance.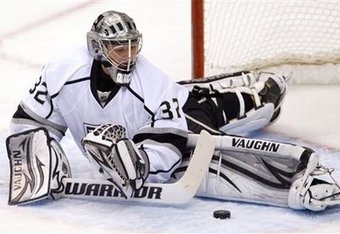 Of course, detractors cite shot quality as a possible reason it isn't, but like all individual goalie statistics, a case can be made that they're all team-influenced too.
Now, Quick has the edge in goals-against average (1.89) and shutouts (10). So, what we can see here is that out of the four main goalie statistics, the advantages are split between the two.
Quick won't catch up to Lundqvist in wins, but Lundqvist wont catch up to Quick in shutouts. There is a chance, though, that Quick could finish with a higher save percentage and Lundqvist with a lower goals-against average.
So, as I've been saying, it's ridiculously close.
With an award race so close, one must turn to variables to determine a winner.
Lundqvist gets the obvious edge here in quality of opponents, considering he plays in arguably the toughest division in the league—three of the top five teams in league points are from the Atlantic Division.
As of right now, no Pacific Division team has even clinched a playoff berth. Lundqvist faces teams like Pittsburgh, Philadelphia, New Jersey, Boston, Washington and Ottawa on a regular basis. These are the first, third, 12th, second, 16th, and fourth-best offenses in the league, respectively.
Sure, Washington is 16th, but I shouldn't have to mention the firepower on the team regardless.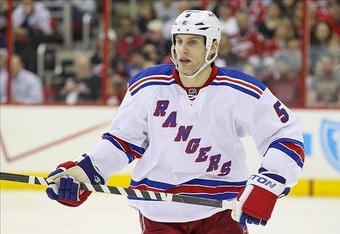 Eight of the top 10 points leaders are also from the East, and 20 of the top 30. He has shut out teams like Vancouver, Boston and Philadelphia this season, facing 30-40 shots in each game—absolutely dominant goaltending against the top teams in the league.
Quick doesn't play these teams nearly as much as Lundqvist does.
Lundqvist also played behind a banged-up blueline for the first half of the season, something I would be willing to bet most have forgotten about. The Rangers' No. 1 defenseman coming into this season was Marc Staal, and he was out with concussion symptoms until the Winter Classic, missing the entire first half of the season.
Michael Sauer was considered by most Ranger fans to be the third or fourth defenseman on the team, especially with how admirably he played last season. He has only played 19 games and has been out with a concussion since Dec. 6.
Lundqvist was sporting an over-.940 save percentage and a sub-2.00 goals-against average at the halfway point of the season, when the Rangers' blueline consisted of Dan Girardi, Ryan McDonagh, Michael Del Zotto, Steve Eminger, Jeff Woywitka, Anton Stralman and Stu Bickel.
Let's run through these names:
Girardi has 440 games under his belt in his career, and, up to this point, was the only true veteran and top defensemen they had with the absence of Staal.
McDonagh had only played 40 NHL games.
Del Zotto had 127 games of NHL experience and was demoted to the AHL last season after an abysmal start.
Eminger is a sixth or seventh defenseman, at best, on most teams.
Stralman was passed over in training camp by New Jersey at the start of the season.
Woywitka was acquired through waivers and Bickel is a rookie with 49 NHL games of experience.
This has been Lundqvist's blueline for more than half of the season.
Now, you know why the Rangers paid so much attention to shot blocking and defense first.
People like to cite adversity for Quick deserving the Vezina, since the LA Kings offense is absolutely terrible, but he plays against a much weaker offensive conference than Lundqvist does and it seems most consideration is through petty votes because of lack of goal support. 
To put it frankly, Lundqvist has three Vezina nominations already and has been doing what Quick did this year for many years prior.
The argument always was how Lundqvist never gets the goal support. This is the one year he finally gets sufficient goal support to win, and it's now seen as a detriment.
Goalies should be rewarded for playing on good teams, not just bad teams. Lundqvist has had his share of the latter. He needs to be rewarded for his incredible goaltending this season.
Through 19 Atlantic Division match-ups, Lundqvist has posted a 14-5-0 record with an outstanding goals against average of 1.84 and save percentage of .936.
If we're going "quality of opponents," Quick is 9-8-1 against the Canucks, Red Wings, Predators, Blackhawks and Sharks. He's also been the lesser netminder on the road (2.17, .923) than Lundqvist (2.05, .934).
Quick also hasn't dealt with nearly as many distractions this season as Lundqvist, with all the HBO cameras and Winter Classic hoopla surrounding the team.
There is something more to be said for leading your team to first in the Eastern Conference and a potential President's Trophy than a potential playoff berth in a weaker division.
Come Saturday night, if the stats are still nearly identical, the edge has to go to Lundqvist, considering he faces much tougher competition on a regular basis and has played behind a banged-up, make-shift defense the entire season.