Fantasy Football 2012: 8 Players You Might Want to Reach for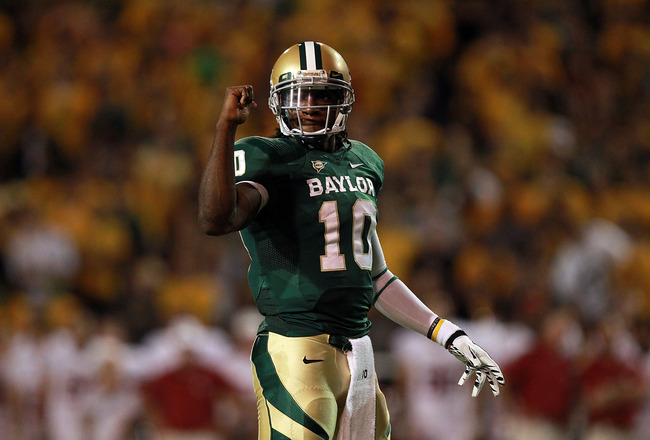 Ronald Martinez/Getty Images
Do you know the most important acronym in fantasy football?
It's ADP.
ADP stands for Average Draft Position, and it is one of the most critical weapons in a savvy fantasy owner's arsenal.
It's not enough to know who to take. At least as important is knowing when to take.
Armed with ADP, fantasy owners can avoid reaching for players that they could have gotten later in the draft. Getting value for your picks is quite powerful.
That said, this could be the first year I can remember playing fantasy football where you may want to consider reaching for someone. I define reaching as obtaining a player earlier than he should be taken.
Not everyone is worth reaching for. Incoming rookie tight end Coby Fleener will be all the rage in this year's fantasy drafts. I can guarantee you people will be reaching for him.
Yet history has shown that first-year tight ends never produce at stud-like levels.
Jimmy Graham had only 356 yards and five TDs in his first year. Antonio Gates managed only 389 yards and two TDs. Tony Gonzalez notched only 368 yards and two TDs. Even Rob Gronkowski got only 546 yards, though he did get 10 TDs.
Beware who you reach for.
That said, 2012 is shaping up to be a highly unconventional year, where I'm suggesting you may want to consider not only reaching for one player but perhaps more than one player.
Who might these reaches be?
Follow me on Twitter @RobTong21
QB Aaron Rodgers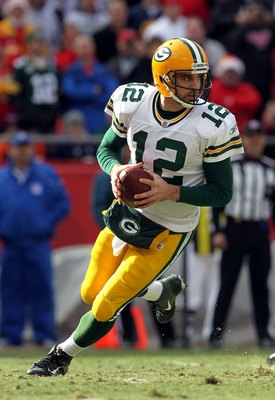 Jamie Squire/Getty Images
Even in the heyday of Kurt Warner's Greatest Show On Turf, few would consider taking Warner in the first round and nobody would even think of taking him No. 1 overall in fantasy drafts.
My, how times have changed.
Aaron Rodgers finished with a mind-boggling 32.5 FPPG average, an incredible 40 percent better than the No. 1 ranked fantasy quarterback in 2010.
And that was nearly double what the 12th-best fantasy quarterback could muster (which was 18.8 FPPG). That means in a typical 12-team fantasy league, Rodgers gave owners a big advantage at the quarterback position over most of your opponents.
And with young stars at Green Bay's passing skill positions, there doesn't appear to be any reason that Rodgers won't be in that 32.5 FPPG ballpark again next year.
Well, there actually is one possibility: if the Packers drafted a running back in one of the first two days of the NFL draft.
If the Packers make that kind of commitment to a running back, then they may pass the ball a shade less than last year.
But if that were the case, I still expect the Packers to be a pass-first team.
And even if Rodgers' average slipped to, say, 27.7 FPPG, that would still give you a big points advantage over most other starting fantasy quarterbacks.
You may want to reach for Rodgers come draft day.
QB Tom Brady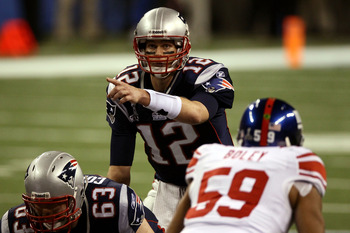 Win McNamee/Getty Images
If someone reaches for Rodgers early in the first round, here's a backup plan: Reach for Tom Brady.
Brady was no slouch, finishing with an amazing 27.7 FPPG average. Amazingly, Brady's third-ranked quarterback average in 2011 was higher than the No. 1-ranked fantasy quarterback in 2010 (which also was Brady).
Wes Welker is still presumed to return to the team. And with elite tight end Rob Gronkowski and newly added Brandon Lloyd to join standout tight end Aaron Hernandez, Brady has enough weapons to be assured of remaining a Top 3 fantasy quarterback.
The loss of running back BenJarvus Green-Ellis has little impact on Brady, as the Patriots were a pass-first team last year anyway, just as they are expected to be this year.
It's actually possible that Brady could top his 2011 fantasy average, as absurd as that may sound.
Reaching for the veteran Brady may not be a sexy draft pick, but you'll be far ahead of your fantasy opponents at the quarterback position for most weeks. And that's worth a reach in the first round.
QB Cam Newton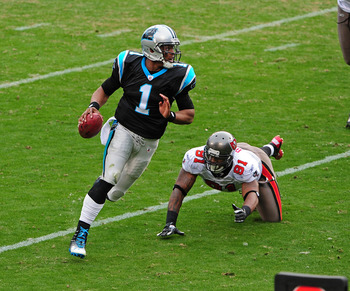 Scott Cunningham/Getty Images
What a difference a year makes.
Last year, Newton was a late-round draft pick.
This year, Newton could go as high as No. 1 overall.
While I'm not convinced Newton is worthy of being taken No. 1 overall, there's no question you might want to reach for him early in the first round.
Newton's biggest asset was his legs. In games where receiver Steve Smith couldn't get open, Newton still produced big numbers by running the ball.
Newton also has skills as a passer, so his ability to hit paydirt both passing and running the ball is what catapulted him to fantasy superstardom. And those abilities will make him worth reaching for early in the first round.
It's possible having a full offseason will allow Newton to truly develop his passing ability. But the Panthers won't really be able to capitalize on that unless they acquire another impact receiver. If Carolina does get a playmaker opposite Steve Smith, Newton certainly would be worthy of a reach as the No. 1 overall fantasy pick.
But even without adding a young star receiver, Newton's outlook to remain a fantasy stud remains bright and worth considering early in the first round.
QB Robert Griffin III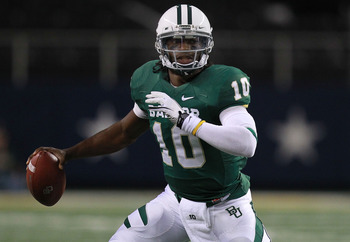 Ronald Martinez/Getty Images
Forgive fantasy owners if they look at Robert Griffin III and see Cam Newton II.
Like Newton, RG3 has the legs to torment opposing defenses on the ground. On days when defenses do a good job covering receivers, Griffin can still produce for fantasy with his rushing.
And like Newton, RG3 has high quality passing skills that can take advantage of open receivers. That combination of both arm and legs is what made Newton a reliable fantasy stud.
Newton has wide receiver Steve Smith, who had five 1,000-yard seasons prior to Newton's arrival.
Griffin—assuming he does land as expected in Washington—will have wide receiver Santana Moss, who had four 1,000-yard seasons prior to Griffin's arrival.
Another similarity between the two receivers: Smith and Moss are also both entering their 12th season in the league.
So the expectations are that Griffin will produce for fantasy like Newton did. And I think those expectations are valid.
Wherever Griffin lands in ADP—possibly as high as the fourth round—it's reasonable for you to consider reaching earlier to land Griffin.
QB Drew Brees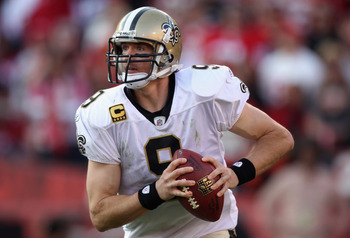 Jed Jacobsohn/Getty Images
Notice a trend?
This is the fourth—fourth!—quarterback you might want to reach for in the first round.
Truly unheard of in fantasy football until this year.
Brees may be impacted somewhat by head coach Sean Payton's yearlong suspension from the team for the Bountygate scandal.
Or it may have little impact.
Even without receiver Robert Meachem and guard Carl Nicks, the Saints return essentially the same run-and-gun offense and the interim head coach would be insane to not run that same style of offense.
Brees finished 2011 with a stunning 29.3 FPPG average, an 8.3 FPPG improvement over 2010.
Even more impressive, he was 10.6 FPPG better than the 12th-best starting fantasy quarterback. For perspective, that's like having an extra star RB on your team.
Compare that to 2010 when Brees was only 3.4 FPPG better than the 12th-best starting fantasy quarterback.
If you want to reach, Brees is worth considering.
RB Ryan Mathews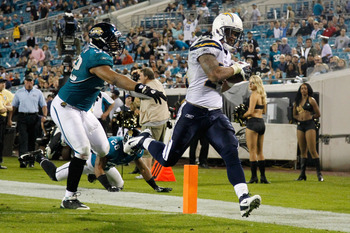 Mike Ehrmann/Getty Images
Thank you, Carolina.
For some reason, the Panthers added a third running back to their mix when they signed former Charger Mike Tolbert. Perhaps Carolina will trade Jonathan Stewart.
Whatever the case, Ryan Mathews isn't complaining. As the undisputed running back in San Diego with Tolbert's departure, Mathews gets a big bump in value.
One of the few featured backs in the league, Mathews won't have the first-round hype of fellow featured backs Arian Foster, Ray Rice, LeSean McCoy and Matt Forte.
But Mathews will still get some love on cheat sheets. And that means you'll need to reach a little if you want to get him.
WR A.J. Green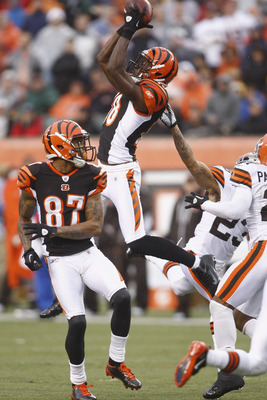 John Grieshop/Getty Images
As the 12th-best fantasy wideout in 2011, A.J. Green won't get the hype that wide receivers like Victor Cruz or Jordy Nelson will get in 2012.
But that doesn't mean Green won't produce as a borderline WR1.
The Bengals need an impact wide receiver from this month's draft to keep defenses from keying on Green. But even if they don't, Green will take a big step forward in his 10.7 FPPG production in 2011, much like how many of the recent top receivers make big strides in their second year.
So if you want to cash in on Green's ascent, you might need to reach in the third round for the guy who will likely be projected as a fourth-round pick.
TE Rob Gronkowski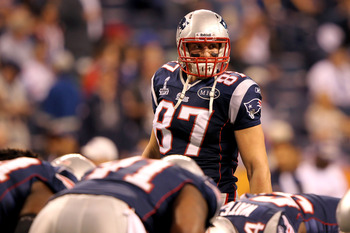 Jamie Squire/Getty Images
This will be the first year that more than one quarterback is likely to be taken in the first round.
Astounding.
Perhaps even more astounding is the likelihood that a tight end might also be taken in the first round.
Is Rob Gronkowski really worth considering a first-round reach for?
Gronkowski averaged 14.5 FPPG.
If he were a receiver, he would have finished second behind Calvin Johnson.
Gronkowski was 8.9 FPPG better than the 12th-best fantasy tight end.
To put that in perspective, in a 12-team league, that's like having an extra RB2 or WR2 on your fantasy team.
You might ask why compare Gronkowski to the worst starting tight end in a 12-team league. Good question.
Even when you compare Gronkowski to the third-best tight end—Tony Gonzalez—Gronkowski was still 5.9 FPPG better. Which is like having an extra WR3 or flex player on your team.
Other than Jimmy Graham, Gronkowski is so much better than all other fantasy tight ends, that he is indeed worth considering reaching for in the first round.
Keep Reading