Fantasy Baseball Sleepers 2012: Overshadowed Fantasy Secrets
April 5, 2012

Christian Petersen/Getty Images
In fantasy baseball, as in real life MLB, it's all too easy for high-quality players to be overshadowed by superstar teammates. 
A strange fact of life on the diamond, to be sure. After all, while a team sport in name, baseball is still inherently individualistic, with each man ultimately responsible for his own at-bat or his own pitch.
Before I stray too far, let's take a look at some semi-sleepers who'd be greeted with more fanfare in fantasy land if not for their most prized pals in the dugout.
Howie Kendrick's always been a solid-to-spectacular hitter, as his career .292 batting average would suggest. He's also got good power (18 home runs in 2011) and speed (14 stolen bases in each of the last two seasons) for a second baseman, not to mention a knack for driving in runs as the No. 2 hitter in Mike Scioscia's lineup.
You know what else is nifty about being No. 2 in the Angels' order? Having Albert Pujols hitting behind you, and a healthy Kendrys Morales behind him. That may or may not mean more juicy pitches down the middle for Kendrick to whack, but you can pretty much be sure he'll find his way home more than the 86 times he did last season.
Emilio Bonifacio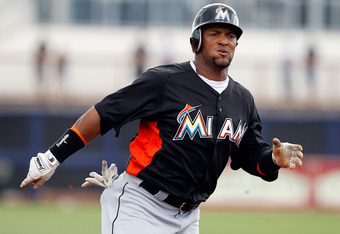 J. Meric/Getty Images
Like Kendrick with the Angels, Emilio Bonifacio is largely overshadowed by his powerful, more expensive teammates while hitting in the two-hole, though the lack of light extends to both sides of the lineup. On the one hand, he'll be hitting behind the speedy Jose Reyes, which should allow him more opportunities to reach base while the defense worries about the reigning batting champ on the base paths.
On the other hand, Bonifacio can count on Hanley Ramirez, Giancarlo Stanton and/or Logan Morrison driving him in.
In between, Bonifacio figures to rack up plenty of thefts once he reaches, thanks to the free-wheelin' managerial style of Ozzie Guillen.
Madison Bumgarner
Doug Pensinger/Getty Images
Tim Lincecum and Matt Cain get all the publicity (and the payola) on the Giants pitching staff, and rightfully so; they've been one of the best one-two combinations in baseball for several years now.
Madison Bumgarner, though, may be ready to transform the top of San Francisco's rotation into a devastating Triumvirate. The big lefty bounced back from a 6.17 earned-run average in April to finish the season at 3.21 in 204 and 2/3's innings with 191 strikeouts.
At 22 years old, those numbers should only improve as he grows into an ace by the Bay.