Kenny Cooper: The New York Red Bull Is the Perfect Partner for Thierry Henry
April 5, 2012

Mike Lawrie/Getty Images
Kenny Cooper didn't live up to expectations last season for the Portland Timbers. The former FC Dallas standout was supposed to be the kind of impact player the expansion team needed to make its first season in Major League Soccer special.
Instead, Cooper struggled on John Spencer's team and didn't find the net the way people expected. He looked lost at times and short of confidence. The homecoming from a disappointing European journey with German team TSV 1860 Munich just didn't pan out for Cooper.
With a relatively high salary by MLS standards, Cooper was deemed too expensive to hold on to by Portland. The New York Red Bulls jumped at the chance to trade for the player before the 2012 MLS SuperDraft, sending allocation money and the Red Bulls' 2013 first-round draft pick to Portland.
And Cooper has been anything but a disappointment for the Red Bulls since arriving; in fact, he's been a perfect counter-balance to the Red Bulls' other experienced forward, a certain player by the name of Thierry Henry.
There was a chance the Red Bulls would be without Luke Rodgers this year. It was known that Rodgers' troubles with the law in England meant that obtaining a work visa for him for the 2012 season would be difficult even though he received one for the 2011 season.
Rodgers was the perfect foil for Henry last year. He played with energy, pestered defenders and created space for Henry to play in. The two had a great understanding of one another. And what was an early-season fear became reality when Rodgers wasn't granted his visa for this season and New York terminated his contract with the team.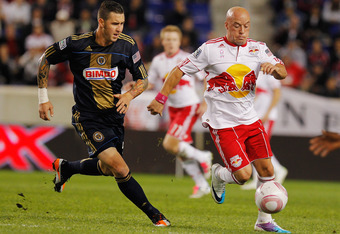 Mike Stobe/Getty Images
With Hans Backe's reluctance to play Juan Agudelo, the latest in a long line of American forward prodigies, New York needed to find a suitable replacement for Rodgers, a player who could supplement Henry's goal scoring and who could add another dimension to the potent New York attack.
Erik Solér, the team's general manager/sporting director, saw a chance to sign Cooper and felt that Portland's offer was fair. He pulled the trigger and made the trade happen. And already New York is reaping the benefits of the move.
In four games, Cooper has scored four goals and helped Henry tally a few of his own as well. Between them, Henry and Cooper have scored nine of New York's 10 goals this season—Henry has chipped in three assists as well. They appear to have meshed together especially well the last two home games. 
New York scored one goal in its first two games of the season—in the 2-1 loss to FC Dallas on the opening weekend—and lost both games. In its last two games, New York has scored nine goals—a 4-1 win over the Colorado Rapids and a 5-2 win over the Montreal Impact. Cooper and Henry have been the focal point of those games as well, and they look to have settled into playing with one another, which spells trouble for the rest of MLS.
Before Cooper moved to Europe, he was a regular on the scoresheet as a goal scorer. In his last season in MLS with FC Dallas before his move overseas, Cooper tallied seven goals in 15 matches. The previous year, 2008, Cooper scored 18 goals in 30 matches. Cooper knows how to find the back of the net, especially in MLS, and he looks to be a new man since his move away from Portland.
Cooper's size and pace make him the perfect player to work off what Henry does on and off the ball. Cooper likes to run through the channels and work defenders, while Henry has started to drift deeper into the midfield in recent seasons to get on the ball more and create. With Henry pulling defenders out of position and Cooper playing on their shoulders, the Red Bulls have a nice forward combination that can create and exploit space better than arguably any pairing in the league. 
If Cooper and Henry can continue to click and develop, there won't be too many questions asked of the Red Bulls' weak back line because teams will have to pack it in and defend against two of the best forwards in the league.
Not to mention the fact that a 19-year-old goal scoring prodigy in Agudelo lurks on the bench when things aren't going according to plan.