Portland Trail Blazers: Power Ranking Every Player on the Depleted Roster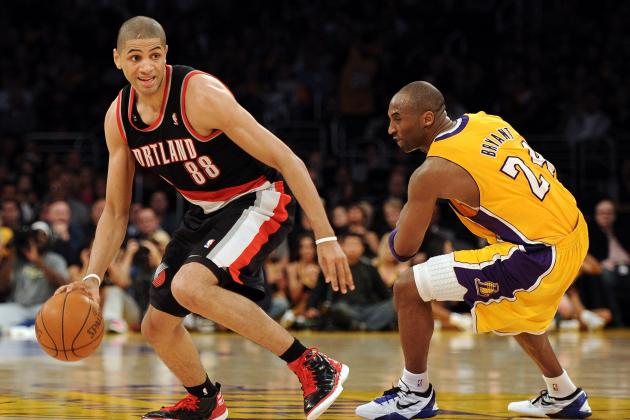 Harry How/Getty Images

Last year it was injuries that plagued the Portland Trail Blazers.
This year it was an unexpected retirement, a lack of mesh time because of the lockout and then an all-out fire sale, as it replaced two starters and a head coach.
Those left on this ship with no sails are doing an admirable job of keeping it afloat. It may not be running full steam ahead, but it's not sinking either.

This is a breakdown of who is playing the best and doing the most to keep Portland's head above water in the last few weeks, starting with the team's worst player and building toward its best.
Begin Slideshow

»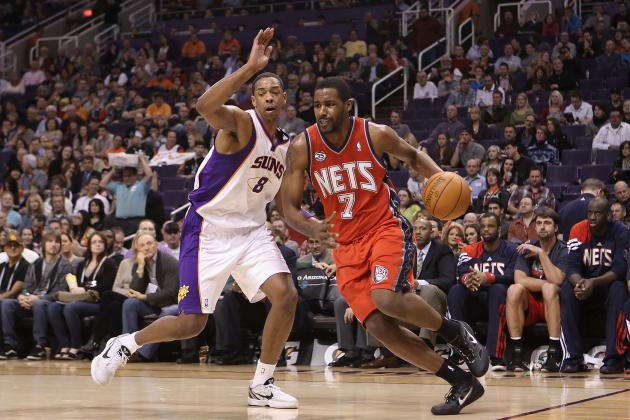 Christian Petersen/Getty Images

Shawne Williams is the only player on this list the majority of Portland fans would not recognize if they saw him at Starbucks.
There is a good chance Williams never plays a game in a Portland Trail Blazer uniform.
He came to Portland in the Gerald Wallace trade, primarily to make the money line up. He has a player option after the season ends for $3.5 million. Portland undoubtedly would like to use that money elsewhere.
In his 25 games with the Nets this season, he averaged 4.5 points and 2.7 rebounds per game.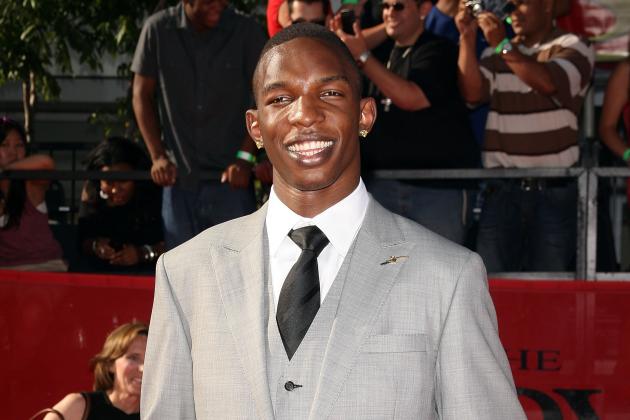 Jason Merritt/Getty Images

How bad do you have to be to stand 7'3" and not be able to crack an aging two-man center rotation?
Apparently Hasheem Thabeet-bad.
Since coming to Portland, he's logged 16 minutes. He has scored six points—four at the free-throw line—grabbed three rebounds, committed four fouls and blocked zero shots.
Would he do better with more minutes? Probably.
What will he have to do to earn those minutes? Apparently a lot more than he's done in the three weeks since he was traded to Portland.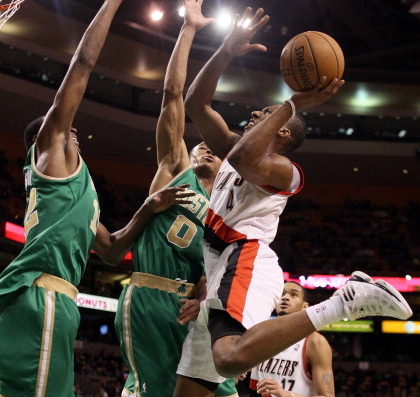 Elsa/Getty Images

The rookie point guard has not logged a lot of minutes this year. Just when Nolan Smith started getting more time on the floor, he went down with an ear infection.
Smith still has potential to have a bright future. By all accounts, he is a great guy, always optimistic and a hard worker. His time just hasn't come yet.
And unfortunately when it appeared to arrive, he was forced out of the lineup because of his ear.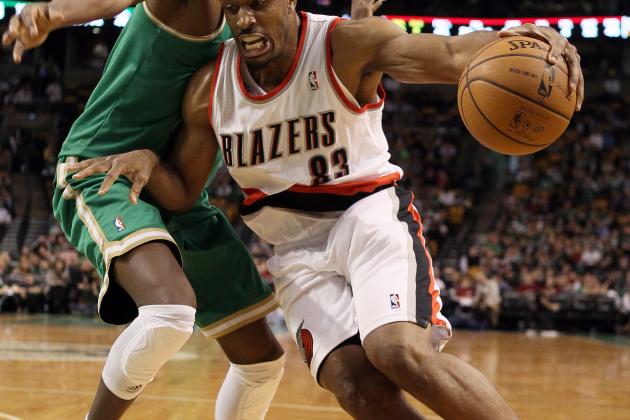 Elsa/Getty Images

Of all the players expected to flourish in Kaleb Canales's youth movement, "The Rhino" was near the top of my list.
Craig Smith has, however, largely disappeared.
His playing time has diminished more than anyone else on the team in the absence of Nate McMillan.
At times early in the season, he looked like his respectable play would live up to his self-glossing Rhino moniker.
Now he finds himself an endangered species alone on the Blazer bench.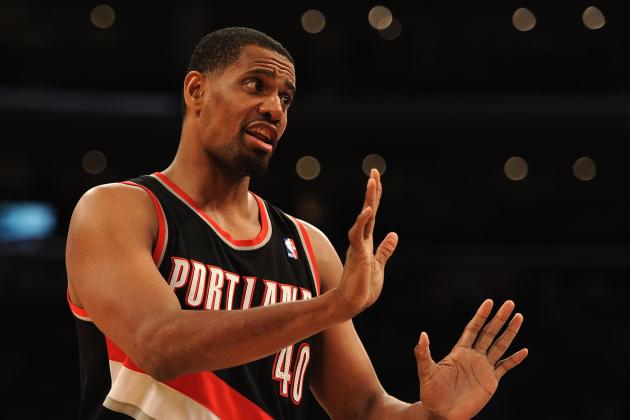 Harry How/Getty Images

Kurt Thomas is a like the sound of a falling tree in an empty forest: Does anyone notice him?
The aging vet goes out and performs up to his potential for 8 to 12 minutes per game. He may provide leadership in the locker room, but it is not evident when the team spills onto the court.
He doesn't hurt the team, but he doesn't do much to boost them either.
He's the kind of guy at a party who you don't mind seeing, but you don't notice if he isn't there.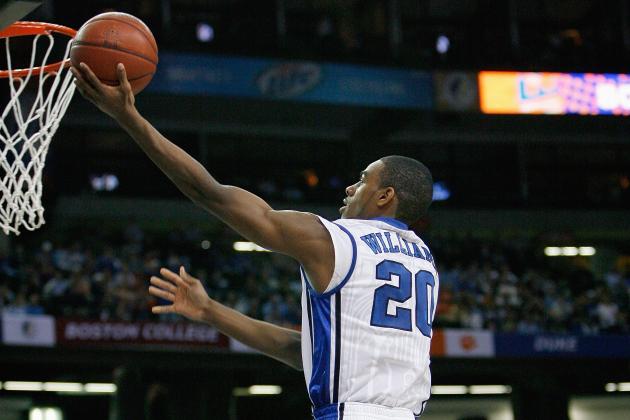 Kevin C. Cox/Getty Images

Elliot Williams has not played since March 7 after undergoing shoulder surgery.
Leading up to that date, he was forcing both McMillan and Canales to keep him off the bench.
His relentless defense and trampoline hops transformed him from a mysterious rookie into a fan favorite.
If he is able to stay healthy in the future, he could find himself as part of a new core of the Portland Trail Blazers as they enter a new era.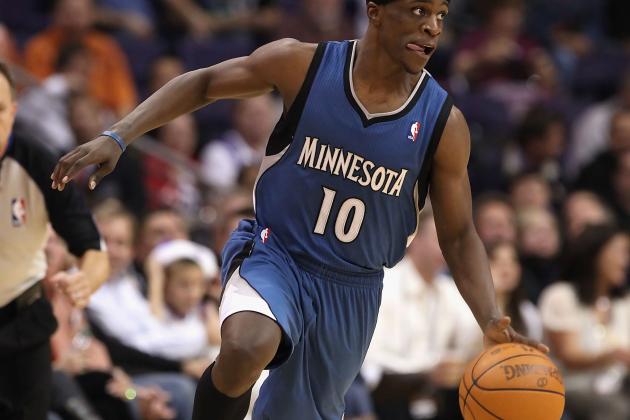 Christian Petersen/Getty Images

Jonny Flynn's workload has increased now that he has had more time to adapt to his teammates.
With that, his production has increased as well.
Flynn has shown good foot speed, an ability to limit turnovers and a penchant for finding the open man.
He also had easily the team's best reaction to J.J. Hickson's monster dunk over DeAndre Jordan. (Watch him jump up and down at the bottom of the screen.)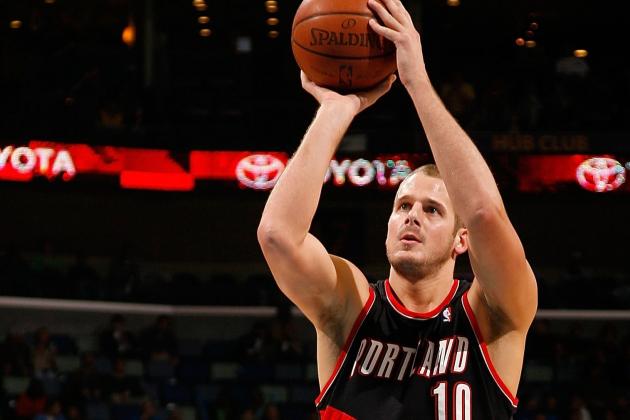 Chris Graythen/Getty Images

Joel Przybilla agreed to come to Portland under different terms than the ones he's playing on now.
When he signed, he was to split time with Kurt Thomas backing up Marcus Camby.
Now he's the starting center.
He is still not playing major minutes or putting up big numbers, but he is doing what he was brought in to do: getting rebounds, blocking shots and setting screens. He's providing the enforcer role the team had been missing since they traded away Joel Przybilla for Gerald Wallace.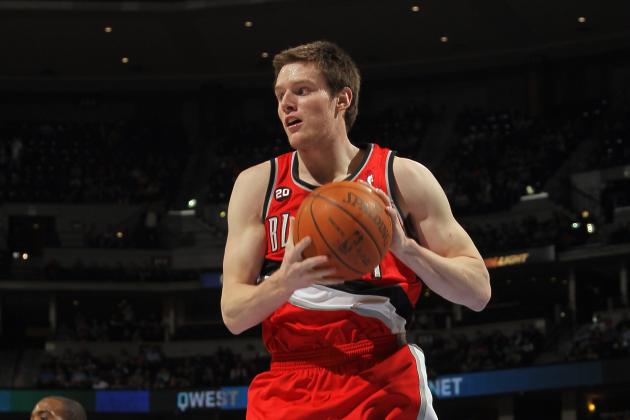 Doug Pensinger/Getty Images

Nobody's stock in Portland has risen quicker than that of Luke Babbitt.
In Babbitt's last eight games, he is 15-for-22 from beyond the arc. And he's not shooting just-behind-the-line threes—he's making teams pick him up at the logo.
He hasn't shown a knack for doing much else, but Portland has needed a knockdown shooter for a long time.
If Babbitt keeps shooting with as much confidence as he has now, he will etch his name into the history books alongside Kyle Korver, Mike Miller and J.J. Redick.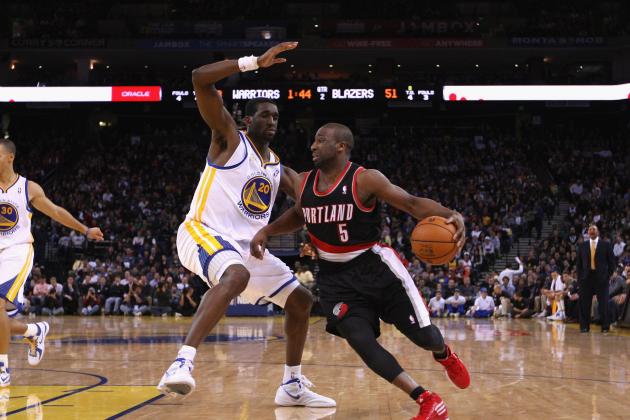 Ezra Shaw/Getty Images

Nobody has been blamed more for Portland's struggles than Raymond Felton.
He has constantly committed head-scratching turnovers and seems indifferent to whether the team wins or loses.
But his production over the past few weeks has been decent. In the last nine games, he's averaged 12.78 points, 8.33 assists, 1.3 steals and 2.78 turnovers per game.
Ezra Shaw/Getty Images

Despite recently being named the third-best ball-handler in the NBA by Sports Illustrated, Jamal Crawford has struggled lately. He endured a 9-for-55 stretch and now appears to be on the other side of that.
He has made 11-of-23 in his last two games.
He is the team's only one-on-one threat from the perimeter. He is still the guy the team turns to when a play needs to be made in crunch time.
But he has not been the savior or replacement to Brandon Roy many fans expected when he first signed with Portland.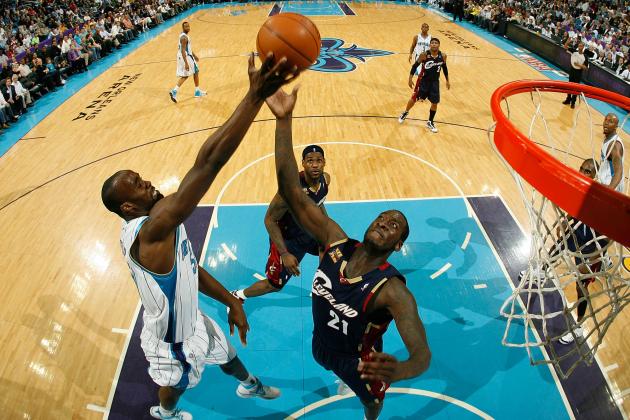 Chris Graythen/Getty Images

J.J. Hickson has given Portland a second legitimate scoring option down low. Since he arrived, he's averaged 14.1 points per game and grabbed 6.1 rebounds.
He has been a tremendous complement to LaMarcus Aldridge and has done what all midseason acquisitions claim to want to do: make the most of an opportunity.
Hickson has assured himself a spot on the 2012-13 Trail Blazers' roster.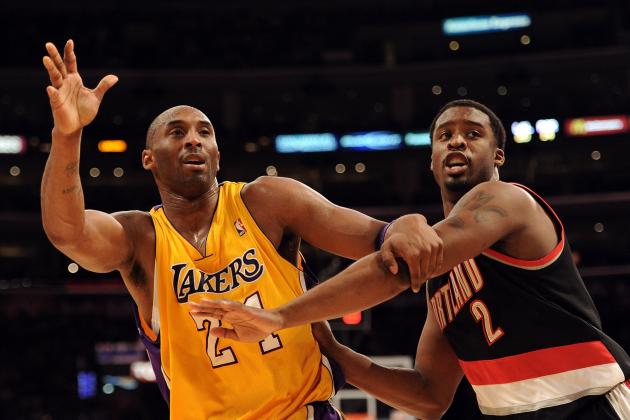 Harry How/Getty Images

Even while fighting his way through a myriad of injuries, Wesley Matthews is putting up solid numbers every night.
Since he was removed and then re-inserted into the starting lineup, Matthews has worked his tail off to be the best player he can be.
His numbers don't dazzle, but Matthews' energy, grit and efficient three-point shooting make him one of the most important players on this year's squad.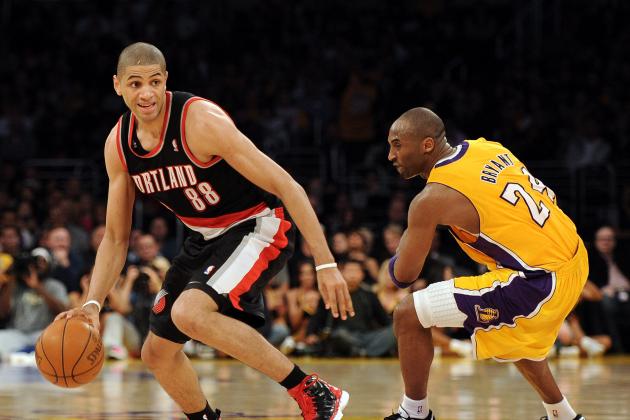 Harry How/Getty Images

It's hard to accept having a work-in-progress as the team's No. 2 option, but that's what Portland has in Nicolas Batum.
He is not as good as he will be, but he is getting there.
And he's pretty good as it is.
Whether it's knocking down threes, swooping to the basket or chasing down fast breaks to plant them into the bleachers, Batum is always causing some sort of havoc for the other team.
As he becomes more assertive and more confident, he will blossom into a scary player. Portland must re-sign him this offseason.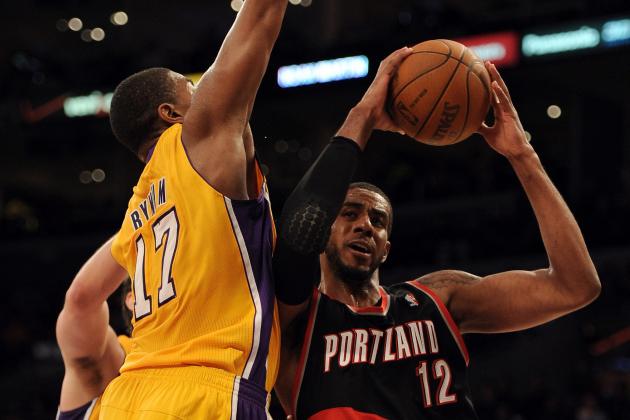 Harry How/Getty Images

No question here. Without LaMarcus Aldridge, this team is not worth watching.
He has embraced his role as The Man for Portland.
His scoring has dipped slightly since last season, but his assists have gone up as he adapts to being double- and triple-teamed regularly. He's also taking fewer shots this season, making his scoring more efficient.
With his length and athleticism, Aldridge should block more shots and be more of a force defensively. But for now, his work on the offensive end cements his status as the Blazers' top player and one of the top power forwards in the NBA.