Scott Gomez: 7 Reasons the Montreal Canadiens Should Buy out His Contract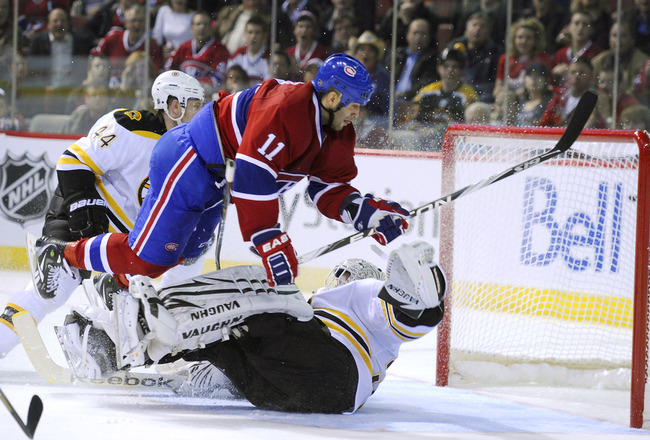 Scott Gomez's only hit thrown since he came to Montreal
Phillip MacCallum/Getty Images
Scott Gomez is being thrown under the bus again? That's nothing new.
And it's almost getting old. Montreal Canadiens fans are tired of watching an overpaid, under-performing player not score goals. And they are also tired of complaining about him.
The Canadiens are stuck with Gomez, who signed a seven-year contract with the New York Rangers in July 2007 for $51.5 million, for two more seasons—unless they do something.
When the Canadiens traded for Gomez in 2009, they inherited his contract and expected him to be a first-line player night in and night out. Instead, they got an under-performing, soft forward who should not be making $7 million, let alone playing a regular shift for the Canadiens.
Going into the offseason, after finishing at the bottom of the NHL's Eastern Conference this year, the Habs need to deal with Gomez and get him out of the lineup and off the roster. There are much better ways to spend that money and many more players who are capable of filling in for much less.
There have been rumours of just sending Gomez to Montreal's AHL affiliate, the Hamilton Bulldogs. But why keep him on the roster for any longer than you have to? Buy out his contract and get rid of him now.
Here are seven reasons why the Montreal Canadiens should do so.
Gomez Is 32 Years Old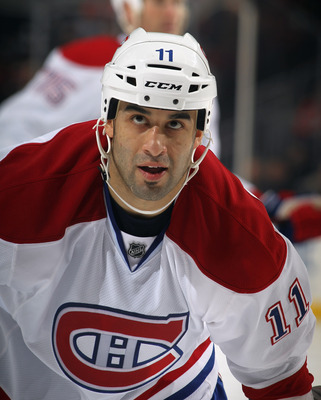 Bruce Bennett/Getty Images
Scott Gomez is past his prime.
He won the Calder Trophy for rookie of the year in 1999/2000 and, now 12 years later, he has hit a speed bump. Maybe it's just a detour. Maybe it's a dead end.
The Canadiens should buy the rest of his contract out and let him do what he wants for his remaining years. He is only 32. He should be an elite veteran player at this age. But that's definitely not the case.
For the sake of his own wellbeing and the wellbeing of Habs fans around the world, Gomez needs to leave Montreal. If he can catch on with another NHL team, good for him. Maybe he needs a change of scenery.
Gomez Went 53 Games Without Scoring a Goal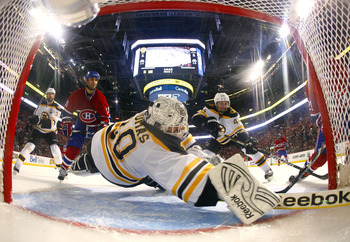 Eye on the puck, Gomez!
Phillip MacCallum/Getty Images
A 53-game goalless drought, spanning an entire calendar year, is enough reason alone to let any top forward go—let alone a $7-million forward.
From Feb. 5, 2011 to Feb. 9, 2012, Gomez did not score a single goal. Not scoring a goal in 53 games is common for stay-at-home, old defenseman like Mike Commodore. Sorry, Mike.
He Has Only One Season with More Than 20 Goals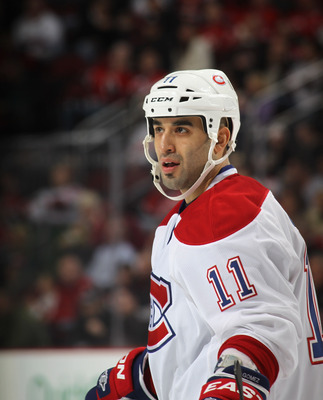 Bruce Bennett/Getty Images
How does a player with only one 20-plus-goal season in more than a decade end up making $7 million a year?
Only one season in Gomez's career, 2005/06 with the New Jersey Devils, did Gomez score more than 20 goals. That year, he potted 33 genos and he hasn't been close since. Was it a fluke?
The Habs brought him in hoping he would get on the scoresheet each night and produce. Did they expect 20-30 goals from the guy? Did they expect a setup man? Probably one of the two, if not both.
Well, they got neither. And looking at his past statistics, they should have seen this coming.
Gomez needs to go. Not because he isn't scoring anymore, but because he's not doing much of anything.
He Is 5'11"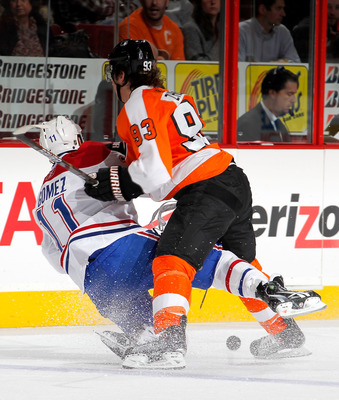 Isn't that Zherdev? He hits?
Paul Bereswill/Getty Images
The Canadiens need more size on their roster. At the very least, they need small players who can play big. So why keep a 5'11" guy around who doesn't score, nor hit or go into the dirty areas?
The answer is simple. Don't. And it's time Habs management realizes that and does something about it.
His Public Apology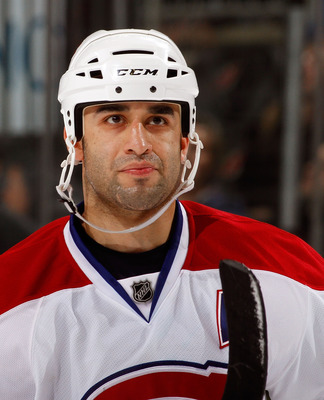 I'm sorry too, Scott.
Paul Bereswill/Getty Images
Scott Gomez publically apologized to Montreal Canadiens fans for his poor performance last season.
He comes back this year and has a worse season. What is he going to do now?
He should have made up for it by having a bounce-back year. He should have proved himself on the ice…
He didn't do either.
Maybe he should buy each Canadiens fan a gift to apologize for his lack of productivity this year?
Well, here's an idea: he can give them all a big present by getting out of town.
The Montreal Pressure Cooker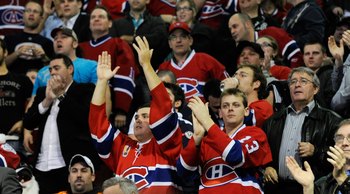 Richard Wolowicz/Getty Images
Maybe it's just that Scott Gomez doesn't have what it takes to play in larger markets.
He failed with the Rangers in New York, and now he has failed with the Canadiens in Montreal.
Three years ago, Gomez had 12 goals with the Habs. Last year, he had seven. This year, he has two. See a trend?
He should go back to New Jersey, where it is a little bit more relaxed and he can do as he wishes.
Gomez might be a great fit on a team like the Florida Panthers. If he doesn't score any goals and nobody sees it, does it matter?
He Is a Minus Player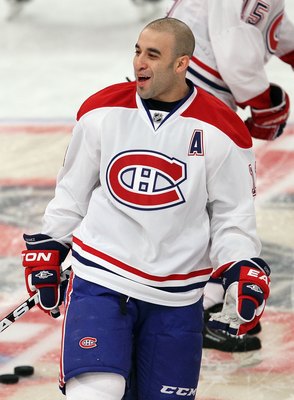 Jim McIsaac/Getty Images
Last year, Gomez was minus-15. This year, he is minus-9.
He has become a liability on the ice. He is not producing goals and he is not shutting down other teams' lines. The Habs can't afford to keep such a player around. It's time to Gomez out of Montreal, Scott.
This article is not intended to bash Scott Gomez as a person, but to criticize his poor performance on the ice. If the Habs do what they should, hopefully it will be the last article of its kind and we can all put this behind us.
Follow Taylor Shire on Twitter: @TaylorShire
Keep Reading

Montreal Canadiens: Like this team?