New York Yankees: Why Michael Pineda's Injury Can Do More Good Than Bad
April 5, 2012

When the doors of spring training opened, newly acquired pitcher Michael Pineda had been whispered as a possible No. 2 starter in the New York Yankees rotation.
After an up-and-down year in his rookie affair in Seattle, the Bombers had high hopes for the 23-year-old right-hander in 2012. 
When his first few March starts yielded lower-than-expected velocity ratings settling in the downside of 90 mph, the results caught the attention of all concerned.
Soon thereafter the once-hyped "great stuff" of Pineda's was suddenly deemed not as great as advertised. Eventually word arose that his inaugural pinstriped season could begin outside the starting rotation, maybe even in the minors.
After Pineda's less-than-stellar performance on March 30th, the Yankees announced after the game that he was suffering from shoulder soreness that would land him on the 15-day disabled list when the season started.
So this was the product they received in return for Jesus Montero?  When the Yanks sent their "Golden Boy" to Emerald City, they expected glimmering jewels in return.
Regrettably in a New York minute the "pride and joy" of Pineda had been deemed a bill of false goods.
Not so fast.     
Everybody knows the city of New York can a lure a person into her clutches, just as easy as she can spit their mangled remains out.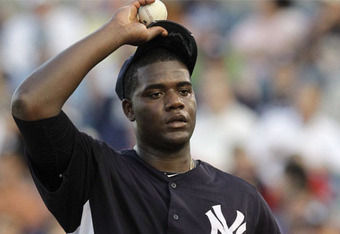 Don't believe it—just ask Javier Vazquez.
Under no circumstances were the Yankees rooting for an injury or praying for extended spring training in terms of Pineda, but the setback could turn an unforeseen bump in the road into a blessing in disguise. 
Showing up in Tampa nearly 20 pounds overweight failed to do Pineda any favors in the eyes of Yankeedom. 
Being swapped for highly touted catcher/designated hitter-of-the-future Jesus Montero gave people lofty expectations. Immediately the bright red flags went up and the universal second-guessing began.
To make matters worse, his spring training resume produced an unexpected high ERA of 5.68. Clearly, he was falling short of expectations.
Pineda's time in the minors/extended spring training will undoubtedly do wonders for the 23-year-old.  Instead of facing a potential Bronx cheer, he'll be able to iron out those issues that dogged him in Tampa.
Engaging in a healthy regiment of recovery, self-awareness and preparedness will transform a frustrated youngster into a confident addition to a staff that was counting on his presence.
Sending an ill-informed newbie to the lions of River Ave. could be a "deathblow" to any psyche. The added time will give the potentially lethal hurler time to reflect on what he is about to embark on. 
In Seattle, wins from a touted starter are widely appreciated.
In New York, the same W's are expected.