Washington Huskies Basketball: Tony Wroten and Terrence Ross Entering NBA Draft
April 4, 2012

Jason Szenes/Getty Images
The Washington Huskies men's basketball team's top two scorers, Tony Wroten and Terrence Ross, will be entering the 2012 NBA draft.
This brings up the question of how this will play out for this year's regular season Pac-12 championship team.
Sophomore Terrence Ross led the Huskies this year with 16.4 points per game, closely followed by freshman Tony Wroten with 16 points per game. Both are predicted to go in the first round of the NBA draft on June 28. 
Playing an average of 30.3 minutes per game Tony Wroten's shooting percentages suggest his youth. While one of the Huskies' top scorers, and clearly talented, Wroten had an unimpressive 16.1 three-point percentage, 48.3 two-point percentage and 58.3 free throw percentage this season.   
Tony Wroten had a career high 29-point game in the Huskies' 86-84 loss to Oregon State in the second round of the Pac-12 tournament this year. Wroten missed four free throw attempts in the final 18 seconds of that game. Wroten struggled in the NIT scoring only nine points in the Huskies' semifinals loss. 
Prior to the 2012 NIT semifinals game Terrence Ross averaged an NIT tournament-high 26.3 points. Ross scored 21 points in the one-point overtime NIT loss to Minnesota. 
Playing an average of 31.1 minutes per game Terrance Ross made 77.4 percent of his free throws, 37.1 percent three-point shots and 51.8 two-point shots this season.
With these two players gone, the Huskies may have to rely on sophomore C.J. Wilcox to lead the team. Despite missing some play due to injuries this season, Wilcox averaged 14.2 points per game.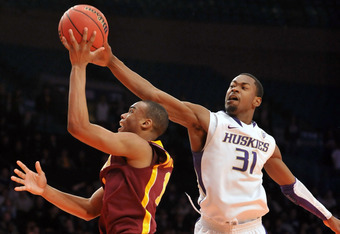 Jason Szenes/Getty Images
Wilcox had a 43.7 field-goal percentage, 40.3 three-point percentage, and 83.9 free throw percentage this season. Taking advantage of a Minnesota turnover Wilcox made the game tying shot that took the Huskies into overtime in the NIT semifinals.    
In addition to Tony Wroten, there were eight other freshmen on the Huskies' squad this season, so it was a young team. 
Other than Wilcox, the Huskies will have Scott Suggs (Suggs redshirted his senior season this year) and Abdul Gaddy for the guard position next season. Washington will also have freshman Andrew Andrews (Andrews redshirted this year). Coach Lorenzo Romar compares Andrews to Wroten in his ability to create shots. Freshman Jernard Jarreau (Jarreau redshirted this season) is a player you will likely hear mentioned a lot more next season.  
With Tony Wroten, Terrence Ross and graduating Darnell Grant all leaving, that opens up three scholarship positions at Washington. 
On the recruiting front, the Huskies have so far only landed a commit from Tacoma Community College guard Mark McLaughlin. McLaughlin has an interesting past involving previous commitments to Washington State, Nevada, Baylor and Seattle University over the past few years.  
Washington is on the list of five schools being considered by ESPN's No. 7-ranked Anthony Bennett. Bennett is also considering Oregon, UNLV, Kentucky and Florida. He recently told Oregon Live that he plans to visit all five and make his decision by May.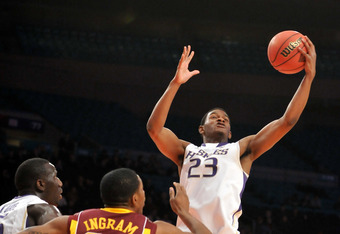 Jason Szenes/Getty Images
Adam Zagoria listed Washington as a potential school for Connecticut's Alex Oriakhi to transfer to after Oriakhi received clearance to transfer from Connecticut. Whether Washington is even a school Oriakhi is considering has yet to be confirmed. Oriakhi's father did not mention Washington in a recent list of schools he said his son was considering.
Terrence Ross and Tony Wroten entering the NBA draft this season was to be expected. Washington Coach Lorenzo Romar has been trying to recruit some top players to replace his top two scorers all season, however at this point, it is uncertain how much his recruiting efforts will payoff.   
After ending the season as regular season Pac-12 champions and failing to get an NCAA tournament bid, the Huskies will be determined to get into the Big Dance next year. Whether they'll be able to land some top recruits or if current Washington players will be able to fill Ross' and Wroten's shoes remains to be seen. 
You can read more about Tony Wroten's decision to enter the 2012 NBA Draft in detail by clicking here.  
To listen to Coach Lorenzo Romar's interview with KJR where he discusses Wroten's and Ross' decision to enter the 2012 NBA Draft click here.