N.Y. Rangers Trade/Free Agent Talk: 8 Blueshirts Who Won't Be Back Next Season
Bruce Bennett/Getty Images

This group of Rangers players obviously has something special about them. It isn't the one or two superstars, but rather the team as a whole that makes them a winning combination.
With so many Rangers players becoming unrestricted free agents at the end of this season, there is sure to be some major changes made during the offseason.
But under the salary cap era, keeping a good team together almost seems impossible.
This can leave a general manager handcuffed, because with so many great players up for contract renewals, you can't possibly accommodate all of the financial demands to keep all of them on the roster.
Let's be very clear about one thing—all sports are first and foremost a business; money talks and "you know what" walks.
That being said, here's a quick look at eight Blueshirts who won't be sporting New York jerseys next season.
Begin Slideshow

»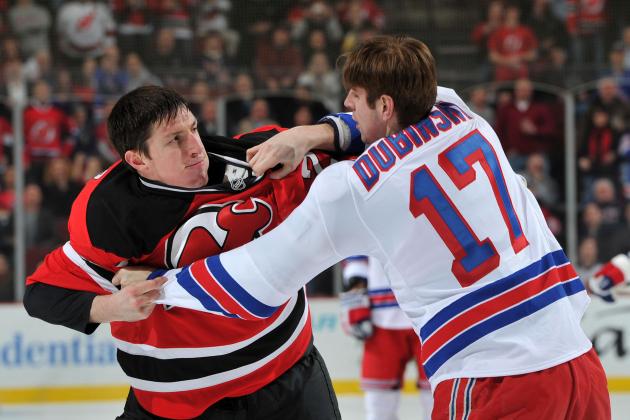 Christopher Pasatieri/Getty Images

If there is any carrot that the Rangers organization can dangle as collateral in a possible Rick Nash trade during the offseason, it would have to be forward Brandon Dubinsky.
As much as everyone loves Dubinsky (affectionately known as "Dubi"), the Rangers' powers that be were definitely expecting him to produce more for the amount of money they've invested in him.
Dubinsky takes up a steep $4.2 million in salary cap space through the 2014-2015 season, becoming an unrestricted free agent in 2015-2016.
Last season, he scored 24 goals and had 30 assists compared to this season with just nine goals and 23 assists.
Both his level of play and head space were so obviously affected by all of the trade rumors that had him on the chopping block from the get-go leading up to the deadline.
And while he has played significantly better hockey as of late, everyone expected him to fill the net more than he has been.
So while it will be sad to see him go, I think it would be ultimately better for him to start fresh with a new team where he can rebuild his confidence without any feelings of disappointment and expectations weighing him down.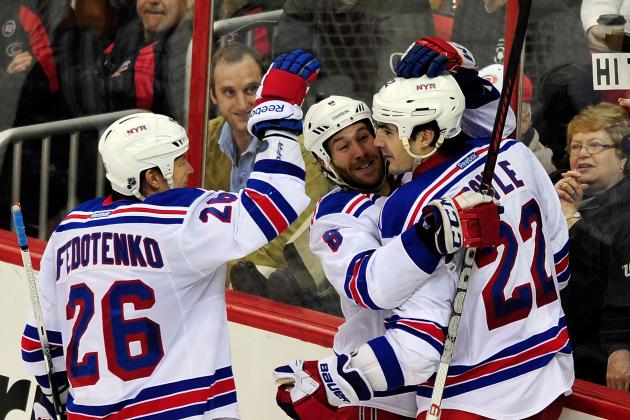 Grant Halverson/Getty Images

Fedotenko was signed as an unrestricted free agent by the New York Rangers back on October 4th, 2010.
During his two seasons with the team, he has played pretty consistently; however, freeing up his $1.4 million in salary cap space when he becomes an unrestricted free agent once again at the end of this season sounds pretty appetizing.
He's also 33 years old, so while he may have a few good years of hockey left in him, the Rangers can always get a younger, fresher player to take his place at a much cheaper price than they would get if he were to be re-signed.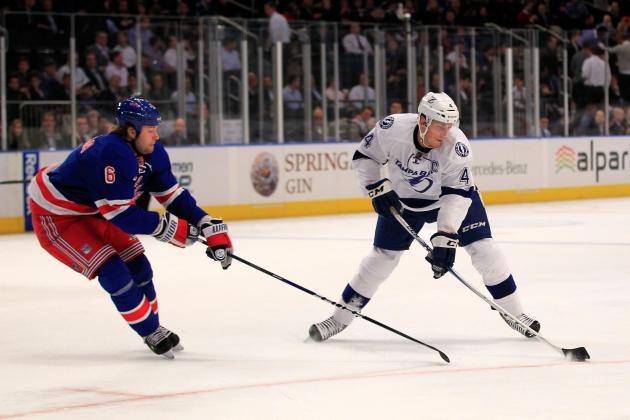 Chris Trotman/Getty Images

Defenseman Jeff Woywitka was claimed by the Rangers off of waivers from the Montreal Canadians on October 6th, 2011.
He's played 27 games for the Blueshirts since then and has recorded one goal and five assists during that time.
Woywitka missed 13 games with a foot injury he suffered during a game against the Florida Panthers on December 30th, 2011.
Shortly after recovering, he was then sent for a conditioning stint with the Rangers' AHL affiliate, the Connecticut Whale, because there was no spare room for him in the lineup.
Since his return from conditioning on February 15th, he played a little over eight minutes in a Tampa Bay Lightning game on March 2nd to fill in for then-injured Michael Del Zotto, but he's been a healthy scratch for the last 17 games.
And despite the fact that he only takes up $650,000 in salary cap space, he will become an unrestricted free agent at the end of this season and it seems highly unlikely that he will be returning to the Rangers' roster when he has played such a small part to begin with during his brief stint on Broadway.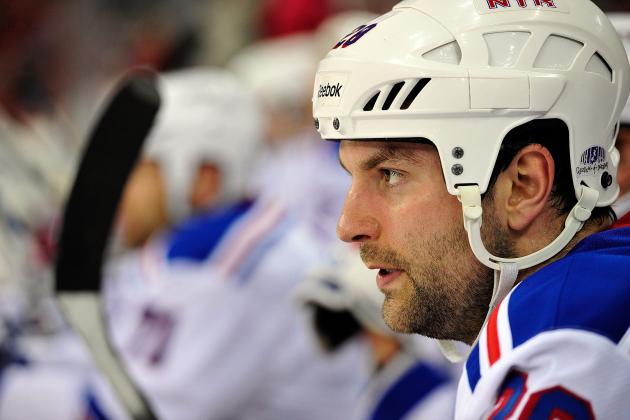 Grant Halverson/Getty Images

Forward (and resident bigfoot) John Scott was traded to the New York Rangers on February 28th by the Chicago Blackhawks in exchange for a fifth-round draft pick in 2012 entry draft.
Since then, he has played six games for the Rangers, scoring zero goals and having zero assists during that time frame.
He was acquired to be an enforcer, but they haven't really needed to use him much, as he's been a healthy scratch for the past 13 games.
It seems that history is repeating itself for Scott, because during 2010-2011 season with the Blackhawks, he missed the majority of the season as a healthy reserve.
When Fedotenko was bumped up to a line with Carl Hagelin and Brad Richards when Callahan originally sustained a foot injury in early March, Scott stepped in for Fedotenko on the fourth line.
Coach Tortorella has been very clear about not wanting to disturb the Rangers' lineup unless there is an injury, because the chemistry they have had all season speaks for itself.
Personally, I have nothing against Scott, but I'm unclear as to why he was even picked up in the first place. I suppose no harm, no foul, because he only takes up $512,500 in the salary cap and will be an unrestricted free agent at the end of the season, at which point I am sure we will see the last of him as a Ranger.
In fact, I don't think Tortorella is very clear on his intentions for Scott, either, because according to a New York Post online article by Brett Cyrgalis from March 2nd, 2012, when asked why Scott was acquired, Tortorella simply replied, "He's big. That's all I got."
Bottom line, big or not, he isn't using him and he's been more of a backup (if anything) during his short stay with the Blueshirts.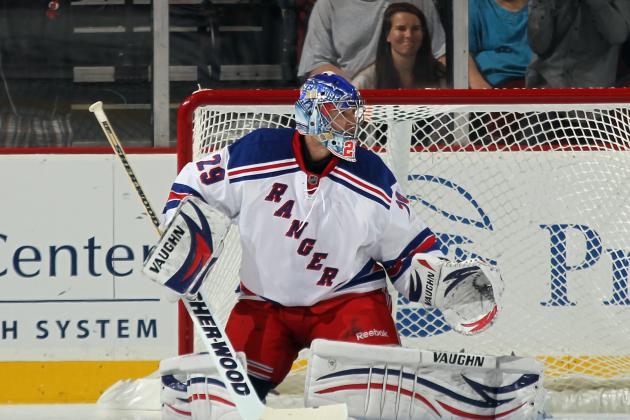 Bruce Bennett/Getty Images

Twenty-five-year-old goaltender Chad Johnson was acquired from the Pittsburgh Penguins in 2009 for the Penguins fifth-round draft selection, Andy Bathgate, in the 2009 entry draft.
He played five games for the Rangers during the 2009-2010 season and one game in the 2010-2011 season, but he's yet to play in an NHL game this season.
Johnson was called up on an emergency basis from the Connecticut Whale three times this season but was just as quickly returned to the their AHL affiliate following each game.
He's set to become an unrestricted free agent at the end of the season and I see no point in him returning to the Rangers come next season unless he is negotiated for an even cheaper rate than his current $525,000.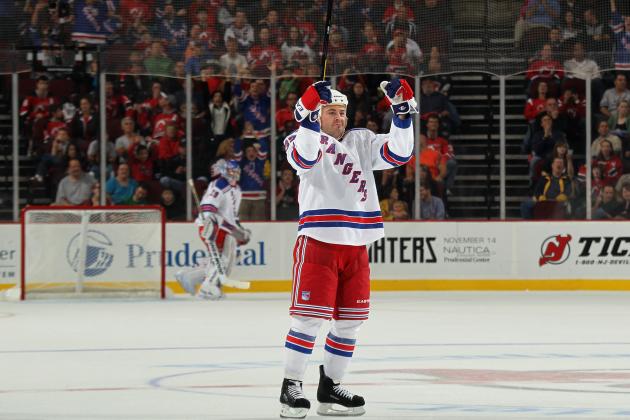 Bruce Bennett/Getty Images

Another member of the Connecticut Whale, defenseman Brendan Bell will most likely not be staying in the Blueshirts' system when he becomes an unrestricted free agent at the end of this season.
He was signed by the Rangers as an unrestricted free agent in August of 2011 and was quickly assigned to the Whale in October of 2011.
According to a Blueshirts Blog article by Pat Leonard, "John Tortorella was not impressed with Bell's ability to pick up the Blueshirts' system in the preseason."
Bell was originally brought in to add depth to the Rangers' defense, but at 29 years old and only having played one game during the 2011-2012 season, it seems highly unlikely that his contract will be renegotiated going forward.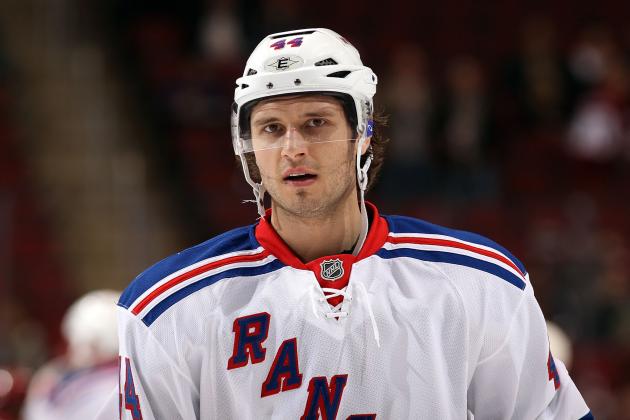 Christian Petersen/Getty Images

Defenseman Steve Eminger was traded to the New York Rangers by the Anaheim Ducks in exchange for Aaron Voros and Ryan Hillier in July of 2010.
Throughout his two seasons with the Rangers, he's been a pretty solid player, but he's essentially a backup defenseman they can spare to lose.
He played 65 games in the 2010-2011 season, during which time he scored two goals and had four assists with a minus-five rating. During the 2011-2012 season, he played 42 games and scored two goals and three assists with zero plus/minus rating.
Being relieved of his $800,000 salary once the 2011-2012 regular season ends won't free up that much room in the salary cap, but he is an unnecessary piece to the overall puzzle and will most likely not return for next season when he becomes an unrestricted free agent at the end of this season.
Incidentally, he has been out since March 17th with a sprained right ankle injury and is listed as day to day, so he hasn't been able to prove his worth on the roster for some time now.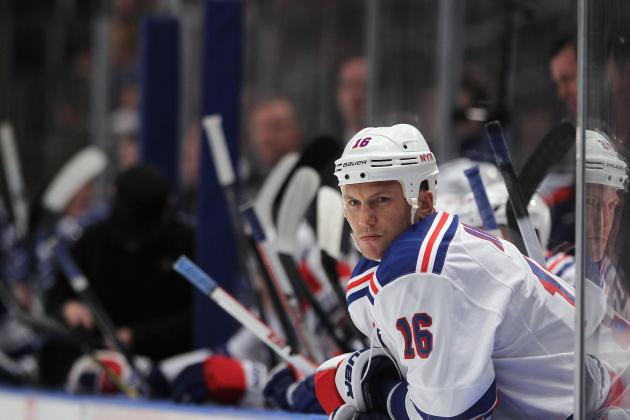 Bruce Bennett/Getty Images

And while this may seem like an obvious choice considering that the New York Rangers' favorite instigator announced his retirement in mid-March, I thought it was still worth mentioning.
Personally, I don't think he really had a choice in the matter, because after being sent down to the Connecticut Whale for the second time this season, he was then told that he was no longer required to report to practices or games.
Although, with Avery there is always more to the story than meets the eye, he had been a healthy scratch for the Whale since January 27th due to "disciplinary reasons" (whatever that may mean).
Basically, Avery was forced into retirement, because after successfully clearing waivers twice this season, no other team had obviously showed any interest in picking him up.
Avery and Rangers head coach John Tortorella never really had the best history, so I think it is more than safe to say that he will definitely not be coming back to play for New York (or any other team in the NHL) next season.
The 31-year-old is moving on to the world of advertising and according to various articles about his retirement, he's quite happy to do so.
I would say he made out pretty well with the Rangers organization, who (along with the Dallas Stars) are finally free of his four-year, $15.5 million contract that expires at the end of the season.