Masters 2012: Keegan Bradley and Popular Players with Something to Prove
April 4, 2012

Matt Sullivan/Getty Images
Keegan Bradley has never played in the U.S. Open, The Open Championship or the Masters before.
The 25-year-old's triumph in the PGA Championship last year at the Atlanta Athletic Club, Highlands Course in Johns Creek, Georgia was the first major he's competed in.
That was eight months ago and Bradley hasn't won yet this year, but he is playing well.
He's played in nine tournaments since the start of the year and finished no worse than 22nd in any of them. He's also finished in the top 10 on three occasions, including each of the last two times he's teed it up.
He now arrives at Augusta with 25-1 odds on his shoulders, according to Bovada, and is about to step blindly onto a course that has chewed up and spit out some of the very best.
Bradley doesn't have to win here to back up his PGA win, but he is out to prove that his sudden emergence is no fluke.
He's not the only one with something to prove, either. 
Hunter Mahan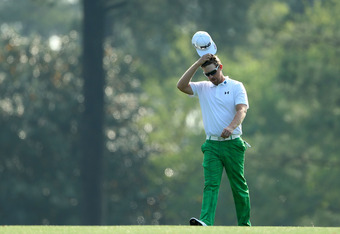 Jamie Squire/Getty Images
The world's No. 4 golfer reeled off two top-10 finishes at the Masters in 2009 and 2010, but didn't make the cut a year ago.
He's carrying the sixth-best odds in the field at 22-1, but also failed to make the cut at the U.S. Open and Open Championship a year ago before finishing 19th at the PGA.
He has a ton of talent but cannot seem to put it together on the big stage all the time. He'll be out to change that this weekend. 
Martin Kaymer
Forget about winning, Kaymer just wants to make the cut this time around.
The 27-year-old German has yet to advance past day two at Augusta in four career attempts.
He followed up a dominant 2010—where he finished in the top 10 of three majors, including a win at the PGA—with an ugly 2011 that included missed cuts at the Masters and PGA.
Like Mahan, Kaymer has a ton of talent, but needs to find a way to stay focused on the bigger stages. 
Charl Schwartzel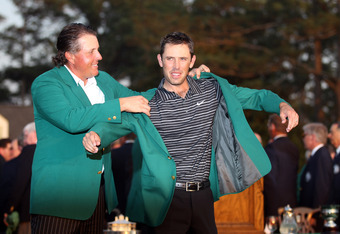 Ross Kinnaird/Getty Images
The defending Masters champion actually finished all majors rather well last year. The 27-year-old South African wound up with a top-10 finish at the U.S. Open, a top-16 spot at the Open Championship and a top-12 spot at the PGA.
His miraculous win at Augusta last year was one for the ages, but he stood strong and defended himself throughout the rest of 2011.
That being said, he now has a chance to make a real statement—one that says "I'm not just some guy who got lucky on Masters Sunday."