Tim Tebow: Champ Bailey Gushes over Ex-Bronco, Warns Mark Sanchez
April 4, 2012

Jamie Squire/Getty Images
Pro Bowl cornerback Champ Bailey issued a warning to Mark Sanchez Tuesday during the unveiling of new NFL team threads for 2012 in Brooklyn, N.Y.: Perform or else.
Bailey was the Broncos' representative and ambassador as one player from each team attended the unveiling of the new Nike uniforms that players will be sporting in 2012. Naturally, reporters in New York wanted Bailey to dish on his former quarterback, Tim Tebow.
Bailey gushed over Tebow, saying that he believes Tebow will be a starting quarterback in the league sooner rather than later. ESPN.com recorded some of his thoughts on Tebow's new home in New York:
I absolutely think he can be a starting quarterback. I know he's not content with the way he plays right now. He wants to get better at a lot of different things. If he gets better, he'll be a consistent starting quarterback in this league at some point.
Also, apparently Bailey didn't mind Tebowmania. His words of advice for Tebow's teammates were to "just roll with it." He told reporters:
Just roll with it, you can't stop it. The one thing that made it easy to deal with was the way he handled it. He handled it with a lot of class, very professional. I love him to death. He's a great kid. I wish him the best. Whatever he gets, he deserves.
That's some mighty praise from a first-ballot Hall of Famer.
The New York Jets have repeatedly said that Mark Sanchez remains their starting quarterback and said they plan to use Tebow as a change-of-pace player in the Wildcat and possibly in the red zone, where he thrived during his time in Denver.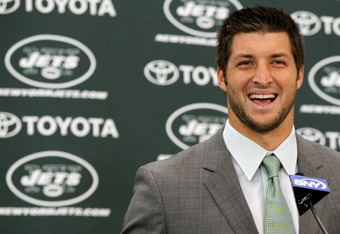 Mike Stobe/Getty Images
Last season, Tebow proved he could finish drives despite his abhorrent completion rate. On 70 red-zone plays with Tebow at quarterback, the Broncos scored 20 touchdowns. That's an astounding stat, the highest TD percentage (28.6 percent) of any quarterback with as many plays in the red zone in the past two seasons.
Including the wild-card victory over the Pittsburgh Steelers, Tebow orchestrated six game-winning drives in the fourth quarter or overtime last season.
Dan Henning, offensive coordinator with the Miami Dolphins under Tony Sparano, the Jets' new offensive coordinator, thinks Tebow's red-zone threat with the Jets would now be one of the best in the league: "Inside the 20-yard line, he's got to be the best threat in the NFL. If the game was only 15 minutes long and the field was 25 yards long, he'd be the MVP."
Henning's offense, with the Wildcat as a key element, led the 2008 Miami Dolphins to a division title. The Jets are hoping to repeat that success with Sparano now in New York.
Asked about Tebow challenging Sanchez for the starting job, Bailey issued a stern warning:
Oh, he's going to challenge him, absolutely. Sanchez can't feel too comfortable in his seat. If he keeps playing well, he doesn't have to worry about it. But if he doesn't play well, we all know what's going to happen next.
Many say this season will pan out the way it did for Denver last season. After Kyle Orton got off to a very slow start, going 1-4, Tebow replaced him and led the Broncos to a 7-4 finish and the AFC West title.
Bailey's warning to Sanchez was to the point: If you struggle, Tebowmania will be waiting.