Of Course Baltimore Ravens QB Joe Flacco Thinks He's the Best in the NFL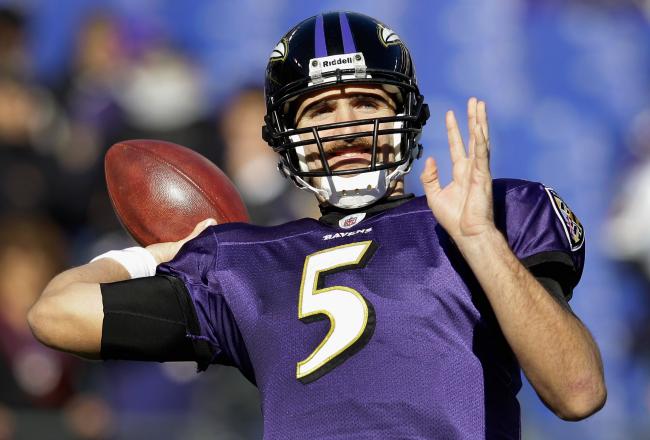 Is this the NFL's best quarterback?
Rob Carr/Getty Images
Baltimore Ravens quarterback Joe Flacco is not the best passer in the league, but that didn't stop him from saying so to WNST 1570 in Baltimore (via ESPN.com) on Tuesday.
However, for Flacco to say—or to think—otherwise is not the way to go about doing his job. Confidence is imperative for every starting quarterback in the NFL, and Flacco acknowledged that requirement in his comments.
Yes, Flacco said, "I think I'm the best. I don't think I'm top five, I think I'm the best," but he also added, "I don't think I'd be very successful at my job if I didn't feel that way."
That's not to say that every quarterback in the league believes he is the best—it's hard to imagine Blaine Gabbert making that claim right now—but if that confidence helps to push Flacco to play better, then there's little harm in making those public comments.
Clearly, Flacco was not the best quarterback, statistical or otherwise, in 2011. In fact, he had a regression last season, with fewer touchdowns, more interceptions and fumbles and a lower completion percentage than in 2010, and just six more completions despite throwing around 50 more passes.
Where does Joe Flacco rank among quarterbacks, in your opinion?
But this confidence might be a way for Flacco to continue to motivate himself to improve upon what he accomplished last year and in his previous three seasons in the league.
It may also be part of his strategy to earn a lucrative contract extension from the Ravens, something the team has said is a priority this offseason. Remember that back in February, Flacco's agent, Joe Linta, also claimed Flacco to be a top-five quarterback, in a move thought to be motivated by that aforementioned contract negotiation.
Whether the statement was bravado, rhetoric or a move to get a new deal worked out, Flacco does need to be careful about his overconfidence.
If he does believe he's the best in the league, then he may be content to rest on his laurels and not put in the work to truly become the best, or one of the best, passers of our time.
However, the comment was likely more representative of how Flacco believes a quarterback should view himself rather than a red flag that his ego has grown unreasonable or that he thinks there's no work left to be done to improve his game.
This article is
What is the duplicate article?
Why is this article offensive?
Where is this article plagiarized from?
Why is this article poorly edited?