Minnesota Vikings' Push for Bill Parcells a Monumental Waste of Time
April 4, 2012

Marc Serota/Getty Images
If you've been wondering why the Vikings sat on the sidelines this offseason while free agency passed them by and have been wishing they would make a big splash, they might finally be obliging.
The National Football Post is reporting that the Minnesota Vikings are pushing hard for Bill Parcells to come to Minnesota and "run the show."
I can't begin to tell you what an incredible misappropriation of resources that is.
Yes, Parcells guided the New York Giants to greatness. Since then? It's been a mixed bag, finished off by what appeared to be a facepalm.
His time with the Jets and Cowboys was mediocre at best. His time with the Dolphins? Pretty awful.
Some of that is the franchises themselves. The aimless Jets, the interfering Jerry Jones in Dallas and Miami being, well, Miami.
However, I have seen none of the trademark Parcells magic that he became known for when he was in New York with the Giants.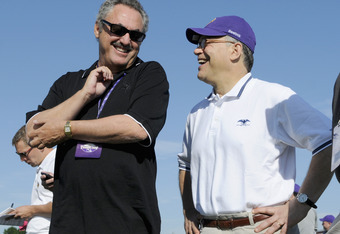 Hannah Foslien/Getty Images
Is he really the cure to what ails the Vikings?
I say no.
On top of that, it has looked for some time that the last thing Parcells really wants is an everyday job. He's burnt out, and the only reason he's thinking of coaching the Saints is that he has an automatic out after this year when Sean Payton returns.
If he did say yes to Minnesota, I don't believe the Vikings would be getting a fully committed and focused Parcells—which is ultimately what happened with the Dolphins. As much as that franchise has issues, Parcells was supposed to change the culture there.
All he did was get involved in overdrafting quarterbacks no longer with the team.
The Vikings are in a tough spot, no doubt. There's pressure to produce, in part because they are desperately trying to justify a new stadium.
I preach patience and caution. Build the team up, find people passionate about being there, and don't look for the quick fix like the team did with Donovan McNabb last year.
Bill Parcells would make for a sexy headline. In the end, though, he wouldn't make many headlines with the words "Super Bowl" in them, and those are the only ones that count in the long run.