National Lacrosse League 2012: Week 14 Previews and Predictions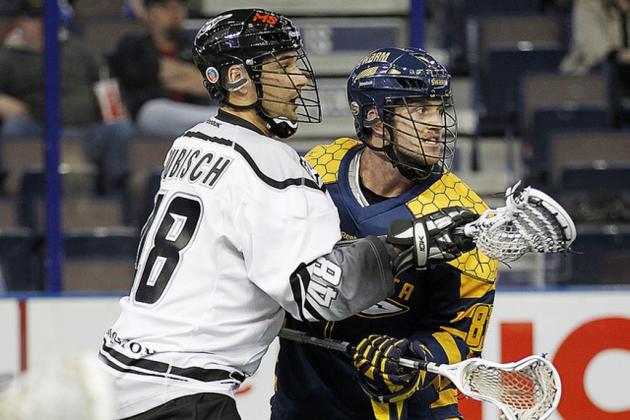 (Photo: Perry Nelson)
Week 13 of the National Lacrosse League schedule made the playoff picture a little clearer. It also featured some records being set.
The Philadelphia Wings locked up a playoff spot in the East, leaving only five spots up for grabs between the remaining six teams.
Garrett Billings contributed to all 15 goals in Toronto's rout of the Buffalo Bandits. This was the highest single-game point total in Toronto Rock history, tied for second most in NLL history, and the only time a team has scored 15 goals and had a single player figure in every tally.
On Friday, Geoff Snider went an inconceivable 28-for-28 in the faceoff circle for the Calgary Roughnecks, picking up an equally inconceivable 28 loose balls while also scoring a hat trick and adding two assists for what might have been one of the most impressive game lines of the season.
Saturday night, Minnesota Swarm rookie goalie Evan Kirk took over from starter Tyler Carlson after Edmonton had jumped out to an 8-4 first half lead. Kirk went on to shut out the Rush for over 37 minutes, giving the Swarm a chance to tie the game, although they eventually lost it in overtime.
With all the excitement beginning to come together, the final few weeks of the schedule are shaping up to be highly entertaining.
Adding to the interest is the start of TV coverage on CBS Sports Network, giving the NLL a little more national exposure.
Of the four games scheduled, only one is between division rivals. Let's have a look at what's in store for the Easter long weekend.
Please feel free to follow me on Twitter @calgaryjimbo
Begin Slideshow

»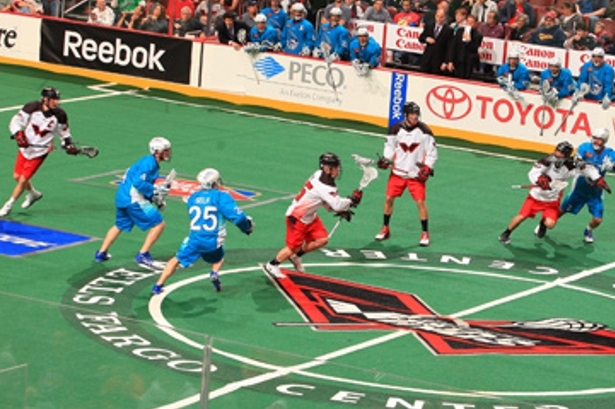 (Photo: T & Z Bauders)
The Swarm are coming off a tough weekend where they dropped two games. Top scorer Ryan Benesch missed both with a concussion and is questionable for this weekend, so things may not be looking any brighter.
In Philly, meanwhile, things are looking great. During a bye-week for them, the right combination of wins and losses by other teams sealed up a playoff spot for the Wings, who are currently in first place in the East.
With Benesch a question mark, the pressure to produce for Minnesota falls squarely on the shoulders of Callum Crawford (16 G/42 A) who snuck ahead of Benesch as the team's points-leader last weekend.
The Swarm goaltending tandem of Tyler Carlson and Evan Kirk become much more important as well. Kirk in particular has been outstanding in his rookie campaign. His 37:17 of shutout netminding against Edmonton on Saturday is a franchise record and earned him the Defensive Player of the Week award in the NLL.
On the Wings' side, the offense continues to be powered by perennial all-star Dan Dawson (84 points) along with Rookie-of-the-Year candidate Kevin Crowley (33 goals).
The defensive end is being controlled by transitions Brodie Merrill and Jeff Reynolds, who have collected 116 and 109 loose balls, respectively.
If Benesch is able to play, he immediately gives the Swarm a puncher's chance to win. If not, Philly has too much talent to be held back for long. Expect the Wings to take this one 12-10.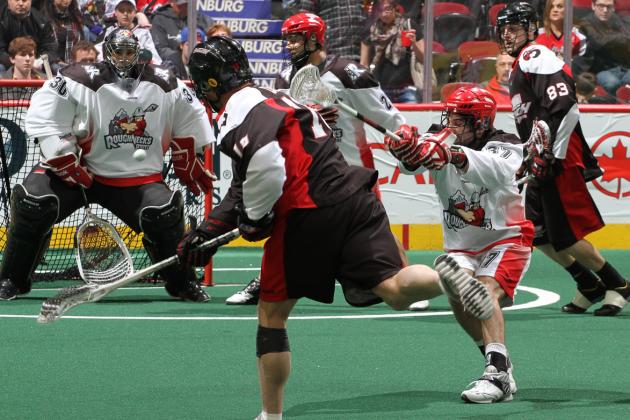 (Photo: calgaryroughnecks.com)
Rochester's rocky season continues with a trip to Calgary on Friday night.
The Knighthawks have had a steady string of ups and downs this year. Big wins, big losses, arrests, suspensions, and so forth. Never a dull moment for Rochester in 2012.
Last week former Knighthawk John Grant Jr. came to town for the first time since being traded to Colorado and he dropped an 11-point night on the 'Hawks, leading the Mammoth to a 16-12 victory. Definitely one of the downs of the season for Rochester.
Reigning NLL-Goalie-of-the-Year Matt Vinc is still having some struggles, giving up 16 goals on only 44 shots last week. As his game goes, so too does the fate of the Knighthawks.
The Roughnecks are on a steady roll having won five in a row, including a three-game streak where they outscored their opposition 18-0 combined in the fourth quarter.
Calgary's balanced scoring attack has produced the most goals in the league, featuring four players with 20 or more goals and two more with 19.
On top of the offense, goalie Mike Poulin is tops in the league in goals-against average (9.95) and save-percentage (.791).
One question mark for Calgary is the status of transition Geoff Snider, who missed Saturday's game due to a lower body injury. If he's good to go, he will dominate the face-off circle, snap up loose balls, and provide yet another potential scoring threat.
Overall, it looks like the Roughnecks are in very good shape to pick up another home victory. I'm expecting a 13-11 Calgary win.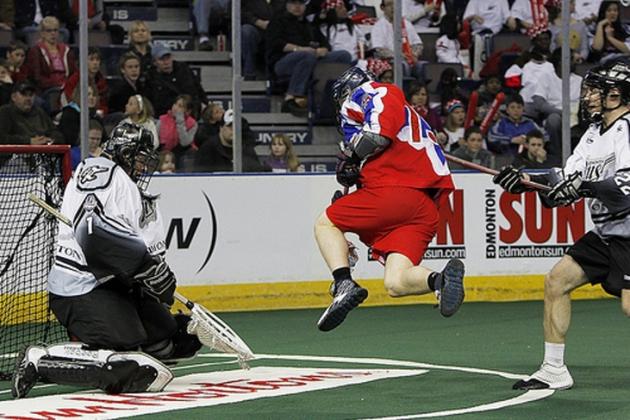 (Photo: Perry Nelson)
Two teams coming off big wins square off in this contest.
Edmonton badly needed a win to stay in playoff contention and, although it looked dicey for awhile, they pulled off the 9-8 win in overtime against Minnesota.
Aaron Bold came up huge for the Rush, turning aside 37 shots en route to the victory. His continued strong play has been a highlight for a team that has, at times, struggled to find good news.
The Rock got back to .500 with their win against Buffalo. That puts them just a game behind the Philadelphia Wings for tops in the East.
Garrett Billings had a career day against the Bandits and will look to stay hot against the Rush's tight defensive set.
This is liable to be a close one, but I'm predicting the Rock pick up a 12-11 win at home.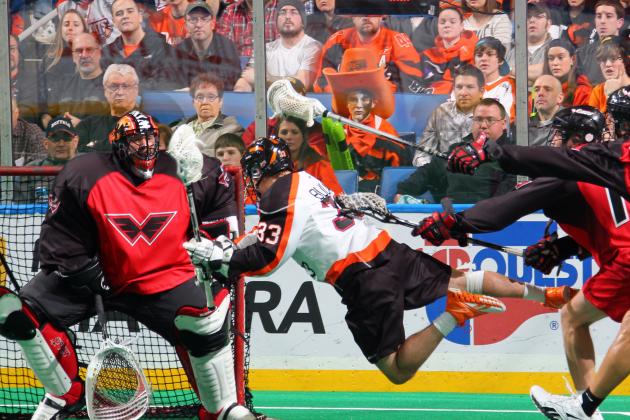 (Photo: bandits.com)
The weekend's action wraps up in Buffalo where the last-place Bandits host the first-place Wings.
The last time these teams faced off back in mid-February, the Wings hung on for a very close 14-13 win. Since then, the Wings have gotten steadily better and the Bandits have gotten steadily worse.
The Bandits have been outscored 32-15 in their last two games combined, and seem to have completely lost their way, much to the chagrin of head coach Darris Kilgour. "It's mind-boggling how bad we are," said Kilgour after Saturday's loss to Toronto.
The ageless John Tavares (32 G/29 A) has continued to produce and pad his lead as the all-time leading scorer in NLL history, but aside from his consistent performance, the good news has been pretty hard to come by in Buffalo.
The Bandits need to improve in virtually every aspect of the game if they hope to compete against a surging Wings squad that has won three of its last four games.
All things being equal, it doesn't look good for the Bandits in this one. Expect Philly to pick up their second win of the weekend, with a 13-10 victory over Buffalo.