Masters Odds 2012: Long Shots Who Will Thrive at Augusta
April 4, 2012

Sam Greenwood/Getty Images
The oddsmakers favor some big-name golfers at the 2012 Masters, but the fact of the matter is anyone can win at Augusta this weekend, even those will big long-shot odds. 
All it takes is for a golfer to get hot, gain that commanding lead and just never look back. 
Of course, come Sunday, the pressure to hold onto that lead or even catch a leader will be extremely intense. 
That said, here are three long shots who will thrive at Augusta this weekend. 
*All odds courtesy of bovada. 
K.J. Choi: 60-1 odds 
In the past two years at Augusta National, Choi has finished in the top 10, tying for fourth in 2010 and finishing tied for eighth in 2011. 
He knows he's fully capable of competing at a high level again, and that's exactly what will happen at the 2012 Masters. 
Choi may not win it all, but he'll definitely be in contention come Sunday, so keep an eye out for him throughout the weekend.
Jason Day: 40-1 odds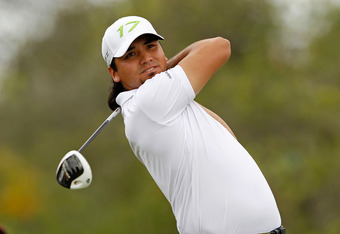 Mike Ehrmann/Getty Images
Even though he's young and has just one year experience at the Masters, Day has proven that he is the real deal.
He's a young star on the rise in the golf world, and he's going to excel at Augusta this weekend. In 2011, Day tied for second with a score of 12 under, which was the best ever for a golfer playing in his first ever Masters.
Day wasn't a one-hit wonder last year either, as he did a fine job at the US Open. He's poised and ready to make another great run at putting on a green jacket. 
Adam Scott: 28-1 odds 
These may not be the longest of odds, but they're still pretty large, especially when you consider that Tiger Woods is at 9-2, Rory McIlroy is at 6-1 and Phil Mickelson is at 11-1. 
Scott is a strong golfer who tied for 18th in 2010 and tied for second in 2011. This year, Scott is looking to win it all, and that is a definite possibility. 
It will all depend on how he starts the tournament, but all signs are pointing to a superb weekend for Scott, so make sure to watch him all weekend long.