Tiger Woods: What Tiger Must Do to Capture 19 Majors
April 4, 2012

Streeter Lecka/Getty Images
Too much stock has been put on Tiger Woods' health—especially regarding his ability to win majors.
Obviously Woods can't win if he can't compete. But it took 923 days and 26 tour events until he won a tournament at the 2012 Arnold Palmer Invitational.
For the first time in his career, Woods—at 36, no less—had to reinvent his swing, demeanor and mentality.
Here are some factors other than health that will impact Woods' ability to win 19 or more majors
"This is my 18th year, so I've just spent about half my life playing this tournament." —Woods at a Tuesday news conference at Augusta National.
Wedge Accuracy
A lot of noise has been made on Woods' lost putting stroke and driving inefficiencies.
But all that is, well, noise.
Woods averages just under 300 yards per drive and averages 67.94 percent in driving accuracy. Both rankings are 18th best on the PGA Tour.
While Woods' game overall hasn't diminished, his wedge accuracy—particularly in distances under 125 yards—has deteriorated.
Woods, from 100 to 125 yards away, hits 75 percent of greens in regulation (GIR). That's good for 102nd on the Tour. His 88.89 percent GIR under 75 yards has Woods at 101st.
From 75 to 100 yards, he is a shocking 172nd, hitting 66.67 percent GIR.
Though the sample size of five is small, it shows a trend rather than a fad.
Any player will tell you controlling the trajectory and spin on a wedge—especially with a new swing change—can be monumentally difficult.
If Woods has to dial down his swing speed to take care of the knee, then this part of his game will be used a lot more often.
"I've been close for a number of tournaments now. And it was just a matter of staying the course and staying patient, keep working on fine-tuning what we're doing. And here we are." —Woods after winning the 2012 Arnold Palmer Invitational.
Eliminating Three-Putts
Woods is a clutch putter, making putts almost at will when he needs to. But many overlook the extra putts he would have needed to sink if he lost strokes due to three-putts.
In 2012, his 3.7 percent three-putt avoidance ranks 134th on the Tour. That means Woods three putts about 2.7 times per tournament.
If clutch putting wins majors, then three-putts can lose them, too. 
"On Sunday, Tiger might have won by 10 shots if not for his three-putts."  —ESPN.com's Farrell Evans on Woods after the Arnold Palmer Invitational
Keep Making Clutch Putts*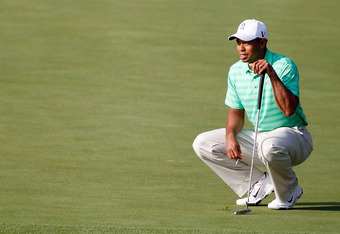 Streeter Lecka/Getty Images
This sounds more flippant than it really is, but Woods need to continue his putting dominance.
The putts-gained stat takes into account the distance each putt starts from the hole and then compares the number of putts taken to the average of other PGA Tour golfers from that distance
This method created by Mark Broadie, a Columbia University business professor, is widely considered to be the most accurate putting measure.
From 2003 to 2010, Woods gained 3.2 strokes per round over the average player—2.08 from long game, .42 from short game and .70 from putting. 
At Bay Hill, Woods gained 4.5 strokes per round better than the field, according to Broadie—3.0 from long game, 0.1 from short game and 1.4 from putting.
Woods' gained putting stat in 2012 is .727, the sixth best on Tour, and he hits 71.85 percent of GIR. He still leads the tour in par 5 birdie or better percentage at 62.75. 
But it's logical to assume Woods' distance, accuracy and ability to hit greens from the rough will deteriorate due to his knee. 
To win a tournament, especially majors, Woods will need to be closer to his Bay Hill 1.4 average rather than his .727 Tour average. 
* Much of this information came from ESPN.com's Farrell Evans' story.
Get His "Swag" Back.
Did everyone forget who this is? 
Tiger freaking Woods.
Players may publicly say Woods winning two weeks ago will be good for the sport, but that's baloney. 
No player in the history of golf had Woods' swag—defined here as his I'm-not-going-to-lose demeanor on the course. Other legendary players like Bobby Jones, Jack Nicklaus and Ben Hogan were respected but never feared.
Sunday red-and-black will always be a sign of domination. His footsteps will always be heard on the course.
Many fans and analysts criticized Woods for being arrogant and aloof. So, after his transgressions, he became more media-friendly.
But it cost him his on-the-course swagger. 
Woods' win two weeks ago showed glimpses of his domination and how players react with his name on top of the leaderboard. 
If the fist pumping, bigger-than-the-game Woods finds a way back to the majors, 25 majors wouldn't be that far fetched.
"He's going to be a force at Augusta." —Ian Poulter on Woods after the Arnold Palmer Invitational.