Arizona State Football: Updating the 5 Best Spring Football Battles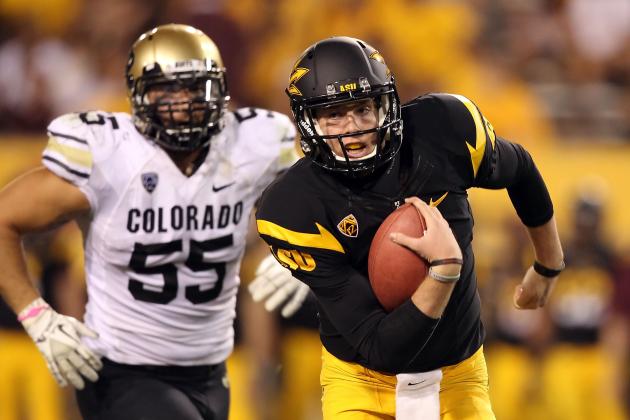 Christian Petersen/Getty Images

The Arizona State Sun Devils and new head coach Todd Graham have many areas to address before the 2012 season kicks off, so the battles will ensue this spring.
There are really no solid starters anywhere, as many players have moved on from the program. It also doesn't hurt that there is a new head coach in town, so things are definitely going to start on a clean slate.
The Sun Devils are just getting things underway, but here are some battles that are already heating up.
Begin Slideshow

»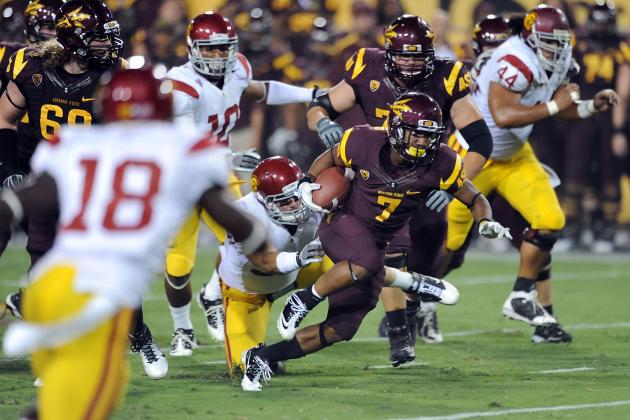 Norm Hall/Getty Images

While Kyle Middlebrooks handled the majority of backup carries for the Arizona State Sun Devils last year, it isn't quite clear who will take such a role with Cameron Marshall leading the pact and Deantre Lewis back after missing all of last year.
Lewis still has some ground to make up after missing all of 2011, but he provides a much more ideal physicality for the position compared to Middlebrooks.
The more surprising potential candidate is James Morrison, who has looked strong thus far. The senior back hasn't been given much of a chance over the course of his career, but things could be looking brighter if he keeps up the strong spring.
Marshall is dealing with an ankle injury, but there is no reason to think he won't be ready to a return at the beginning of the season.
Nothing yet from big offseason recruitment D.J. Foster since he has yet to graduate high school and enroll at ASU, but the young man should enter the fold as soon as he is able to join practices.
Christian Petersen/Getty Images

The Arizona State Sun Devils are quite depleted up front on the offensive side of the ball, so the openings are pretty much endless.
Todd Graham has a few of Dennis Erickson's old offensive lineman ready to play next year, but one can't dismiss the possibility of recruits like Evan Goodman making a push to enter the realm of playing in 2012.
Right now, the team looks like it will be led by senior linemen Andrew Sampson and Brice Schwab, but expect to see a whole lot of rotation until Graham decides who will protect his quarterback best in 2012.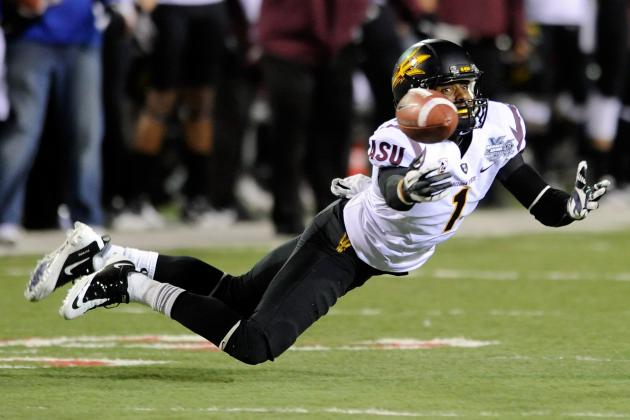 Ethan Miller/Getty Images

Anybody who followed the rise and fall of the Arizona State Sun Devils in 2012 know that the biggest reason for the fall was the collapse in the defense.
The team's secondary just totally disappeared at the end of the year, making nobody's job safe this coming season.
Starters like Deveron Carr and Alden Darby will be given the chance to prove they can start yet again in 2012, but they won't get those jobs without a little competition from the rest of the depth chart.
Fact of the matter is, Graham can't risk having his defense fall apart like last season. He has a potential disaster on his hands, but he could make it work if he finds the right guys early on.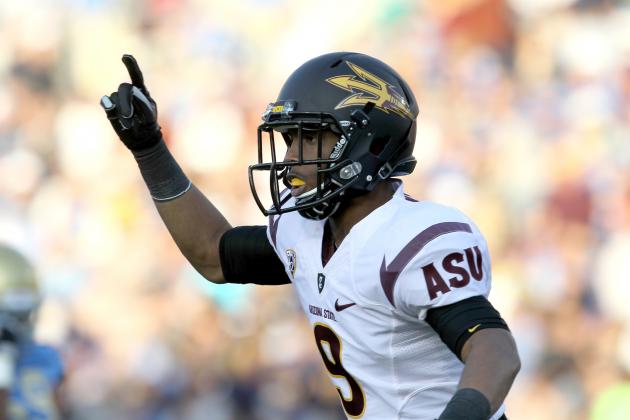 Stephen Dunn/Getty Images

While the three main receivers for 2012 are looking like A.J. Pickens, Jamal Miles and Rashad Ross, there is no doubt that players like players like Chris Coyle and other underclassman can emerge to be stars as well.
With a new quarterback and a new coach, there is no telling who will succeed. Miles saw a ton of success in 2011, and he should be a nice target once again.
The only knock on Miles is that he is 5'10", and could be pushed out by some potential bigger targets in guys like Coyle (6'3").
Either way, the Sun Devils appear to have plenty of options this spring. Question is, who will come out on top?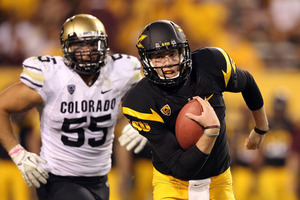 With 2011 starting quarterback Brock Osweiler out of town and heading to the NFL draft, the team has been stuck with finding a new quarterback for this season.
While that could be a blessing for Graham to start things out with his own decisions, Osweiler certainly showed promise last season that would have been a nice way to start out his career as the Sun Devils coach.
Currently, the battle is between Mike Bercovici, Kelly Taylor and Michael Eubank. While Eubank presents a promising option for the future, the realistic situation right now lies between Bercovici and Taylor.
It isn't clear who is the front-runner right now, but some may think Eubank could sneak into the picture because of his relationship with Coach Graham, as the two almost sparked a relationship during the coaches days at Pittsburgh.