Chicago Blackhawks Free-Agent News: Who Stays and Who Goes This Summer?
April 4, 2012

Jonathan Daniel/Getty Images
The inevitable truth of every hockey team is that some players sign long-term contracts and some players are let go.
The Chicago Blackhawks are no exception and a few select names might be on their way out next season.
With how the Blackhawks' salary-cap situation is looking, not many changes are expected to be made going into next season.
In fact, the possibility that everybody on this season's roster will return for next season is very likely. 
Though let's give GM Stan Bowman a little more credit than that. The current Blackhawks roster has some slack that can be cut and Bowman has the available tools at his disposal to get some trades moving.
Some of that slack presents itself in the names of Bryan Bickell, Michael Frolik, Brendan Morrison, Sean O'Donnell and Sami Lepisto.
All of these players are in danger of not being on the Blackhawks roster come next season, that is if Bowman can pull off a few trades.
Frolik has been less than stellar this season recording only 14 points in 61 games this season. Being a minus-11 doesn't help his case either as the young winger has two more years left on his contract with the Blackhawks.
The same can be said for Bickell, who is also underachieving in his stint with the Blackhawks. Point production is lacking but one of the most frustrating things about Bickell is his lack of physical play. He is one of the bigger guys on the team yet he refuses to use his body to finish a check.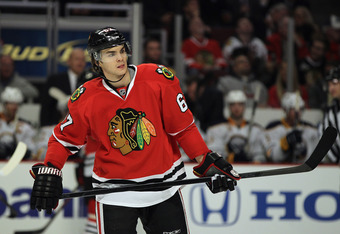 Jonathan Daniel/Getty Images
Brendan Morrison and Sami Lepisto both have been underperforming in their roles on the roster.
Morrison was a fast band-aid for the second-line center position; one which he has failed to be successful at, thus Marcus Kruger has filled the void.
Lepisto has been very inconsistent on the back end turning the puck over and having bad defensive-zone coverage.
Both Morrison and Lepisto will be unrestricted free agents come the summer...don't expect them to be re-signed.
Sean O'Donnell will be an odd man out. The aging defenseman can easily be replaced by a call-up from Rockford. Even though he was signed for depth on the back end, O'Donnell's days in the NHL might be numbered after this season.
Both Jamal Mayers and Brandon Bollig have found success on the fourth line, contributing in physical play and energy. Both should also be re-signed by the Blackhawks come next season.
Winger Andrew Brunette may be re-signed by Bowman but only if his cap hit was a little less. As it stands right now, Brunette's cap hit is $2 million, a little steep for an aging grinder. Expect him to be re-signed only if the cap hit is at $1 million or less per season.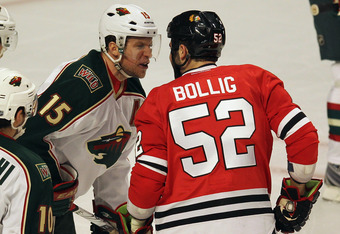 Jonathan Daniel/Getty Images
Trade-deadline acquisition Johnny Oduya has played phenomenal for the Blackhawks thus far and is expected to be re-signed come the summer. His cap hit right now stands at $3.5 million which might be a little steep for Bowman. Look for his new contract to be at either $1.5 million or $2 million per season.
One of the biggest free agents that Bowman will have to re-sign is goaltender Ray Emery. When Corey Crawford has struggled this season, Emery filled the role and helped the Blackhawks pick up some much-needed wins down the stretch.
This summer will be an interesting one as the majority of the Blackhawks lineup should come back. Bowman might have some magic up his sleeve and this roster is playoff ready.