Louisville Cardinals Basketball: Season Review and Beyond
April 3, 2012

Chris Graythen/Getty Images
So close, yet so far would definitely be the log line for the the Louisville Cardinals, who went out with a bang for their 2011-12 basketball campaign.
On Saturday night, Rick Pitino's squad, coming off of eight straight victories, including a Big East tournament championship, failed in its quest for National Championship No. 3 by getting beat by in-state rival, Kentucky.
To many Cardinals fans, this spells the end for what has been one of the most emotional roller coasters for the team and its fans in recent history.
After a disappointing run last year that ended with a loss to Morehead State, the preseason top 10 Cardinals were locked and loaded with the return of Peyton Siva, Kyle Kuric, and Rakeem Buckles, the additions of Wayne Blackshear and Chane Behanan and an extremely deep roster that had talent across the board. It even had me thinking that a National Championship contender was brewing on the horizon.
The season began promising: with a 12-0 start that had some tough and some fantastic center play from Gorgui Dieng that included some grind out wins, the Cardinals were not able to keep up the streak, losing to Georgetown and Kentucky in late December, along with losing an additional three out of five games toward mid-January.
Season-ending injuries to Rakeem Buckles, Mike Marra and Stephan Van Treese did not help the Cardinals, especially as the injury bug plagued Siva and Blackshear throughout the season.
But, the Cardinals were able to bounce back by beating six teams in a row. Offense wows dismantled Pitino's team, as they were beaten four out of their last six regular season games, including losses to Syracuse, Cincinnati and USF (all of whom made the NCAA Tournament).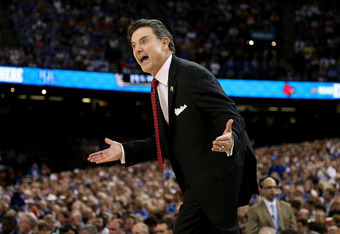 Chris Graythen/Getty Images
It looked gloomy for the Cardinals heading into the Big East Tournament. With a shaky offense, a very stingy defense and questions across the board, Rick Pitino guaranteed a Big East title.
Led by Siva and a gutsy performance at the point guard position who earned him MVP, and senior Kuric, who scored 58 points during the four-game tournament, the Cardinals utilized the experience in Madison Square Garden to earn a four-seed into the Tournament.
What the Cardinals brought to the table was a healthier squad, hungry, fiery and ready to make a run into the tournament. They also brought the pressure defense that Rick Pitino is known for.
It was a brilliant display. Davidson and New Mexico were both touted for their offensive playmaking, but they were unable to deal with Gorgui Dieng and Chane Behanan in the frontcourt, while Russ Smith, Siva and Kuric led the way for the backcourt.
This led to a meeting against No. 1 seeded Michigan State, where, once again, the Cardinals kept up the tempo, utilized their pressure defense and blasted the Spartans 56-44.
The next game was an even more intriguing matchup, as it was pupil versus mentor, with Billy Donovan's Florida Gators facing off against Pitino's Cardinals. It seemed like the high octane Gators would pull out a massive victory over the Cardinals, especially with Siva fouling out late. But, the amazing offensive and defensive skill (along with a bit of a technical foul induced motivation) of Russ Smith willed the Cardinals to a very late victory over the Gators 72-68.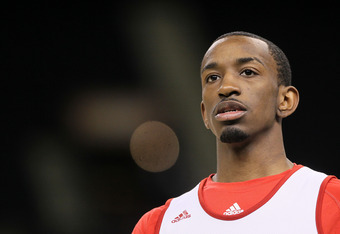 Jeff Gross/Getty Images
With Kentucky and Louisville on the same side of the bracket, the state's fans were ready for a tournament meeting between the two in-state rivals. And the game did not disappoint.
Even through a bad night of shooting and just the overwhelming presence of Kentucky's Anthony Davis (who was named John R. Wooden player of the year earlier in the day), the Cardinals were able to keep it close and hold Kentucky to their B-grade game, including statistical challenges in both rebounds and second chance points. But, it just wasn't enough, as the boys in red went home to Louisville to play another day.
What this season has taught U of L fans is that this team has the depth, talent and fortitude that we were looking for at the beginning of the season.
Sure, it's not a line-up of 5-star recruits, or massive players, or even the most offensively skilled team in the country, but it's got one thing that last year's U of L team lacked sorely at times: heart.
Through injuries, a difficult conference schedule and offensive struggles that held Louisville to the lowest percentage of three-pointers in recent history, the Cardinals played Rick Pitino ball the best they could when it mattered most.
Pitino and his crew made a metaphorical statement tonight: it's about staying tough through thick and thin. While they may not have been able to match up well against the eventual National Champions this year, they were able to play tough defense that kept them close in the game till the very end. It is inspiring play that made them get this far in the tournament from the get-go.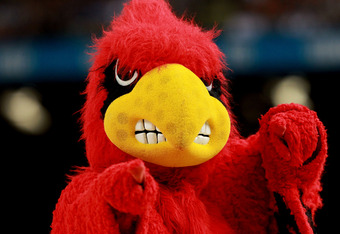 Ronald Martinez/Getty Images
What does next year hold for the Cardinals?
Well, the Big East gets shaken up a bit with saying goodbye to some old faces (WVU this year, Syracuse and Pittsburgh follow the next) and adding new ones for the 2013-14 season (UCF, Houston, Memphis, SMU and Temple). While this season in the Big East isn't a cakewalk for the Cardinals, it gives them some big opportunities to compete for the title next year.
The roster next year will lose one of its key scorers in Kyle Kuric and one of its key defensive players in Chris Smith, but the depth will still be there, as they continue to work around Peyton Siva, Chane Behanan, Gorgui Dieng and Russ Smith, along with adding the threats of Buckles, Blackshear, Marra, Van Treese and Zach Price.
While the recruiting class leaves much to be desired, Pitino has all the pieces in place to make a deep run next year in the tournament. You have got to believe that if they can improve on their field goal percentage (.425 percent), points per game (68.8), continue their success on defense, and get the rest of their squad healthy and prepared physically for the grueling schedule next year, then it's definitely a possibility that this team can be contenders. 
Anything less than a Final Four should be considered a failure for the Cardinals in 2012-13.