What Falcons Fans Should Expect from Mike Nolan in 2012 and Beyond
April 3, 2012

Handout/Getty Images
Early in the offseason, the Falcons signed Mike Nolan to be the defensive coordinator in 2012 and beyond. Nolan, one of the best defensive minds in the NFL, has lead many defenses of multiple schemes to top results.
The 3-4 Question
Many Falcons fans are thinking that Nolan will be switching the Falcons to the 3-4 defense, but Nolan has not had a preference towards either scheme in his career. He's coached the 3-4 and the 4-3 equally and in his most recent coaching gigs, those teams were running hybrid schemes of the 3-4 and the 4-3.
According to Pat Yasinskas of ESPN, Nolan doesn't have a preference and has said multiple times that the Falcons will be staying with the 4-3 for the upcoming season at the very least. The scheme the Falcons run this year should be very similar to what the Ravens ran in 2002-2004.
Nolan was quoted about the possible switch:
"If I felt like it could easily be tweaked to go to something else because I felt it could be better, I would obviously suggest it," Nolan said during a teleconference Wednesday. "But I think the track they've been on is a good one."
What the Scheme Could Look Like
Nolan is known for multiple looks in his scheme. He will vary the fronts for the Falcons with three, four and even two-man defensive lines. He will also have multiple looks when it comes to his sub packages and base packages.
The primary package that will be his base is what is called a "Big Nickel" with four down linemen, two linebackers, two cornerbacks, two safeties, and a corner/safety/linebacker hybrid position, which would be the ideal position to draft with someone like Trumaine Johnson or George Iloka—potential second round picks in the 2012 draft.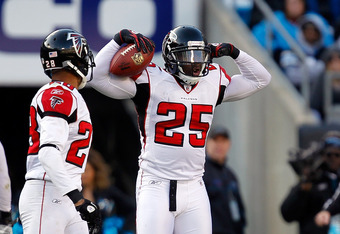 Streeter Lecka/Getty Images
The Key Pieces to His Defense
Nolan also bases his scheme around the one-gap concept and uses a position known as a "Joker."
The Joker is the primary pass-rusher in the defense and is built around having the player put in ideal spots to blitz and get after the quarterback. John Abraham and Lawrence Sidbury are good fits for the Joker role in the defense but Biermann could surprise as the dark horse to take it.
Nolan's biggest role is his weak-side linebacker. The weak-side linebacker in his defense is like a middle linebacker in other defenses as he will make the adjustments for coverage and call the plays in the huddle.
Another huge role for Mike Nolan's defense is the center-fielding free safety role.
Thomas Decoud was an important re-signing because this role will be a perfect way for Decoud's talents to show. However, because the Falcons have Moore and Decoud, the team could flip the field very easily and allow Nolan to use both safeties as either a blitzer, mid-cover or center field role.
What Falcons Fans Should Expect From 2011's Weaknesses
In 2011, Atlanta's biggest weaknesses on defense were the pass rush and the third down defense. Nolan will be challenged to correct these issues, especially the high third down conversion rate.
Nolan will blitz quite a bit more than what happened in 2011, as Atlanta only blitzed around 10 percent of the time all year. Nolan tends to blitz closer to the 25-30 percent range, allowing the team to get more pressure on the quarterback.
Atlanta has quite a few good blitzers who have been underutilized in Sean Weatherspoon, Stephen Nicholas, William Moore, Thomas Decoud and Akeem Dent.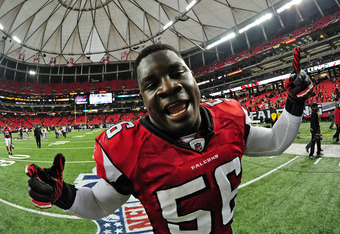 Scott Cunningham/Getty Images
The third down conversion rate the Falcons allowed, especially on third and long, is due to play-calling issues. Everyone and their brother could figure out that Brian Van Gorder was calling a vanilla three man rush and soft zone coverage on the third down plays.
Mike Nolan will be much more aggressive.
Coverage Differences
Mike Nolan runs a defense that will be perfect for the personnel. He runs his corners on an island in both press-man coverage and off-man coverage. He also tends to run an interior coverage with his linebackers with less deep drops for his linebackers to maximize their intermediate range.
Nolan's safeties will rarely end up in cover two or cover four zones as he likes to maximize multiple blitz and coverage calls from the secondary. He will also feature his linebackers in his defense by having them do multiple things in coverage whether it's through mid-tier zones, intermediate zones or even flat zones to cover the swing and screen routes.
The Bottom Line
Nolan is known for his quick turnarounds of bad defenses, but in Atlanta, he doesn't have a bad defense to work with. He is working with an above-average defense and has a lot of talent to work with from Abraham, Weatherspoon, Moore and Grimes.
Nolan should be the catalyst to an elite defense with the ideal scheme for success in the NFL. His merging of 3-4 and 4-3 ideals will have the Falcons playing at an exceptional level in 2012 and the defense could end up carrying the team next year.