Pittsburgh Steelers Mock Draft: Grading Picks from the B/R Community Mock Draft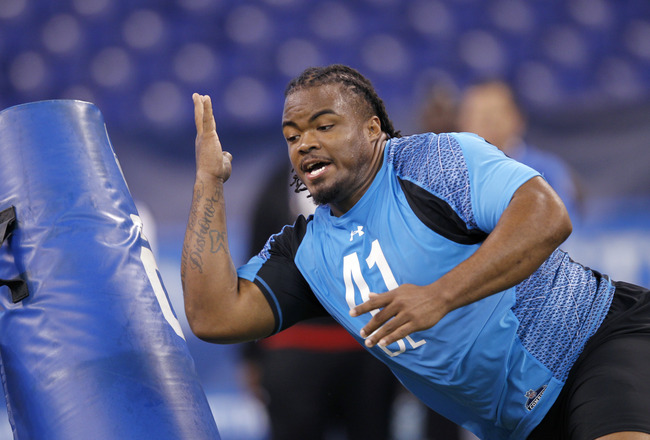 Joe Robbins/Getty Images
The Bleacher Report community mock draft is an excellent look at what a full, seven-round mock up for the late April event might look like. The Pittsburgh Steelers' version of this mock draft is intriguing to say the least.
There's a lot to examine here. There's a pipe dream scenario early followed by some interesting reshuffling and choices. Let's take a look at how this mock grades out.
Round 1, 13th Overall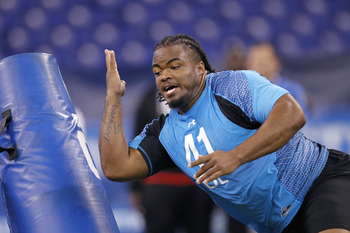 Joe Robbins/Getty Images
Dontari Poe, NT, Memphis
In this scenario, the Steelers would trade their first, second and fifth-round pick to the Cardinals for their first and third-round choices. Overall, this moves the Steelers almost halfway up the draft board from their current position and only entails a net loss of one draft choice.
The selection is stellar. Poe fills a glaring need (Casey Hampton is on the wrong side of 30 and coming off a big injury with no clear replacement on the roster), seems to be one of the best prospects in this year's draft on the defensive side of the ball and is a guy that could be a huge impact player in the middle of the defensive line.
Can this happen? I hope. Will it happen? Probably not.
Pick Grade: A+
Round 3, 82nd Overall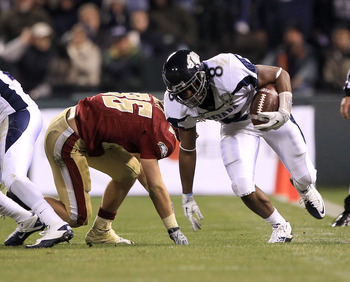 Ezra Shaw/Getty Images
James-Michael Johnson, ILB, Nevada
The Steelers pick up this selection from the Cardinals in the proposed trade. The good news is that they aren't moving very far from the second round to do it, and they're still able to address the need here.
Johnson is an interesting prospect. He's not coming out of a big-name football school, but he does have all of the tools to succeed in Pittsburgh's defense. He's a guy who isn't getting a ton of attention because players like Dont'a Hightower are from bigger schools.
Johnson is a good bet to sit behind Stevenson Sylvester, but he could push the veteran in his new starting job.
Pick Grade: B+
Round 3, 88th Overall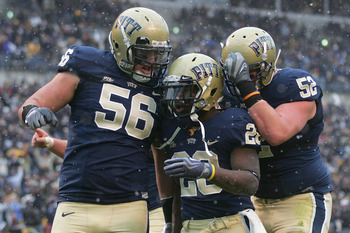 Jared Wickerham/Getty Images
Lucas Nix, OG, Pittsburgh
Back on their normal draft track, the Steelers address major need No. 3 with their third selection. The offensive line needs to be a focus this season, as the Steelers are trying to improve in the run game and pass protection.
The running game honestly is not broken because of anything Rashard Mendenhall, Isaac Redman and company have or have not done; it is broken because the offensive line simply doesn't open holes consistently, particularly in the middle. The Steelers don't have the speed at the running back spot to bounce a lot of plays out, so they can't run as well.
A guy like Nix isn't going to start right away unless he makes a big leap from Pitt, but he was part of a stellar run offense there, and he could be a 2013 and beyond starter that really helps the Steelers shore things up on the interior. Maurkice Pouncey needs some help.
Pick Grade: A
Round 4, 121st Overall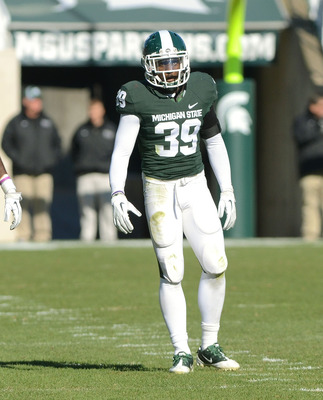 Mark A. Cunningham/Getty Images
Trenton Robinson, FS, Michigan State
Free safety has been a position that I've seen trend in different mock drafts for Pittsburgh. I'm not sure I completely agree that this should be any kind of focus, but I don't mind the attempt to increase the depth at the position.
Robinson is an interesting prospect coming out of a good Spartans defense. He doesn't project as an NFL starter, but he could be an upgrade over Ryan Mundy and should be a great part of special teams coverage units.
Overall, given that the Steelers have addressed their major needs, this is where they can afford some luxury. Good choice.
Pick Grade: B-
Round 6, 196th Overall
Ethan Miller/Getty Images
Rishard Matthews, WR, Nevada
There's some reason to believe the Steelers will look at a wide receiver at some point in this draft. Mike Wallace looks to be a lock for 2012, but not beyond. Hines Ward has retired. Jerricho Cotchery hasn't made up his mind.
Matthews is about as good as it gets here. He could end up being another late-round diamond in the rough. At this point, there's no loss picking him, and he could end up making the competition for the fourth or fifth spot interesting.
Pick Grade: B-
Round 7, 234th, 243rd, 249th and 251st Overall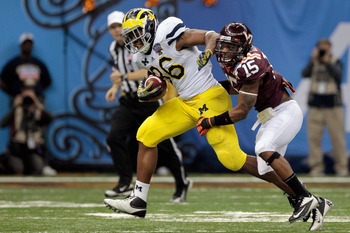 Chris Graythen/Getty Images
Seventh, 234th: Kevin Koger, TE, Michigan
I'm not really keen on a tight end in the draft. There's no real need unless the team is considering moving on without the promising but suspended Weslye Saunders.
I do think Koger is a decent pick. I just don't think he fills any kind of need for the Steelers, who still could use a back-up quarterback and a running back.
Pick Grade: C-
Seventh, 243rd: Jacquies Smith, DE, Missouri
Why not get some more defensive line depth? I'd rather see them take a second defensive tackle here, but I can't really argue about anything in Round 7.
Smith is as good as any pick here, and he seems like a guy who could develop the same way Brett Keisel did when he was taken in this round.
Pick Grade: B
Seventh, 249th: Josh LeRibeus, OG, Southern Methodist
I love the fact that they're giving multiple picks to the offensive line this year. The Steelers need to really address the depth along the line. An offensive tackle would be good here, but any depth consideration is successful.
LeRibeus would be a good fit in this system and should be able to develop within a few years into a solid player. At worst, I'd say he's a back-up guard on either side of the line.
Pick Grade: B+
Seventh, 251st: Derrick Shelby, DE, Utah
I do not at all like another defensive end. That would be three defensive linemen in one draft. While the Steelers routinely move in that kind of direction, addressing one position, there is nothing that indicates that amount of need.
The Steelers would be much better served with running back or quarterback here. Not getting one at all is inexcusable.
Pick Grade: D
Keep Reading

Pittsburgh Steelers: Like this team?