New York Yankees: Lights-out Pitching and Potent Lineup Poised for World Series
April 4, 2012

Chris Trotman/Getty Images
The Los Angeles Angels were the winners of the off season, signing Albert Pujols and C.J. Wilson (arguably the two best free agents). The Miami Marlins made a huge splash, bringing Jose Reyes, Mark Buehrle, Carlos Zambrano, Heath Bell and Ozzie Guillen on board. The Detroit Tigers broke the bank for Prince Fielder. The Rangers went all in with Yu Darvish.
All major acquisitions for those teams, but the New York Yankees have put together the best team that can beat them all.
The once shaky starting rotation has been reinforced with veteran right-hander Hiroki Kuroda, who has been great all spring and looks to form a strong one-two punch with CC Sabathia. In their other big move, the Yanks do look like the losers in the Michael Pineda trade right now, but with a little rest and some time in the minor leagues, this guy is going to be a force for the Bombers in the rotation by mid-season.
CC Sabathia just keeps on delivering for the Yankees, with three straight 19-win seasons in the Bronx. Absolutely no reason to think that he will do worse than that in 2012.
Phil Hughes, the same pitcher who struggled to hit 90 mph on the radar gun last spring, is now throwing consistently in the 92-94 mph range. As a result, he has been fantastic all spring long, so much so that he has earned the third spot in the rotation. With that kind of gas back and his filthy curveball, Hughes looks to give the Yankees a performance similar to his 18-win campaign in 2010.
The number four starter, Ivan Nova has not looked so hot this spring and has raised a few question marks, but with a 16 wins in 2011 (including 12 straight regular season victories to close the year) he deserves the benefit of the doubt. Hopefully he puts his struggles in spring behind him and returns to his 2011 form.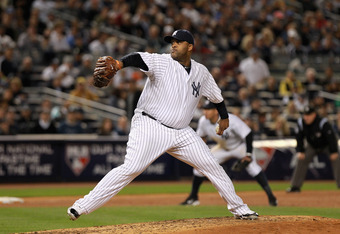 Nick Laham/Getty Images
Despite being overshadowed and seemingly upset by the return of Andy Pettitte, Freddy Garcia has turned in another great spring and locked up the final spot in the rotation, where he will look to build on a 12-win season from a year ago.
That is until number 46 makes his return to the big leagues.
Of course, the number 46 I'm talking about is Andy Pettitte (a man I like to borrow Jon Gruden's nickname for Peyton Manning, and call "The Sheriff"). Adding to the Yankees wealth of pitching, "The Sheriff" came back for one reason, and that's to win, period. He is expected to be ready to join the starting rotation by May, and don't be fooled—he will be a starter.
Yeah, I'm talking to you Garcia and Nova.
In addition to the obvious starting pitchers named above, the Yanks have a plethora of additional young talent down on the farm. Dellin Betances, Manny Banuelos, D.J. Mitchell, David Phelps and Adam Warren lead a group of possible reinforcements at the ready, should injuries be incurred.
Plus, we have a little addition by subtraction, because A.J. Burnett is gone!
The old mantra is "pitching wins championships." Well the Yankees are stacked and ready to go toe-to-toe with the other top rotations of the Rays, Angles and Phillies.
Combined with that deep and talented rotation, the Yankees have one of, if not the best bullpen in the Majors.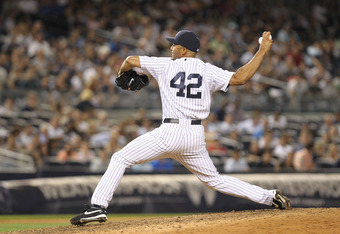 Nick Laham/Getty Images
"Enter Sandman" will continue to electrify Yankee Stadium for at least one more year, as Mariano Rivera forges ahead as the all-time leader in saves and the undisputed greatest closer of all time.
Behind him, David Robertson looks to remain the setup man and the apparent heir to the throne, and another lights-out season like last year would secure that. In the seventh inning, the Yanks have Rafael Soriano, who when healthy at the end of last season, looked like he might just be worth all that money the Yanks are paying him. Lefties Boone Logan and likely Clay Rapada do an efficient job of neutralizing left-handed batters, which is very crucial at Yankee Stadium.
It's clear the Yanks have a boat load of talent on the pitching mound, but they aren't the Bronx Bombers for nothing.
My sleeper MVP-pick for 2012 is Alex Rodriguez, who has had a great spring and is seemingly healthy for the first time in a long time. A healthy and comfortable A-Rod means a lot of "A-Bombs," and I believe that a 40-homerun season is very likely. Once again, that's if he stays healthy, which is a big "if."
Healthy A-Rod or not, the Yanks still have the deepest lineup in baseball.
Mr. 3000, Derek Jeter leading it off, hopefully builds off of his strong second half of last season. Behind him, Curtis Granderson had an MVP-caliber season in 2011, smacking 41 homers and leading the league with 136 runs scored and 119 RBI.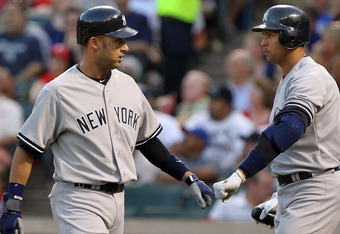 Ronald Martinez/Getty Images
Speaking of MVP-caliber, Robinson Cano continues to surge forward as the soon to be face of the franchise, reaching career highs in RBI and runs scored to go along with 28 homers and a .302 batting average last season. Forcing skipper Joe Girardi to flip-flop him with Mark Teixeira as the new three-hole hitter.
Behind cleanup hitter A-Rod, Mark Teixeira has some room to improve. His batting average continued to plummet, as it has each of his years with the Yankees, to a career-low .248. His 39 home runs and 111 RBI should still provide enough protection for A-Rod, but an improvement in batting average would make the lineup that much better.
Right Fielder, Nick Swisher is entering a contract year, which means he will be trying to do his best to make the decision to keep him or not very difficult for General Manager Brian Cashman. Either way, you can't really criticize Swisher a whole lot, after all, the Yankees picked him up from the White Sox for Wilson Betemit and expected him to backup Xavier Nady and Mark Teixeira. My, how long ago 2009 seems.
Another player entering his contract year is Catcher Russell Martin, who surprised everyone last year with his production and durability. Also trying to make another hard decision for the Yankees next off season, he should have a good year, probably even better than last year.
The newest piece to the offense is Designated Hitter Raul Ibanez, who should also provide some outfield depth if need be. The 40-year-old left-handed batter will platoon with Andruw Jones in the DH role, facing the righties, while Jones handles southpaws. Hopefully, Ibanez can take advantage of the short porch in right field and add even more power to the Yankees lineup. He can't be any worse than Jorge Posada last year.
Rounding out the lineup is Brett "the Jet" Gardner, whose speed gives him that great jump in left field as well as on the bases, as he swiped a league high 49 last year. However, if he has any notion of replacing Jeter in the leadoff spot, he's going to have to do better than the .259 batting average he turned in last season.
All things considered, the 2012 New York Yankees are the most well-rounded team in baseball. A lights-out rotation combined with a very productive lineup, with a lock it down bullpen. No other team can match the Yankees roster toe to toe.
This is the Bombers best chance to win World Series No. 28 since they won it all in 2009.