Indiana Basketball: Hoosiers Have Sights Set on a National Title Next Season
April 4, 2012

Jed Jacobsohn/Getty Images
The first unofficial pre-season top 25 rankings have been released, and according to ESPN's Andy Katz, the Hoosiers are the team to beat next season.
This has Hoosier Nation buzzing, especially those who didn't believe that coach Tom Crean was the man to turn the program around when he was hired in 2008.
Crean was put in a tough spot when he was hired by being asked to clean up the mess left for him by former coach Kelvin Sampson, and it had fans frustrated after he coached the Hoosiers to three straight losing seasons.
Crean was determined to turn his doubters into believers, and let his recruiting and coaching do the talking this past season.
Although it took longer than expected, Crean put the Hoosiers back on the winning track in 2012 after winning 27 games and finishing fifth in the Big Ten.
The Hoosiers had signature wins over what were then No. 5 Michigan State, No. 2 Ohio State and No. 1 Kentucky.
Crean also brought the Crimson and Cream to its first NCAA Tournament since 2008, and its first Sweet 16 since 2002. This impressed a lot of people after going into the tournament with a total of zero games of tournament experience on the roster.
This only appears to be the beginning for this young Hoosiers team, whose roster is staying mostly intact, and has the No. 9 recruiting class coming in according to ESPN.com.
Indiana will see most, if not all, of its starting lineup from this season return, pending on whether junior forward Christian Watford decides to take the leap to the NBA.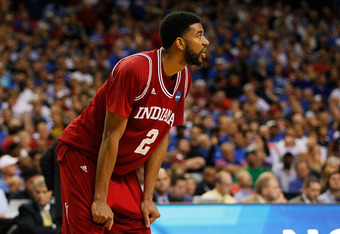 Kevin C. Cox/Getty Images
If Watford does indeed stay, he and guard Jordan Hulls will be two important senior leaders who will be joined in the starting lineup by juniors Will Sheehey and Victor Oladipo and of course sophomore Cody Zeller.
These five players, along with Derek Elston, Remy Abell and the freshman recruiting class, will give the Hoosiers something that most college teams don't have: depth.
The 2012 recruiting class includes three 4-star recruits (Hanner Perea, Kevin "Yogi" Ferrell, Jeremy Hollowell) and two 3-star recruits (Ron Patterson and Peter Jurkin) who, combined with Zeller, have fans calling the Hoosier's turnaround "The Movement."
The recruiting class covers a player at each of the five positions, making the Hoosiers not only one of the deepest, but also one of the most talented teams in the country heading into next season.
The combination of Zeller and incoming freshman and talented passer Kevin Ferrell has fans excited for what could be their next one-two punch for years to come.
The Hoosiers relied heavily on their three-point shooting this season, and while they will still possess the talent to stroke it from behind the arc, they will look to expand their game to become more balanced.
Crean has a lot of talent to play with and a lot of minutes to spread out, but he knows better than anyone that the most talent doesn't always win games, which he proved after slaying three top-five teams this season.
Indiana has improved in each of its four seasons under Crean, and the team will look to keep that up next year as the Hoosiers enter the season with a target on their backs.
That being said, the Hoosiers are excited to be faced with this challenge and will be working as hard ever as they look forward to next season's tip-off.
"The Movement" is underway in Bloomington, and Hoosier fans can't wait to start the journey towards banner No. 6.