San Diego Chargers: Ryan Mathews and 5 Players Who Must Step Up Immediately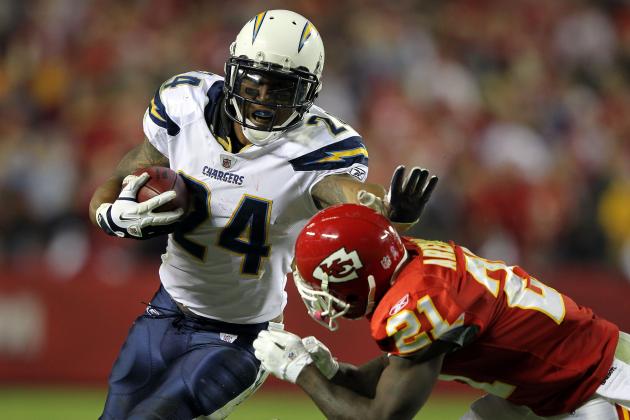 Jamie Squire/Getty Images

The San Diego Chargers will look a lot different at the start of the 2012 season. With losses of staple players such as Mike Tolbert and Vincent Jackson to free agency, it is time for those who have been waiting in the wings to step up and prove themselves to the fans.
It is no secret the Chargers underperformed the past two seasons, two straight without a playoff appearance. However, much of that struggle can be summed up to a period of transition, where the Chargers are trying to find their new identity as the talent-laden sides of the previous decade have dissolved.
The new crop of youngsters such as Ryan Mathews, Jacob Hester, Corey Liuget and Larry English have to shed their greenhorn status and play like the kind of players that made them prospects for the future.
Here are reasons why these guys must step up right away.
Begin Slideshow

»
Jonathan Daniel/Getty Images

The team has been without LaDainian Tomlinson for two full seasons now, in which time Mathews has begun to make it his own. He improved greatly from his rookie season to last year, but it still leaves many Charger fans used to the dynamic play of Tomlinson wanting more.
It often seems like Mathews has all the makings to be a top back in the league but lacks the confidence in his play to make it happen. His untimely fumbles have cost the Chargers more than once and shake his poise into being more timid than he should. He seems more intimidated by the expectations of replacing Tomlinson than the linebackers trying to get him.
However, he is the key piece in San Diego's success.
For the first time in his career, Philip Rivers looked vulnerable in the pocket. He tossed the ball up unwittingly almost twice as many times as he had any other season, committing an uncharacteristic 20 interceptions. It was quite obvious some games that Rivers was not going to get the job done.
He also had a career high in pass attempts and second most in sacks. At age 30, his body cannot afford the kind of beating that kind of play can have on a QB.
All those numbers became inflated as he forced more and more passes rather than handing the ball off to Mathews to get the offense back on track. Mathews needs to present himself this season as not Plan B, but rather another dynamic to Plan A.
If Mathews can get himself going, there should be no reason this offense cannot dominate as much as the previous years' once did.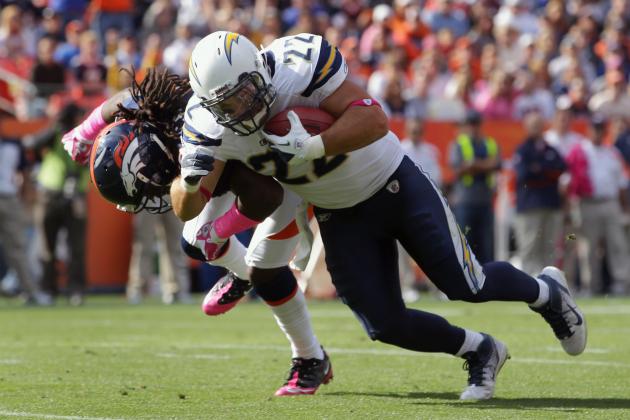 Doug Pensinger/Getty Images

The Chargers decided that retaining fan-favorite running back Mike Tolbert was not in the best interest of the team moving forward. Whether you agree or not with letting go of a 26-year-old who brings charisma and energy to the team through his trademark bowling ball runs matters little now as he will not be with the Bolts next season.
It is time for former LSU tailback-turned-fullback Jacob Hester to take command in short-yardage situations.
Hester entered the league in 2008 when the Chargers drafted him 69th overall. Since then, he has been a reliable special team's player and occasionally found himself in the huddle on offense, often designated to clear the way for the first-choice back.
He has also gotten his fair share of touches mostly receiving out of the backfield, where he has amassed 308 yards on 55 receptions.
With Tolbert gone, San Diego is now down to two backfield players who have played significant time in this offense: Mathews and Jacobs. The signing of Le'Ron McClain adds some depth but will not be the missing piece to make the offense tick.
Hester will have to be that short-yardage and red-zone specialist, as much a threat to get the ball and head down hill straight into the pile as he is to wing out wide and catch a pass down the sideline. If he can fill this role, it will be very difficult to keep San Diego out of the end zone.
Right now, Hester remains a free agent but is in talks with the Chargers and all signs point to him penning a new deal with the team.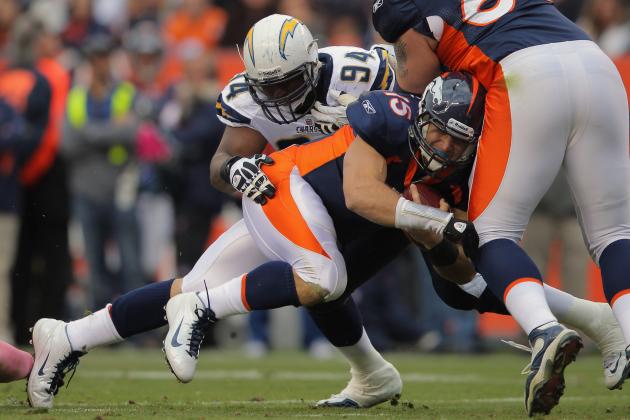 Doug Pensinger/Getty Images

The Chargers' first-round pick in 2011 left a lot of fans scratching their heads. Leave it to the immense ego of A.J. Smith to pick a quiet player from Illinois to be the one that will help the Chargers' inept pass rush.
Liuget in his first season was not an abysmal disappointment. He got the kind of numbers you would expect out of a rookie in his position, 19 tackles and one sack, 13th best among first-year D-linemen.
However, those kind of numbers need to be on the rise and quickly. The Chargers ranked a disappointing 25th in sacks last year and often saw their secondary cut to bits by the amount of time quarterbacks had to throw. Pressure rarely came off the edge, allowing opposing QB's to sit comfortably, plant their feet and deliver crisp passes.
Liuget must understand that whether or not he should have been a first-round pick, he was one and needs to play like it. He must make his sophomore season a message to the league that he is one of the most dangerous players off the edge.
This does not mean he needs to be Julius Peppers overnight, but rather that he must make tackles pay for their mistakes and hit the quarterback hard, giving the secondary a chance to make some momentum-changing plays.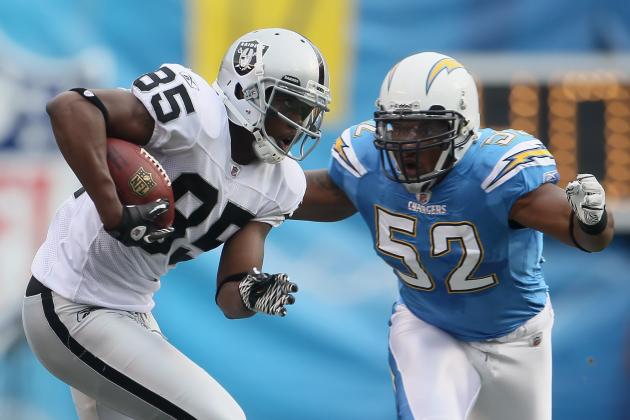 Jeff Gross/Getty Images

Another ego pick for Smith, the so-called draft-day genius passed on such noteworthy players as Hakeem Nicks, Clay Matthews and Percy Harvin to take Larry English from Northern Illinois. Now I know it is not really fair to do this game of hindsight, but it is difficult not to when you track their career paths with English's.
A rookie season filled with promise after posting 36 tackles and two sacks quickly deteriorated these last two years as he was only able to play in a combined 13 games due to injury. The linebacker has tried hard to get back to the field as quickly as possible, but it seems he cannot escape the stigma of being "injury prone."
The Chargers' linebacker play over the years has always been dependable, but inglorious. They have never been a group to make monster plays or set schemes to get to the quarterback. They generally play a cover-type defense, preventing any big plays by the offense and slowing down aggressive attacks.
This is partly by design, but mostly because of the lack of talent at the position. English is meant to be that dynamic player who adds a bit of intrigue just behind the line. Big enough to shed off blockers and fast enough to stay with tight ends, he should act as a sort of "wild card," jumping around to confuse the offense.
English must first and foremost get and stay healthy for the entire season. He is an excellent talent that could be a smart pick by the end of his career, but only if he is able to stay on the field.
Once he gets into shape, he has to by the dynamic player the Chargers have always lacked. He alone can do enough to confuse the offense into shooting themselves in the foot, committing turnovers and foolish penalties.
If he can, that defense should be a lot more exciting to watch this season.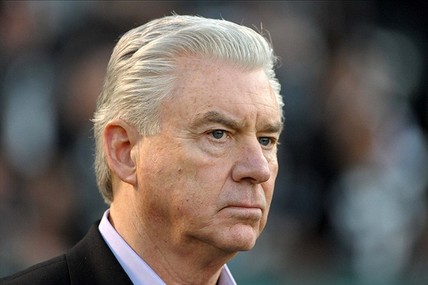 Smith is suppose to be some kind of draft guru, able to make deals and pull diamonds out of the rough that every GM hopes to find. However, recently Smith has left fans with wanting more of the kind of draft-day magic that led to him landing Rivers, Shawne Merriman, Vincent Jackson and Darren Sproles.
The Chargers' recent drafts had been mediocre at best. A lot of solid players to add depth, but never really the kind of impact guy that can come straight into the league and have an effect.
This needs to change.
I am not going to sit here and speculate about whom the Bolts will draft. If there is one thing we can learn from their history in picks, it's that it is next to impossible to predict. So instead I will just suggest that whomever the player is that comes in needs to make his presence felt right away.
I know it is a lot to ask of a rookie making the jump from the college game to the pros, but this has to be the year they make that pick count. There is not enough talent on the team right now to have them easily making the playoffs. This draft Smith has to stop with picks that will highlight his "brilliance" as a GM and just take the best possible player who will start contributing right away.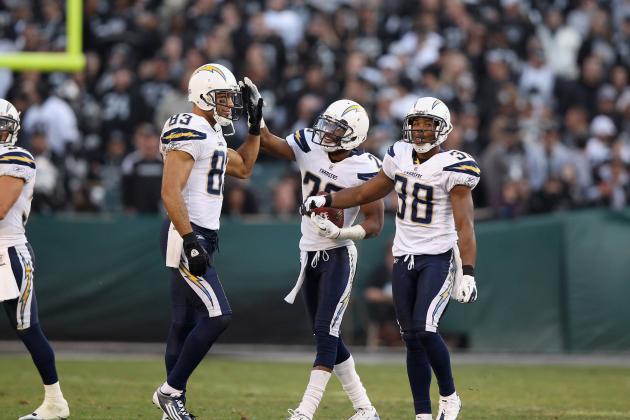 Ezra Shaw/Getty Images

It is obvious the Chargers are no longer the given AFC West favorites. Two straight years of missing the playoffs has knocked them off their perch as preseason Super Bowl contenders to a team that is just hoping to get into the postseason.
However, if that is to all change, the players I mentioned need to come into their own and prove themselves as All-Poo players.
What other players do you think need to step up next season? Do some of the vets need to prove themselves or does the onus fall squarely on the youngsters?
As always, please leave your comments below and thanks for reading!
Follow me on Twitter: @thecriterionman