Houston Astros: Carlos Lee's No-Trade Clause Takes Some Fun Away for Fans
April 3, 2012

Bob Levey/Getty Images
Sticking with a terrible baseball team through the six-month grind of a 162-game season is not easy for fans and media who follow that particular club. But one of the storylines that can bring some intrigue to a lost season is potential trade interest in a bad team's older, high-priced veteran player.
Houston Astros fans presumably have that in threefold this season, with Brett Myers, Wandy Rodriguez and Carlos Lee no longer a fit for a rebuilding franchise, one that looks destined to be the worst team in baseball for the second straight year.
It's not a guarantee that either player will be dealt away, however. Each of them have big contracts that other teams won't be interested in taking on unless the Astros eat a significant portion of the remaining money. So you should still have a decent chance when playing NotGraphs' "How Many Astros Can You Name?" game.
Myers has two years and at least $14 million left on his deal. (His $10 million option for 2013 can be bought out for $3 million.) Rodriguez has three years remaining on his contract worth a minimum of $25.5 million. (He can be bought out of his $13 million option for 2014 for $2.5 million.) 
That leaves Carlos Lee, who's set to be paid $18.5 million this season. But any team interested in picking him up would only be on the hook for this year (or whatever remains to be paid by the time he's acquired). No obligation past the end of this season might make Lee look more appealing to potential trade partners. 
Except there's one problem with that. Lee's contract knocks out half of the possible teams he could be traded to.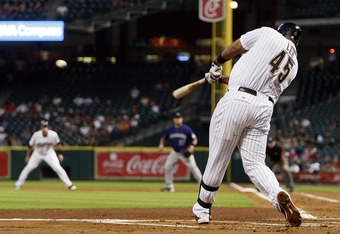 Bob Levey/Getty Images
According to FoxSports.com's Ken Rosenthal, Lee has a limited no-trade clause in his deal that allows him to block a deal with 14 teams. The provision was included in his six-year contract in exchange for Lee waiving his "10-and-5" rights that would allow him to block any trade. Such rights are entitled to players who have played in the majors for 10 years, the last five with the same team. 
I'm not sure the Astros really gave anything up in this particular negotiation, as Lee had a full no-trade clause for the first four years of his contract, followed by this limited no-trade provision in its final two years. Astros fans can't even blame this one on Ed Wade. Tim Purpura was the team's GM when Lee received his deal. 
Unfortunately, the 14 teams that Lee can block a trade to weren't reported. But as the season progresses and a contending team possibly expresses interest, we'll eventually discover some of the teams on that list. 
Lee's skills have been in decline through the duration of his contract (his OPS has dropped from .895 in 2006 to .788 last season), but a bat that can provide an .800 OPS, 20-25 home runs and 100 RBI might be of some use to contending teams. Just off the top of my head, the Atlanta Braves, Cleveland Indians, Washington Nationals, Philadelphia Phillies, Miami Marlins and Texas Rangers could find a place for Lee at first base or left field. 
But which, if any of those clubs, are on Lee's no-trade clause? Hopefully, for the sake of trade rumors that so many of us love to follow, none of them are blocked.