Rushing Derrick Rose Back to Action Would Ruin Chicago Bulls' Title Hopes
April 4, 2012

Kevin C. Cox/Getty Images
There is no reason to rush Derrick Rose back from his groin injury. The Chicago Bulls have absolutely nothing to gain from Rose coming back earlier than he should.
Despite the manufactured, crooked conception that the team might actually be better without Rose in the lineup, there is just no way Chicago is an improved club without the reigning MVP on the floor.
Rose has been out since March 14 with the injury, and it was a lot more serious than he or the team had initially been letting on at the onset of his diagnosis. About a week and a half ago, ESPN Chicago's Nick Friedell got some gruesome details on exactly what Rose was dealing with when he injured his groin.
"(I'm feeling) way better," Rose said before sitting out Saturday night's game against the Toronto Raptors. "(When the injury occurred) I was actually bleeding, my groin was bleeding, but now it's healed. It's just scar tissue and it's pretty hard trying to get that to move around, it's going to take little time."
Rose's groin ailment was so bad he was actually bleeding. This was no ordinary groin strain or anything close to it—this was a major injury.
After sitting out just six games over his first three years in the league, Rose has now missed a whopping 21 games during the 2011-12 season.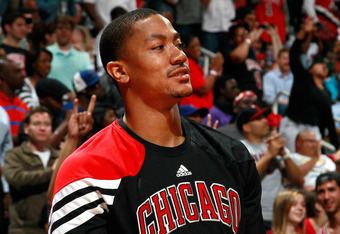 Kevin C. Cox/Getty Images
And it's OK that he has.
The Bulls currently boast the best record in the entire league at 42-13. With a postseason spot all but sewn up atop the Eastern Conference, Chicago would be foolish to risk Rose aggravating his injury by returning to the hardwood earlier than he should.
Now in the final leg of the regular season, Rose is nearing a return to action, according to beat writer K.C. Johnson.
If Rose returns against the Knicks on Sunday, he would miss just one more game (Thursday versus Celtics).
Having a healthy Rose for the final three weeks of the regular season and the playoffs is far more important than rushing him back before he's at 100 percent health. If Rose returned before he was ready and wound up having to hit the sidelines again, the title hopes in Chicago would come crashing down to the floor.
This is a motivated group that is looking to prove it's capable of winning it all, but that's only going to happen with a healthy Derrick Rose manning the point guard position.
C.J. Watson and John Lucas III have done an admirable job of stepping up since Rose has been out, but neither player can wear Rose's shoes. It's not just about what Rose does on the floor from a statistical standpoint, it's about his leadership, dedication to perfection and the impact he has on his teammates when they see him in the starting five.
The ultimate goal of a team with this much talent should be winning a championship every season, and there is no reason for the Bulls to jeopardize it with Rose returning too early.
Without Rose, there is just no way the Bulls have enough firepower in the tank to take home the title.
There is just no incentive for Rose to hurry back from his injury during this whirlwind season.
He's got his eyes on the prize, and the team is right to keep him out so there is no jeopardizing the opportunity to bring the Larry O'Brien Trophy back to Chicago.