Final Four: John Calipari Proves He's an Elite Coach and That Talent Wins Titles
April 3, 2012

Ronald Martinez/Getty Images
The Kentucky Wildcats are national champions (to the surprise of few) and are back on top of college basketball.
They cut down the nets for the first time in 14 years and now they strut more championship banners than any other school besides UCLA.
The 2012 Wildcats are one of the best national champions in recent memory and certainly the most talented.
Anthony Davis became only the second freshman to win the Naismith Trophy and has already drawn comparisons to the likes of Tim Duncan, Patrick Ewing and Bill Russell after only 40 college games. He will go first overall in the upcoming NBA Draft, no matter what team holds that selection.
He was one of the five underclassmen in Kentucky's starting lineup this season. The other four all projected to be first-round draft picks as well.
Many NBA mock drafts have Michael Kidd-Gilchrist going second overall and are projecting Terrence Jones, Doron Lamb, and Marquis Teague to be selected in the late first round.
Their sixth man and senior leader Darius Miller could go in the first round as well and Kyle Wiltjer has a great chance at making an NBA roster at some point.
Wiltjer may be the only remaining player out of this bunch returning to Lexington next year after Kentucky's Final Four triumph. Just imagine if this entire group stuck around for another year or two.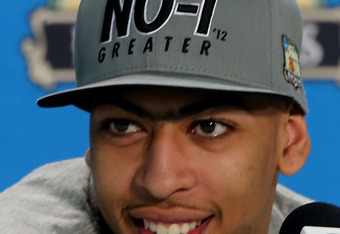 Jeff Gross/Getty Images
John Calipari's "one and done" recruiting has made the program an NBA feeder team in the eyes of many, but there is no longer an argument about whether or not it can win a championship or be successful.
Kentucky has made three straight Elite Eight appearances, back to back Final Fours, and has now won another national title. 
Others have argued that Calipari is only a great recruiter and that many coaches could have just as much success if they had that kind of talent.
There are many talented teams (1983 Houston, 1991 UNLV, 1997 Kansas) that have come up short of winning the Final Four in the history of college basketball. Talent doesn't always win, whether it's a starting five of freshman or an upperclassmen-heavy team of future NBA players.
Few coaches have been able to consistently maintain the level of success that Calipari has had in his career. His Kentucky teams have been to three straight Final Fours with what was essentially a different team in each season.
Recruiting is a big part of the equation for any great coach, but so is rebuilding a program all the time. Calipari has accomplished that as a head coach at UMass, Memphis and Kentucky.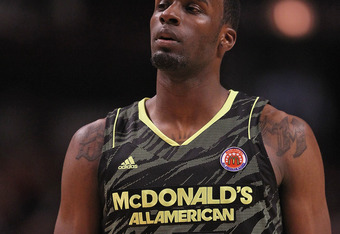 Jonathan Daniel/Getty Images
UMass went from an Atlantic 10 afterthought to a national championship contender during Calipari's tenure in Amherst. 
Memphis experienced similar success after being a bottom-tier Conference USA team.
His vacated Final Four appearances during those previous coaching jobs (1996 at UMass and 2008 at Memphis) will always leave a tarnished mark on his legacy, but that doesn't take away from his status as an elite coach.
Jerry Tarkanian was an elite coach during his long tenure at UNLV, despite the scandals and controversies that surrounded his basketball program. That baggage has kept him out of the Naismith Basketball Hall of Fame for the time being (Calipari will likely face similar opposition), but Tarkanian is still considered a great coach.
The success may not stop after this season for John Calipari. Even with all his core players seemingly headed to the NBA (once again), Kentucky may not fall off too much next season.
Kyle Wiltjer will have a more prominent role next season, as could Doron Lamb and/or Marquis Teague if either of them doesn't declare for the NBA Draft. Former North Carolina State point guard Ryan Harrow could start next season after red shirting.
Kentucky already has a great freshman class for 2012 after commitments from five-star recruits Alex Poythress and Archie Goodwin, and four-star center Willie Cauley.
The Wildcats are considered strong favorites to land the top two recruits this year, Shabazz Muhammad and Nerlens Noel. Muhammad is atop of the list for most recruiting rankings and Noel has already been described by some as Anthony Davis 2.0. The Wildcats might get Anthony Bennet as well, who is one of the top forward prospects in the country.
Kentucky could be just as dominant in 2013.
Only moments after Kentucky beat Kansas, Calipari talked about how he wants to coach an undefeated team before his career is over.
Repeating as Final Four champions with a new group of players is hard enough, let alone trying to accomplish what no team has done in four decades.
Running the table could be a possibility for Kentucky in the near future with the talent they are able to recruit year after year.
Even without a perfect season on his resume, John Calipari has proven he is an elite coach and a Hall of Famer.