Liverpool FC: 10 People Who Have Had a Hand in a Woeful Premier League Season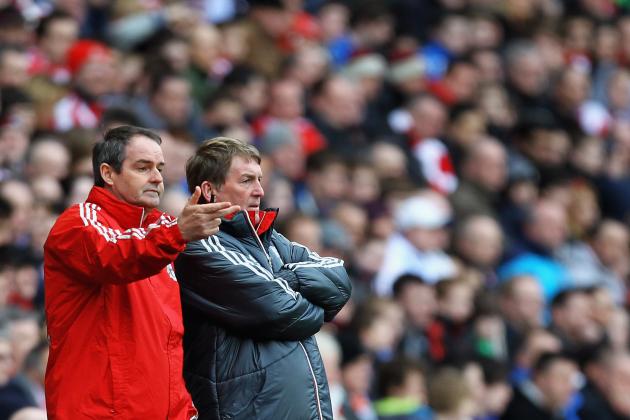 Matthew Lewis/Getty Images

The blame for Liverpool's struggles in the Premier League can fall on many people.
Few could have expected this kind of season after the arrival of new owners Fenway Sports Group and the appointment of Kenny Dalglish as manager last year.
Unfortunately for Liverpool supporters, it's been a bit of Murphy's law in action this year. Despite winning the Carling Cup and still being alive in the FA Cup, the club sits in eighth place in the league.
The cup success can't mask the league struggles. Champions League qualification is an impossibility, as the Reds are 16 points off fourth place.
There are some with the team who are directly to blame for their poor performances this year. Others can be looked at as indirectly causing Liverpool's slide, whether it be through injury or any kind of absence.
Here are 10 men who have adversely affected the club this year and helped put it in its current position.
Begin Slideshow

»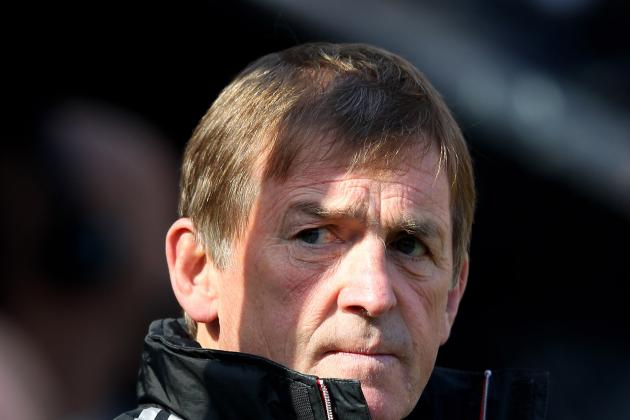 Alex Livesey/Getty Images

When a team is struggling, it's natural to look at the manager. Sometimes criticism is warranted; other times it isn't.
In the case of Kenny Dalglish, it's the former.
Unfortunately for Dalglish, he hasn't been able to carry over the success he had last season after replacing Roy Hodgson. Some might argue that the club is in a worse spot now than it was when Hodgson left.
It's not quite that bad, but few would argue that Dalglish hasn't looked inept at points in the season. He can't be alone in being blamed, though.
Assistant manager Steve Clarke has to get his fair share of criticism as well.
Liverpool have looked to have no real strategy week in and week out. Supporters can say what they want about Hodgson, but there wasn't any doubt about how he wanted to play.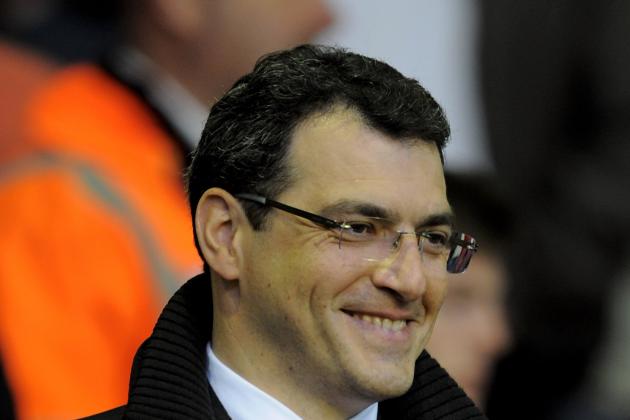 Michael Regan/Getty Images

As director of football, Damien Comolli is responsible for bringing players into the club.
It's a bit hazy as to whether Comolli or Kenny Dalglish is the one who chose the "buy British" strategy that Liverpool used in the summer transfer window.
Regardless, as director of football, Comolli has overseen the signings of Charlie Adam, Andy Carroll, Jordan Henderson and Stewart Downing, all of whom have struggled in their time at Anfield.
Yes Luis Suarez, Craig Bellamy and Jose Enrique have worked out quite well, but the previous four players have cost about £80 million combined.
That's a lot of money for very little payoff.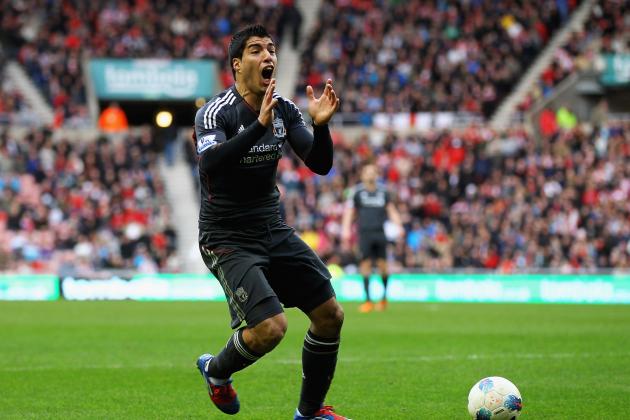 Matthew Lewis/Getty Images

It's largely been a year to forget for Luis Suarez, both on the pitch and off.
He's Liverpool's best threat in the attack and at times he can be unplayable.
However, Suarez has taken 107 shots in the Premier League and scored only seven times.
His antics on the pitch have been dreadful as well. The Uruguayan is a serial diver and when calls don't go his way, he'll flail his arms around in disgust.
Of course, there was his eight-match suspension for racially abusing Patrice Evra. That saga dragged Liverpool's reputation through the mud in a way that hasn't been seen in decades.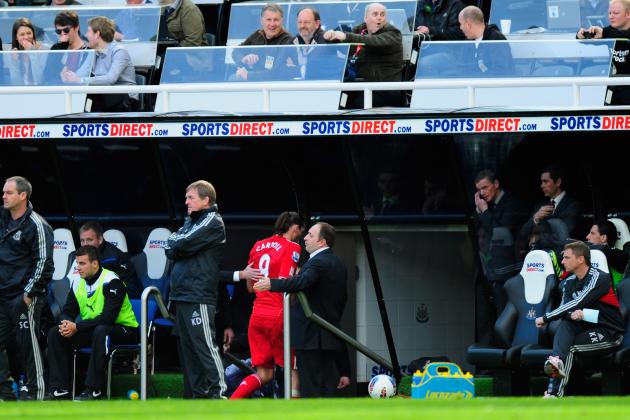 Stu Forster/Getty Images

It's doubtful that Andy Carroll would ever live up to his £35 million price tag, but few Liverpool supporters could have expected that things would get this bad.
He's scored three goals so far in the league, but Carroll's problems look to go beyond the stat sheet.
His positioning has been questionable and he hasn't held the ball up well enough for a striker with his size.
The striker has simply looked listless and apathetic at times. Kenny Dalglish has publicly backed him many times this season, but Carroll hasn't repaid that faith at all.
Then, just as he put in a good first half against Newcastle last week, he sulked off the pitch when he was substituted in the second half and walked straight to the dressing room.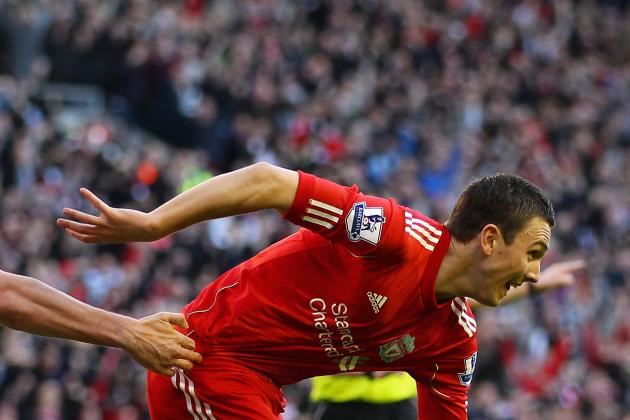 Alex Livesey/Getty Images

Stewart Downing was purchased with Andy Carroll in mind.
He was supposed to supply Carroll with plenty of opportunities in the box. That hasn't really happened.
Part of it can be blamed on Kenny Dalglish. Downing and Carroll haven't played a lot together this season and even more confusingly have been substituted for each other multiple times this year.
Dalglish has even admitted that he had been putting Downing in so many different positions that it's hard for the midfielder to succeed.
The numbers, though, are possibly the biggest indictment on Downing's season.
In 30 Premier League games this year, he has failed to record either a goal or an assist.
Michael Regan/Getty Images

The ownership group has really put themselves in a tough position.
Appointing Kenny Dalglish as interim manager last year was a popular choice among the supporters and proved to be very successful on the pitch.
Fenway Sports Group wanted to show supporters that they would listen and the appointment was a result of that.
However, they have dug themselves into a major hole.
Dalglish is almost unsackable. No matter how poorly the club performs, it's going to be an equally unpopular decision to relieve him of his duties. King Kenny could lead Liverpool to relegation and the supporters will still love him.
FSG didn't do themselves any favors following their silence in the Luis Suarez affair, either.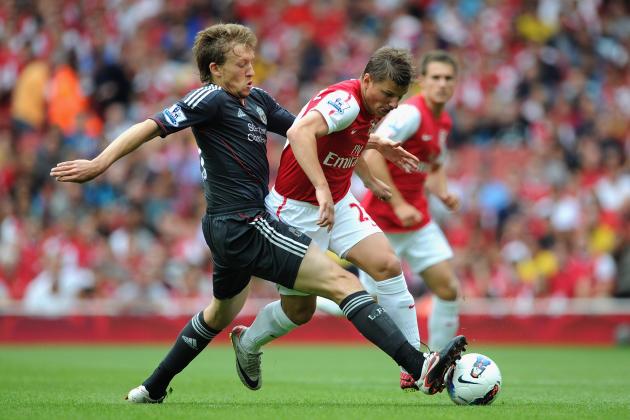 Michael Regan/Getty Images

Liverpool haven't been the same since Lucas picked up his season-ending injury against Chelsea on December 1st.
He was one of the club's best players last year and was carrying that form into this season as well.
In his absence, the Reds have called upon Jay Spearing, who is nowhere near the level of the Brazilian.
Lucas was also able to begin the attack from deep in midfield.
His absence leaves Kenny Dalglish with tough decisions tactically. Leaving out Spearing means the team has nobody who can win the ball, but playing him puts the club at a disadvantage in the attack.
It's been great to watch Lucas go from being one of the criticized players in the team to becoming one of the most praised.
Hopefully when he returns, he can pick up right where he left off.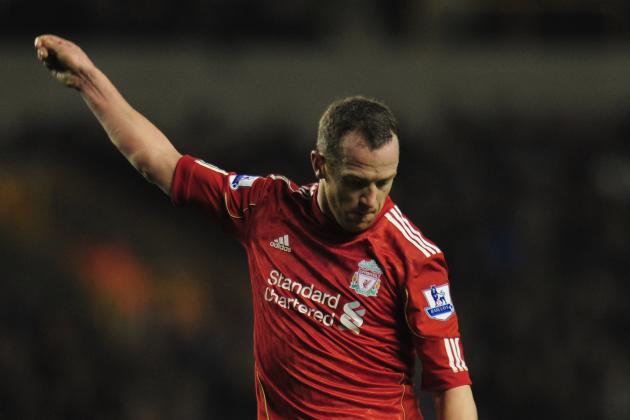 Shaun Botterill/Getty Images

Having only arrived for around £7 million, Charlie Adam hasn't been a major flop, but a flop nonetheless.
He started the season out very well, but his form began to dip in the middle of the season and it hasn't picked back up.
Much of the criticism he's received has been directed at his "Hollywood balls." He'll launch the ball 30 or 40 yards to very little effect.
One of the main reasons he was purchased in the first place was his set-piece ability. Unfortunately for the club, that has been all but nonexistent.
His corners have been dreadful and his free kicks sometimes can't even manage to get past the first man.
Adam has a role to play in the team, but if Liverpool really do want Champions League football, they have to upgrade in the midfield.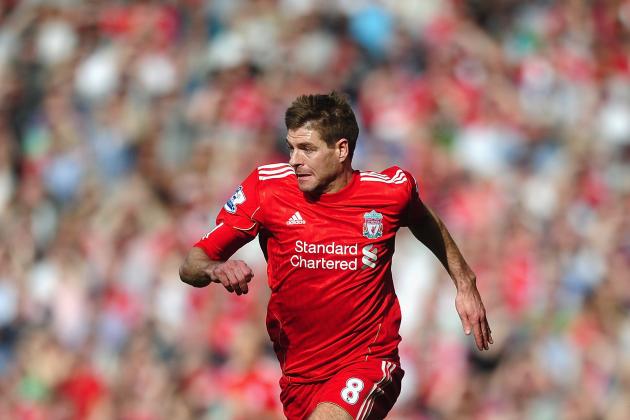 Laurence Griffiths/Getty Images

Injuries have hampered Steven Gerrard this season. He's only been able to play in 16 of the club's 31 Premier League matches.
Because of that, Liverpool haven't been able to get their first-choice team out there for any significant amount of time.
The club has been criticized in the past for an over-reliance on Gerrard, and this year, that criticism is warranted.
Any club would be worse off without one of its best players, but there also needs to be enough strength in depth to blunt some of that effect.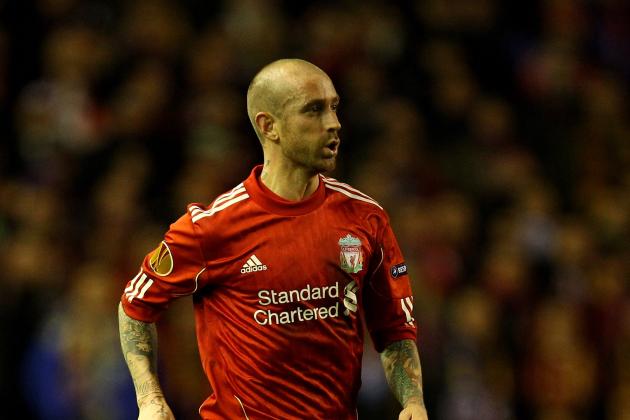 Richard Heathcote/Getty Images

Raul Meireles was without a doubt Roy Hodgson's best signing last year.
That might not sound like much considering he was in the same group as Milan Jovanovic, Joe Cole and Christian Poulsen.
He brought a level of creativity to the midfield that was lacking since the departure of Xabi Alonso.
It's hard to know exactly who initiated his move away from Anfield. Meireles handed in a written transfer request, but he says it was only after the club refused to follow through on a promise to increase his weekly wages.
Since his move to Chelsea at the beginning of the season, Liverpool have gone back to missing a creative playmaker in midfield, especially with Steven Gerrard's injuries keeping him out.