Bayern Munich: 10 Reasons They're Hottest Club Left in UEFA Champions League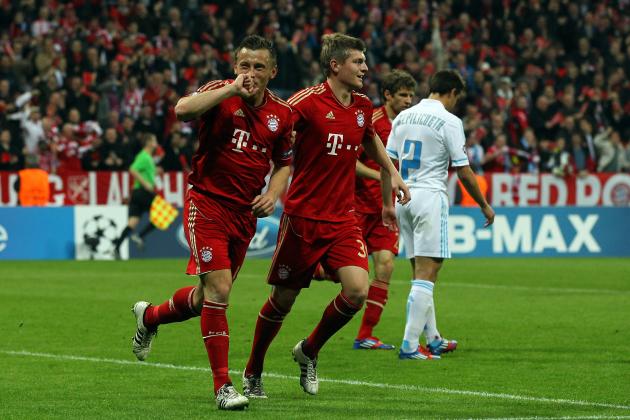 Martin Rose/Getty Images
Munich have been rolling recently
Bayern Munich's 1-0 defeat against FC Basel in the UEFA Champions League Round of 16 saw most pundits proclaim the side as good as dead—both domestically and in Europe.
The Bavarian giants responded to the defeat with vigor, and now find themselves challenging for the treble.
Bayern's comprehensive victory over Marseille in the Champions League quarterfinals was proof they are the hottest club in Europe.
Here are the 10 reasons behind their success.
Begin Slideshow

»
Genius in its simplicity, Bayern have been scoring at an unbelievable clip.
Bayern managed to score 20 goals in one week in March and have averaged nearly three goals per game since the humbling loss in Switzerland to FC Basel.
It is a scoring pace that only Barcelona and Wilt Chamberlain would be able to keep up with.
If you score goals, you win games and no one is scoring quite like Bayern Munich.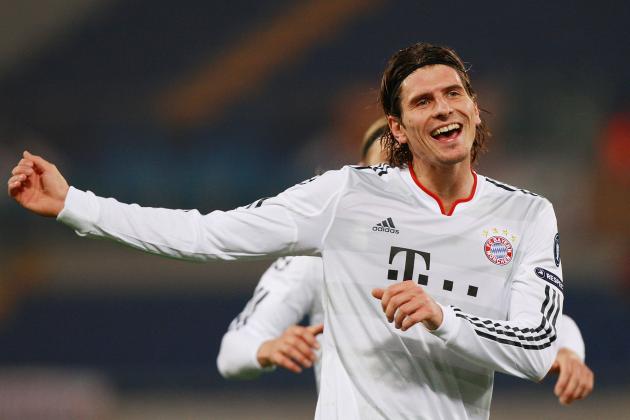 Paolo Bruno/Getty Images
Mario Gomez knows where the back of the net is
Bayern Munich score lots of goals, and Mario Gomez has put away many of them.
Gomez has come into his own this season and has bagged 36 goals in all competitions. Few players in the world boast a better number.
Defenders have been unable to cope with him. His tendency to pop up in the right place at the right time has made Bayern Munich a contender for the treble.
Valerio Pennicino/Getty Images
A healthy Arjen Robben makes Bayern more dangerous
Bayern Munich's upturn fortunes can be linked with the good health and resurgence of Arjen Robben.
The Dutch winger has world-class skill, but it comes wrapped in a porcelain body.
Robben has been absolutely sensational in March. His form and good health must put the other teams remaining in the Champions League on red alert.
If—and this is a Peter Crouch-sized if—he can stay healthy the rest of the season, then there is no reason Bayern cannot upset the two Spanish giants and bring home European football's biggest prize.
Bayern Munich raises their game whenever Real Madrid is around.
One of the few intercontinental rivalries in football, Bayern will have been motivated by the chance to knock Madrid out of the Champions League.
These are two of the most decorated teams in all of Europe and both are desperate to add another European cup to the trophy cabinet.
Los Merengues have won the competition nine times while FCB have taken home the trophy on four occasions.
This is the game Bayern wanted, and they've been playing to prove that point in recent weeks.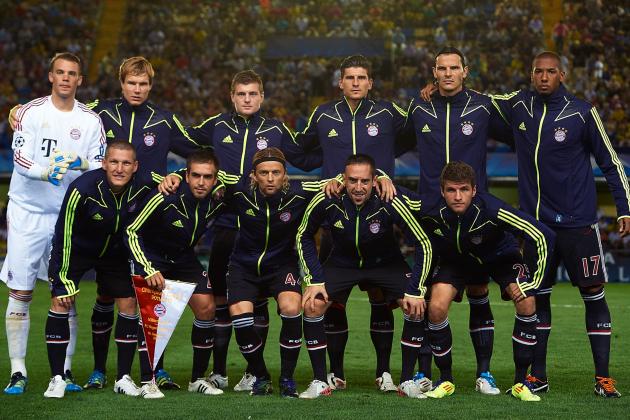 Manuel Queimadelos Alonso/Getty Images
Bayern are now in a fight until the end of the season
Bayern Munich are looking squarely at ending the season without a trophy for the second year in a row.
That would be disastrous for the Bavarian club, and they have been playing with purpose since coughing up the lead in the Bundesliga.
This form has carried over into all competitions, and the team are not fighting for success on three fronts.
This siege mentality makes Bayern one of the most dangerous teams in Europe.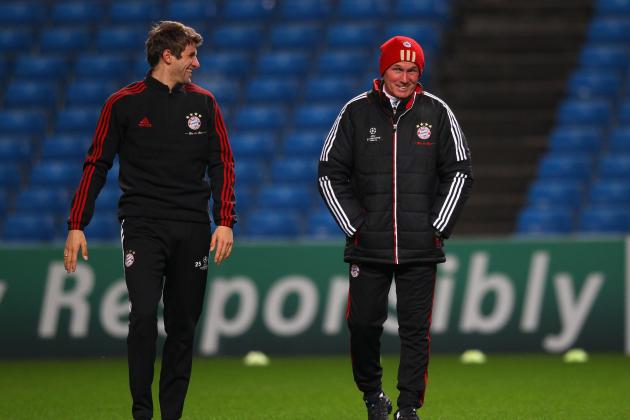 Alex Livesey/Getty Images
Jupp Heynckes had guided Bayern back from the brink.
Jupp Heynckes was a dead man walking in February.
Bayern were playing poorly, he seemed to had lost control and talk had already begun about who would replace him next season.
Heynckes' future is not yet secure, but it looks far safer than it did a few weeks back.
Bayern look to be playing freely, and Heynckes deserves some credit for rescuing a lost season. He still has work to do, but he seems up to the challenge.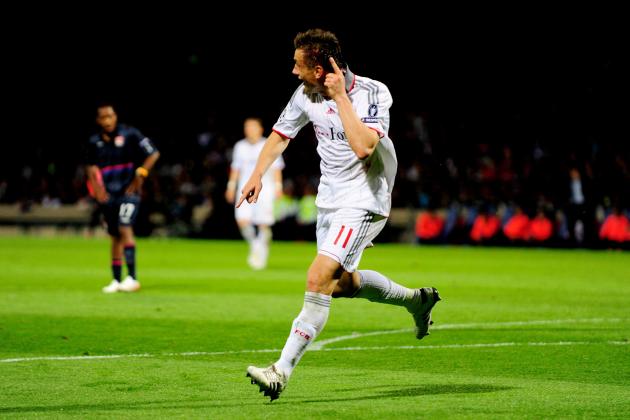 Jamie McDonald/Getty Images
Munich have overcome injury problems
Bayern's improved form is connected to a healthy squad.
Apart from Bastian Schweinsteiger, there have not been any major injuries to contend with and the team have pulled together in the absence of their vice captain.
When Bayern have had a player go down, another has slotted in seamlessly.
Die Bayern have rarely had the selection of players available that they do now, and this has led to the dominating performances of late.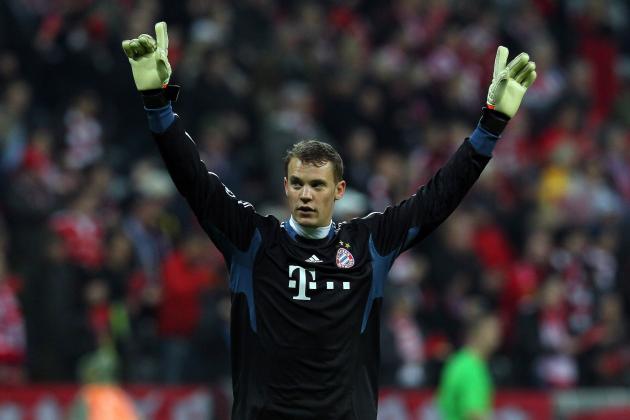 Martin Rose/Getty Images
Manuel Neuer has revitalized Bayern's defense
Manuel Neuer looks like he has final settled in goal and the results have seen Bayern look impenetrable at the back.
Bayern have only conceded two goals in their last eight games, including posting three consecutive clean sheets in the Champions League.
The German No. 1 is a big reason behind that success after having some nervy moments early in his Bayern career.
Neuer single-handedly carried Schalke 04 to the Champions League semifinals last season; he is back again with Bayern, but he has a little help this season.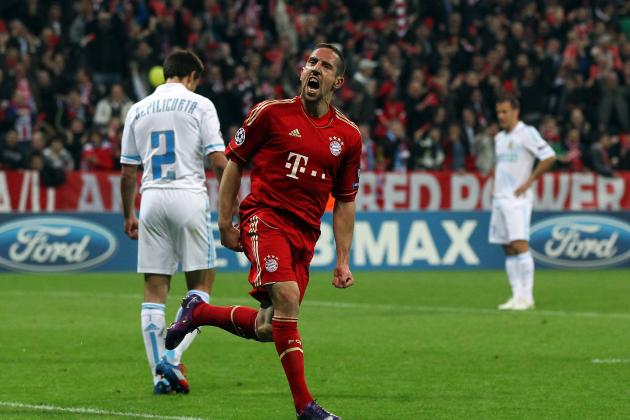 Martin Rose/Getty Images
Franck Ribery has led the charge for Bayern
Franck Ribery is one of the best players in the world, even if he may be a bit underappreciated. The French international can be streaky but when he is hot, no one is better.
And recently, he has been on fire for Bayern.
Ribery is a complete attacking player. He creates, he scores and he brings an unpredictability to the squad that befuddles the opposition.
Bayern are hot and Ribery has been the catalyst with his all-around play.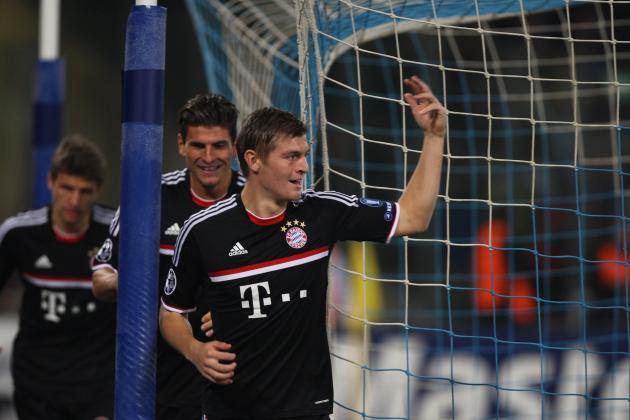 Paolo Bruno/Getty Images
Bayern Munich is unfazed in the Champions League
The last reason Bayern Munich are the hottest team in the Champions League is their experience.
They have been here before and are not intimidated by any challenge. This showed in the way they swept aside a Marseille team that had upset Inter in the Round of 16.
Bayern's form can be partly attributed to their pedigree. Napoli were a good team but were undone by inexperience in their against Chelsea.
This team goes into every match now expecting to win and the momentum they have built have arguably made them the best team in Europe and certainly the hottest team in the Champions League.