Chicago Bulls: Are All Their Injuries Finally Catching Up to Them?
April 3, 2012

Jonathan Daniel/Getty Images
Last season, the Chicago Bulls had to deal with injuries to both Carlos Boozer and Joakim Noah. Thankfully, for the most part, at least one of them was always in the lineup.
That was nothing compared to what the Tom Thibodeau has had to deal with this season.
This season, Boozer and Noah have missed two games combined, while the rest of the starting lineup has fallen apart.
Derrick Rose has missed 21 games and that total is still growing. Richard Hamilton has only played in 17 of the team's 55 games. Luol Deng missed nine games and is looking at surgery on his injured wrist at some point in the future.
On top of those three, C.J. Watson has missed 17 games.
Yet somehow, the Bulls overcame all these injuries and kept winning. Well...until now.
A lot was made on Sunday before the Oklahoma City Thunder game about how well the Bulls have played with the reigning MVP in Rose. At that point, he had missed 19 games and they had gone 14-5 in those games.
Adding in the two recent losses (Thunder; Houston Rockets) and that record is now 14-7. What they failed to mention is four of those losses have come in the last 11 games.
Losing to Oklahoma City on the road is acceptable, but losses at home to Portland, Houston and Denver is unacceptable.
It looks like the brutal schedule and all these injuries have finally caught up to the Bulls.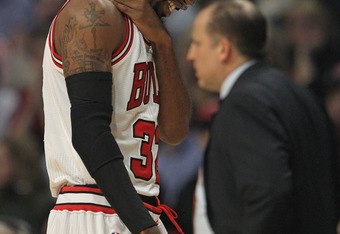 Jonathan Daniel/Getty Images
Watson clearly isn't healthy and is probably playing through the pain because Rose is out. His field-goal and three-point percentages have dropped in each month this season. After shooting 44 percent overall and nearly 46 percent from downtown, he is now shooting 36.6 percent from the field and 40.9 from three-point land.
Hamilton, who returned to the lineup against Houston, still doesn't appear to be completely healthy.
2. Rip Hamilton told Thibs he was fine, but he looks and sounds like he's still in a lot of pain. He had a huge ice pack on his shoulder.
— Nick Friedell (@ESPNChiBulls) April 3, 2012
With Deng, it is harder to see his decline in play. His scoring average has dropped just a few tenths of a point, but his rebounding numbers have dropped greatly. In January, he was averaging 7.4 rebounds a game. In March, he averaged only 5.3 per game.
You can also see that players are challenging him more by driving on him when he is guarding them. A perfect example is how well James Johnson played against him a few weeks back for the Raptors.
The drop in production of Watson and Deng are magnified because they are being asked to do more with Rose out of the lineup.
The loss to Houston was the first time the Bulls lost two games in a row in over a year. With upcoming games against Boston, New York twice and Miami all coming in the next week, Tom Thibodeau may have to deal with something he has yet to deal with as a head coach: an extended losing streak.
Let's hope Rose comes back healthy soon, or this team might not have anything left come playoff time.
Side note: Rose is the fifth reigning MVP to miss more than 20 games the season after winning the award. One of them is Allen Iverson, which scared the hell out of me. Iverson struggled with injuries his entire career only playing in all 82 games twice in his 13-year career. Is this something that Bulls fans need to start worrying about?
Make sure to follow me on Twitter @dachicagofan, and check out my weekly Bulls podcast every Wednesday on my site, The MG Experience.