Tennessee Titans: New LINE-Up, What Will the Titans OL & DL Look Like in Week 1
April 4, 2012

Andy Lyons/Getty Images
The Tennessee Titans have never been major players in free agency, but it seems like Webster may be changing the culture.  So far the Titans have signed two starting caliber lineman.
Steve Hutchinson the future Hall of Fame left guard can come in immediately and add some talent to the interior that was so woeful last year. The other is Kamerion Wimbley, an underrated pass rusher whose has more career sacks (42.5) at this point in his career than Justin Tuck and James Harrison did. In fact, he is only 4.5 sacks away from being on pace with Giant's great Michael Strahan. 
All these changes, and the new free agent rumblings, including a report that the Titans are about to make some signings in the second wave of free agency, makes a fan wonder what his team will look like on opening day.
So, without further adieu, I give you my guess at the starting offensive and defensive lines of the Titans on week one.
Offense
Left Tackle: Michael Roos
As I said earlier, I believe that Roos is the best player on the Titans roster. At 6-foot-7 Roos imposes his will on defensive ends, whether that means drive blocking them or keeping them off the passer. He has done this for years against the league's best.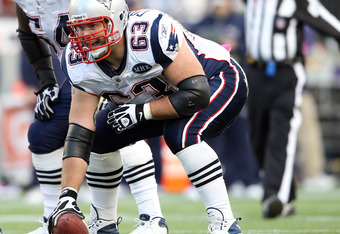 Elsa/Getty Images
While he had a down year in 2010 he has returned to elite status after last year. With him as a blind side protector, whoever Tennessee puts at QB will be able to rest easy.
Left Guard: Steve Hutchinson
Affectionately referred to as "Hutch," this man was an All-Pro guard for a stretch of seven years, ending in 2009.
While I agree his best days are behind him, I don't agree with the notion that he has nothing to bring to the table. In fact, I think that Hutch was easily one of the top 10 LGs last year, and that was in the fierce NFC North where he faced the Lions, Packers and Bears (oh my?).
Center: Dan Koppen (not on roster yet)
This is definitely one of my boldest picks. Koppen is only 32, but due to an injury in 2011 he has not been re-signed by the Patriots.
Koppen was exceptional in 2010 and would have been in ranked in a tier somewhere above Samson Satele, but below Chris Myers and Scott Wells. It is almost a necessity for the Titans to pick up a center since it looks like we will be passing on Peter Konz in the draft and Amano is just too easy to exploit when he is snapping.
Right Guard: Eugene Amano
Speak of the devil, Amano is not a starting center in this league. However, when he played at guard he was passable. He won't be a quality starter and it looks like there aren't any quality upgrades left in free agency. If the Titans wanted to upgrade they could try to pick up Kevin Zeitler, Brandon Brooks or Amini Silatolu, but even I won't predict that.
Right Tackle: David Stewart
"Big Country" has added a mean streak to the offensive line that sets the tempo for the other five to follow. He isn't a big talker, but he lets his actions speak for him. While he is less adept at pass blocking than Roos, he is a mauler in the run game that loves to get physical. I imagine the Titans will want to keep Roos and Stewart as bookend blockers for as long as they can.
Defense
Left Defensive End: Derrick Morgan (Dave Ball will rotate if this is true)
Morgan has been plagued by injures that seem to have left him without the confidence to rush the passer. Early last season, he looked afraid to pin his ears back and rush after the QB, but the one thing he did well was hold the edge. In short yardage and goal line stands he was superb at knifing inside blockers and being disruptive.
I do think he will have a more successful year in 2012 though. In fact, while he has struggled getting his speed back his tenacity and strength allowed him to lead the Titans in QB pressures last year. With a year of offseason conditioning, and a coach brought in to specifically increase his ability to rush the passer I think Morgan could be a surprise this year.
1 Technique Defensive Tackle: Jurrell Casey (Sean Smith will rotate)
A space eater with impressive movement skills, Casey may be the best defensive tackle we have had since Haynesworth. Casey stuck in man coverage with Darren Sproles on a five step drop pass. I'm not saying he is the most athletic lineman in the league, but he may be close to the top 3 at DT. Casey shows a lot that I like and he could be a splash player this year.
3 Technique Defensive Tackle: Karl Klug (Zach Clayton/Leger Douzable will rotate)
Klug is impressive. That is the first thought that comes to my mind every time I watch number 97. He is a quick DT that uses his hands, first step, and strength to disrupt players in the backfield. Even though it is tempting to put him at defensive end considering the depth issues and his size, the Titans will not make the same coaching error that they made with Jason Jones.
Right Defensive End: Kamerion Wimbley (Pannel Egboh will start, sleeper)
I can't stress how misplaced Kamerion Wimbley was in a 3-4 defense. When you watch him at DE he can amaze you with his quickness, counter-moves, shoulder dip, anchor ability, etc. but at OLB he looked confused and out of place. I predict that as a 4-3 DE, Wimbley will be a star and the deal the Titans made with him will look like nothing compared to his production.
Be heard: There you have it, my starting lines. I hope you enjoyed and as always feel free to comment. I would love to hear what you have to say and who you want to see take the field week one. Even if they are still free agents or are trade possibilities, the more creative the better.