Dallas Cowboys: Interview with Hall of Famer Mel Renfro
April 3, 2012

My heroes have always been Dallas Cowboys.
I was six years old when my Uncle Darrell began drilling me on Cowboys' names and numbers. From the beginning, one of my favorite Cowboys was the great defensive back Mel Renfro.
Imagine my excitement when I was offered the opportunity to conduct a 15-minute phone interview with this legendary Dallas Cowboy and childhood hero.
The interview was in conjunction with the "Hometown Hall of Famer" program. The following press release provides the details:
Canton, Ohio – March 27, 2012 – Pro football legend Mel Renfro will be recognized by the Pro Football Hall of Fame and Allstate Insurance Company in Portland on Tuesday, April 3, as part of "Hometown Hall of Famers™," a national program honoring the hometown roots of the sport's greatest players with special ceremonies and plaque dedication events in local communities. 

"'Hometown Hall of Famers™' has been warmly embraced by communities and Hall of Famers alike," said George Veras, Pro Football Hall of Fame Enterprises president and CEO.  "We are thrilled to continue our partnership with Allstate to bring the Pro Football Hall of Fame to communities across the country and congratulate Mel Renfro and Jefferson High School on bringing a piece of the Pro Football Hall of Fame to Portland."

A ten-time Pro Bowl selection as defensive back for the Dallas Cowboys and former high school standout at Jefferson High School in Portland, Renfro will be presented with his "Hometown Hall of Famer™" plaque during a special ceremony at 2:30 p.m. PT on Tuesday, April 3, at the Jefferson High School auditorium, where the plaque will live permanently to serve as an inspiration for the school's students and athletes. The presentation will be made by Clifford Walker, Renfro's long-time friend and Portland native.

"To be part of a program that brings the prestige and tradition of the Pro Football Hall of Fame to cities like Portland is an honor for Allstate, our agents and employees," said Lisa Cochrane, Allstate's senior vice president of marketing.

The ceremony will be attended by Jefferson High School students, faculty, staff, alumni and Renfro's family members and close friends. Ray Leary, member of the 1972 Jefferson High School state championship basketball team, will serve as the Master of Ceremonies.
In addition to the honor being bestowed on Renfro, we discussed his career, his coach, his Cowboys and his advice to aspiring athletes.
His Career
Mel Renfro had a singular career. He was a 10-time Pro Bowler and an all-NFL player five times. He participated in four Super Bowls and eight NFC championship games. At the University of Oregon, he was a standout track star and earned All-American honors at halfback, as he was a two-way player on the football squad.
He was inducted into the Pro Football Hall of Fame in 1996.
When I asked Mel what the most thrilling moment of his career was, I expected him to talk about the Hall of Fame induction or finally winning the Lombardi trophy with his teammates. Instead, he talked about those years of struggle in the late 1960s when the Cowboys kept coming up just short of winning it all.
Renfro recalled:
In the 1970 season, finally broke through.  We beat the Detroit Lions 5–0 in the first round. I intercepted a pass to secure that victory. Then, we played the 49ers in the NFC championship game and beat them 17–10. I had an interception in that game, too. We made it to the Super Bowl.
So, for Mel Renfro, the thrill was in the achievement rather than the accolades. The thrill was what took place on the gridiron, rather than the honors that followed.
He did not mention it, but that year, Renfro would also intercept a pass in the Cowboys first Super Bowl appearance. The Cowboys lost 16-13 to the Baltimore Colts.
His Coach
I asked Renfro what it was like to play for Tom Landry.
Renfro answered, "Landry is a legend, of course, and rightfully so. He was a great coach and a great man. He was very devout in his Christian faith and brought the things he learned from the Bible to the football field."
Renfro said he didn't like Landry much those first three or four years, but he said he learned that the demands Landry placed on him as a player made him not only a better player, but a better person.
"They don't make coaches like Tom Landry anymore," added Renfro. "He was right there with Lombardi as one of the greatest of all time."
His Cowboys
I asked Mel Renfro which Cowboys team was the greatest, the 1970s or the 1990s team?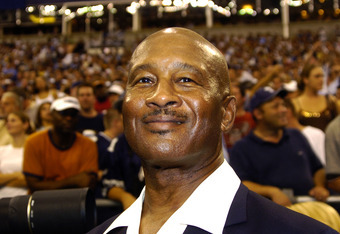 A. Messerschmidt/Getty Images
"It's hard to say," Renfro admitted. "They were both really great, really talented teams."
He added:
Consistency was what set us apart. The Cowboys had 20 consecutive winning seasons under Coach Landry. I was there for 13 of them. In the '70s, we went to five Super Bowls, but it could have been more. We were in the conference finals eight times in that decade. Eight times!
Renfro went on to muse that the 1990s Cowboys might have done even more had Jerry Jones not fired Jimmy Johnson.
"He realized afterward it was a mistake," Renfro asserted. "But it was too late."
I asked Renfro about the current team and the longest draught in team history: Fifteen years and only two playoff victories.
"They're soft," Renfro snapped. "That's the trouble. They don't have that killer instinct, that competitive fire that refuses to lose. They are just soft."
I asked if that wasn't a leadership issue and he said he thought it was.
Since Renfro played most of his career as an elite cornerback, I asked him about the Cowboys' signing of Brandon Carr. Was it a good move?
"I think so," Renfro said. "I hope so. I always say the proof is in the pudding. So, we'll see."
Renfro said he liked Jason Garrett as a coach. He thinks he has the right mentality and all the tools to be successful, but he brought up the proof and the pudding thing again where Garrett is concerned.
His Parting Advice
Since the Hometown Hall of Famer program is aimed at connecting legendary athletes with today's youth, I asked Mel what advice he would give a young athlete.
"Conditioning," he answered without hesitation. "It all starts there. You have to reach peak condition in order to perform at a high level. Instincts are important, but if your body cannot do what your instincts tells it, your performance will suffer."
Renfro went on to say, "Besides conditioning, the other important thing is coaching. Absorb the wisdom of the coaches. Learn what they have to teach you. It will make you a better player and a better person."
That advice comes from as fine a player and person as ever wore the star on his helmet.
Mel Renfro: Hometown hero, all-time Cowboy, National Football League treasure.