Tampa Bay Rays' Top 10 Prospects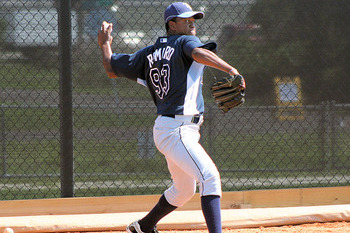 Enny Romero has the potential to be the Rays' next great LHP
Since publishing Prospect Pipeline's Top 50, I've received both positive feedback and criticism for my selective omission of several teams. As one commenter noted, I wasn't concerned with representing every team—which is absolutely true. My goal is to always assemble a sincere and justifiable top 50; a ranking based solely on the players and not the organization as a whole.
Now that everyone has had the opportunity to read about baseball's finest prospects, I have put together scouting reports on every team's Top 10 prospects.
Today, the series continues with the Tampa Bay Rays' Top 10 prospects.
Begin Slideshow

»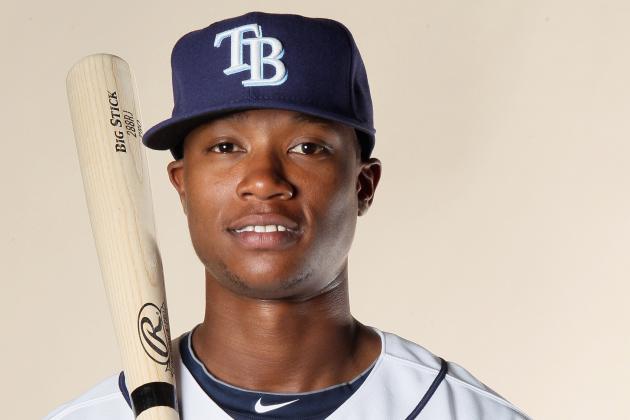 Elsa/Getty Images

Position: SS
Height/Weight: 6'0"/190 pounds
DOB: 1/27/1990
Bats/Throws: R/R
Drafted/Signed: 2008, first round (HS—Griffin, GA)
2011 Stats:
Double-A: .275/.339/.395, .120 ISO, 102 wRC+ (468 PA)
Triple-A: .255/.282/.462, .208 ISO, 98 wRC+ (111 PA)
Overview: The No. 1 pick in the 2008 draft, Beckham has posted a slash line of .265/.331/.382 over four minor-league seasons. To his credit, he did make strides in improving his plate discipline in 2011, as he chased less balls out of the zone and began to drive the ball with some power all over the field.
However, Beckham hardly profiles as a big-league shortstop these days. Given his waning speed, limited range and strong arm, it's likely that he'll end up playing third base or possibly even right field. I have no doubt that he'll eventually reach the major leagues, but knowing how long it took him to get there will make it bittersweet.
He'll head back to Triple-A to begin the 2012 season, where he'll have to continue to perform to avoid being passed by fellow shortstop Hak-Ju Lee.
ETA: 2012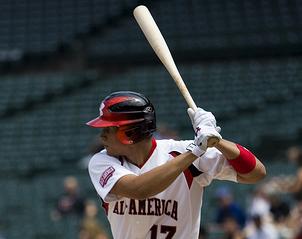 Position: OF
Height/Weight: 6'0"/196 pounds
DOB: 7/19/1991
Bats/Throws: L/R
Drafted/Signed: 2010, first round (HS—Silverdale, WA)
2011 Stats:
Rookie: .282/.357/.462, 20 SB, .179 ISO, 123 wRC+ (267 PA)
Overview: Vettleson has a quick bat and line drive swing that allows him to spray the ball from line-to-line. For someone his age, his plate discipline is beyond his years. The lean, athletic type, his power should emerge as he develops physically, though it will likely never be anything more than average.
He's a slightly above-average runner in both the outfield and on the base paths due to good instincts and a knack for getting good jumps. He covers considerable ground in the outfield although his arm profiles best in right field.
He's only 20-years-old, so the Rays will take their time in ushering him through their system and let him dictate his own progress. He faces a healthy challenge in 2012, as he'll likely begin his first full season at Low-A.
ETA: 2015
Elsa/Getty Images

Position: OF
Height/Weight: 6'1"/200 pounds
DOB: 11/30/1989
Bats/Throws: R/R
Drafted/Signed: 2011, first round (Louisiana State)
2011 Stats: DNP
Overview: A standout at LSU, Mahtook is a toolsy outfielder, although none of them are exceptional. As a hitter, he has a compact swing that allows him to consistently barrel up the baseball. As he continues to develop in the Minor Leagues, the right-handed hitter has the potential to develop average big-league power.
He's a versatile outfielder who has mostly played center field, however his average speed and arm are probably best suited for a corner spot. He shows good instincts in everything he does on the field and never takes a pitch off.
Given his collegiate experience, as well as the fact that he hit .338/.410/.544 in this year's Arizona Fall League, Mahtook could move quickly. He'll begin the year in High-A and should reach Double-A before the end of the season.
ETA: 2014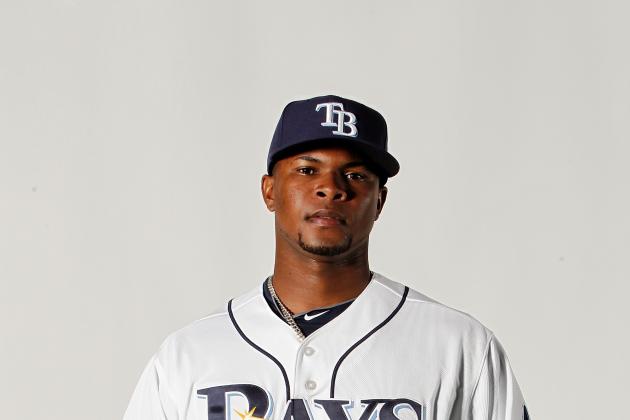 Jonathan Ferrey/Getty Images

Position: RHP
Height/Weight: 6'2"/185 pounds
DOB: 12/31/1988
Bats/Throws: R/R
Drafted/Signed: 2007, Dominican Republic
2011 Stats:
High-A: 105.2 IP, 3.58 ERA, 3.86 FIP, 7.84 K/9, 3.75 BB/9, 0.68 HR/9
Double-A: 52 IP, 4/15 ERA, 5.22 FIP, 5.37 K/9, 4.85 BB/9, 0.87 HR/9
Overview: Colome's power arsenal is led by a mid-90s fastball that reaches 97 mph with considerable sink and hard, late, arm side action. To complement his plus heater, Colome employs three above-average offspeed pitches. His curveball is a big bender that offers a different look to hitters, while his slider is a late-breaking power pitch that should serve as his out pitch in the Major Leagues. He also throws a changeup, which could be a solid pitch as he progresses through the minors.
Despite possessing easy velocity and arm speed, Colome has a tendency to overthrow all of his pitches, which ultimately disrupts his command. His loose and explosive arm action will also sometimes cause the right-hander to lose the feel for his arm slot.
Although he's 23-years-old, Colome still has a very high ceiling that could be reached with ongoing refinement of his command. Like many of the other live arms in the Rays' system, Colome could also reach the Show as a reliever due to his power package.
ETA: 2013
Position: LHP
Height/Weight: 6'3"/165 pounds
DOB: 1/24/1991
Bats/Throws: L/L
Drafted/Signed: 2008, Dominican Republic
2011 Stats:
Single-A: 114 IP, 4.26 ERA, 3.66 FIP, 11.05 K/9, 5.37 BB/9, 0.71 HR/9
Overview: Romero has the build and pure stuff of a front-line starting pitcher, although he's still years away. The left-hander's fastball regularly comes in between 90-95 mph, and there's reason to believe he could be working in the upper-90s as he grows into his 6'3" frame. Romero's best offspeed offering is an above-average, low-80s changeup that's thrown with impressive arm action and generates some late sink. He also features a downer curveball, but has struggled to throw it with any consistency thus far into his young career.
He endures bouts of inconsistency due to his mechanics and quick arm, but that could easily be a product of his wiry frame and limited experience. The development of his command and secondary pitches will ultimately determine whether Romero continues his ascent to the Major Leagues as a starter or reliever.
The Rays will continue to take their time with Romero, who's still only 21, and therefore assign him to High-A to being the 2012 season.
ETA: 2014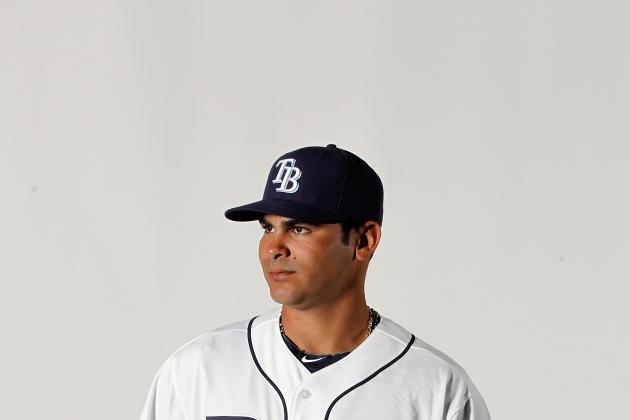 Jonathan Ferrey/Getty Images

Position: LHP
Height/Weight: 5'10"/175 pounds
DOB: 12/8/1987
Bats/Throws: L/L
Drafted/Signed: 2005, Venezuela
2011 Stats:
Triple-A: 146.1 IP, 3.08 ERA, 3.78 FIP, 9.59 K/9, 5.10 BB/9, 0.43 HR/9
MLB: 8 IP, 3.38 ERA, 10.13 K/9, 7.88 BB/9
Overview: Despite his 5'11" frame, Torres can still run it up there in the low- to mid-90s. His changeup has excellent depth and fade, and throws it with confidence to both right and left-handed hitters. He has a curveball that at times flashes above-average potential, but varies due to issues with repeating his mechanics.
Torres' across-the-body motion creates an element of deception, especially when he's locating his fastball and changeup. He struggles to repeat his mechanics and, as a result, experiences frequent issues with his command. Torres gets by thanks to his ability to miss bats, but it will be hard for him reach the big leagues as a starter while walking more than five batters per nine innings.
Torres will likely head back to Triple-A where he'll continue to iron out his mechanics and work to improve his command. The Rays' starting rotation is currently jam-packed with young, flourishing talent, so it seems as though his clearest path to the Show is as a reliever.
ETA: 2011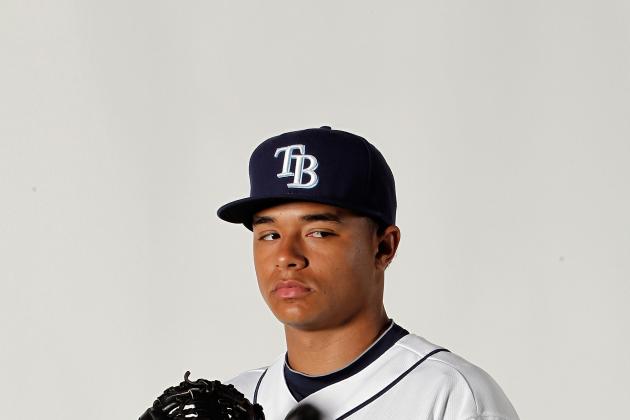 Jonathan Ferrey/Getty Images

Position: RHP
Height/Weight: 6'3"/185 pounds
DOB: 9/26/1985
Bats/Throws: R/R
Drafted/Signed: 2006, fifth round (HS—Clayton, NC)
2011 Stats:
Double-A: 134.1 IP, 4.42 ERA, 4.52 FIP, 7.91 K/9, 5.36 BB/9, 0.74 HR/9
Triple-A: 13 IP, 0.69 ERA, 2.74 FIP, 8.31 K/9, 4.15 BB/9
Overview: Along with teammate Hak-Jue Lee, Archer was one of the key pieces in the trade that sent Matt Garza to the Cubs prior to the 2011 season. The right-hander features one of the best fastball-slider combinations in the minor leagues thanks to a lightening-quick arm.
Archer's fastball sits in the 92-95 mph range, and he can dial it up to 97 or 98 without sacrificing his natural movement. His slider is a legitimate double-plus offering with extraordinary tilt that generates as many jelly-legs as it does swing-and-misses. He also throws a changeup, but struggles to throw it with consistency due to his naturally fast arm.
His mechanics completely fall apart at times, as he'll lose a feel for the strike zone; he walked 86 batters in 146 innings in 2011. There's no denying that Archer has the type of electric stuff to retire hitters at the big league level. However, he'll need to show a hint of consistency in 2012 to continue his ascent to the Major Leagues. If his control continues to be a problem, look for Archer to transition to the bullpen, where his stuff suggests a career as a dynamic closer.
He should begin at Double-A for the second straight season, although it wouldn't surprise me if he's sent on a lower-level assignment to work improve his command.
ETA: 2012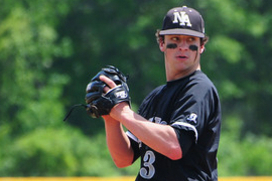 Position: RHP
Height/Weight: 6'3"/195 pounds
DOB: 12/1/1992
Bats/Throws: R/R
Drafted/Signed: 2011, first round (HS—Spring Valley, SC)
2011 Stats: DNP
Overview: Guerierri already has the makings of a power pitcher with a 92-95 mph fastball that frequently touches 96-97. His plus curveball is the downer type and he gets excellent rotation on it thanks to his high three-quarter arm angle. He also keeps a cutter and changeup on the back-burner, as he rarely had to throw anything beyond his power 1-2 combo in high school.
For a hard-throwing right-hander, his mechanics are pretty smooth and repeatable, as drives with his lower half and pounds the bottom of the strike zone. There were questions about Guerierri's maturity and makeup headed into the draft, so the Rays were able to draft him with 24th overall pick.
Guerierri has tremendous upside as a front-line starter. Entering his first professional season in 2012, he'll likely begin at the Rays' rookie level affiliate. As he develops the cutter and changeup, the right-hander could emerge as one of the lower-minor's top pitching prospects
ETA: 2015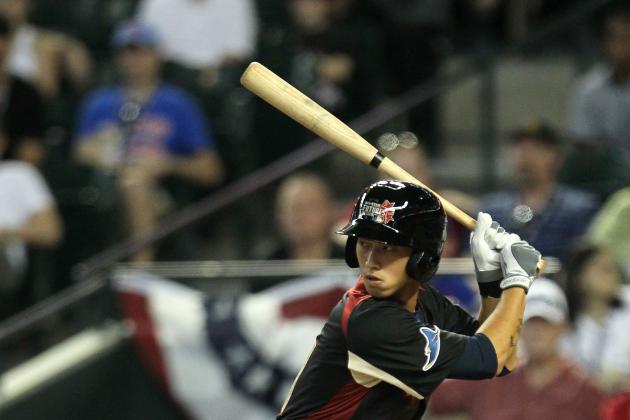 Jeff Gross/Getty Images

Position: SS
Height/Weight: 6'2"/170 pounds
DOB: 11/4/1990
Bats/Throws: L/R
Drafted/Signed: 2008, South Korea
2011 Stats:
High-A: .318/.389/.443, 28 SB, .125 ISO, 133 wRC+ (454 PA)
Double-A: .190/.272/.310, 5 SB (114 PA)
Overview: Lee is an exceptional fielder; one of the best defensive shortstops in the minors. He has phenomenal range and a plus arm with outstanding instincts and feel for the position. His bat is behind, and he will never provide the thump to be the consistent All-Star that some other shortstop prospects likely will.
Across two stops in 2011, Lee posted a .292/.365/.416 slash line with 33 swipes and 37 extra-base hits. A left-handed hitter, he runs well and should consistently collect more doubles and triples than home runs.
A full season in Double-A should provide Lee with the seasoning he needs to be a big-league shortstop in 2013. However, nothing is certain when it comes to the Rays and shortstop prospects.
ETA: 2013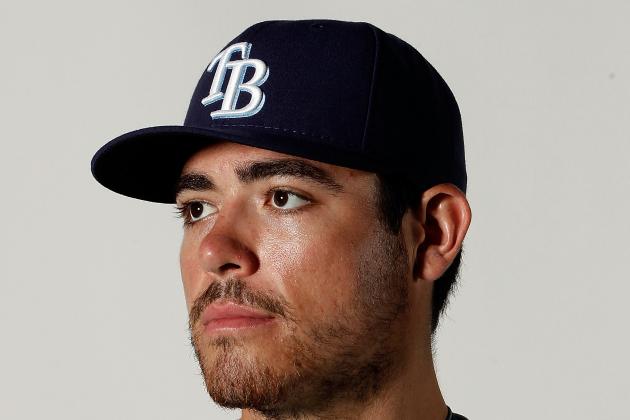 Jonathan Ferrey/Getty Images

Position: LHP
Height/Weight: 6'2"/205 pounds
DOB: 6/18/1989
Bats/Throws: L/L
Drafted/Signed: 2007, eighth round (Moriarty HS, NM)
2011 Stats:
Double-A: 102.1 IP, 2.20 ERA, 2.62 FIP, 11.52 K/9, 2.46 BB/9
Triple-A: 52.2 IP, 1.37 ERA, 2.02 FIP, 13.50 K/9, 3.08 BB/9
MLB: 9.1 IP, 2.89 ERA, 2.17 FIP, 1.85 xFIP, 14.46 K/9, 2.89 BB/9
Overview: After striking out 700 hitters in 497 minor league innings, Moore offered a glimpse of his potential at the end of the 2011 season when he fanned 11 in his first major league start (against the New York Yankees nonetheless) and followed it up by two-hitting the Rangers over seven innings in Game 1 of the ALDS.
The left-hander features the easiest 94-98 mph fastball I've ever seen, a plus-plus wipeout curve and a plus changeup. He has the arsenal and makeup to be an immediate ace, which is exactly why the Rays locked him up this offseason with a five-year, $14 million contract with the potential for an additional $26 million between 2017-2019.
Although he won't head the young and talented Rays' rotation in 2011, Moore is poised to dominate in his first full big-league season and should immediately insert his name into Cy Young contention.
ETA: 2011