Chelsea vs. Benfica: Why Portuguese Side Will Score Upset at Stamford Bridge
April 3, 2012

Clive Rose/Getty Images
As S.L. Benfica prepares for its match against Chelsea F.C. on April 4th, the smell of upset is in the air as Benfica heats up in UEFA play while Chelsea seems stagnant. 
In the first leg, Chelsea came away with the victory 1-0, but Benfica will be coming into this matchup ready to take down Chelsea and advance to the semifinal round.
Several factors will allow Benfica to upset Chelsea. Most notably, Chelsea has been weak against strong defensive teams such as Tottenham Hotspur and Manchester City. Chelsea came away from the Manchester City match with a 2-1 loss and had a 0-0 draw to Tottenham at home.
Benfica's defense, led by captain Luisao, may have trouble transitioning from defense to attack and often suffer from slow play by its two center-backs. However, Chelsea has not been playing at a level to where these factors are an issue. Look for Benfica's defense to shut down the Chelsea scoring game.
When Chelsea's defense comes under inspection, one will notice a bit of slow, lazy play with high profile players like David Luiz constantly drifting out of position, thus opening up lanes in the defense. 
On the offensive side, Benfica is much more sound. The club sports a quick and technical passing scheme—coupled with Nico Gaitan, second in assists in league play—making the Benfica offense a force.
Not to mention scoring machine Oscar Cardozo will be playing. Cardozo leads the team with 18 goals this season. The Cardozo-Gaitan combo will certainly make quick work of the lackadaisical Chelsea defense.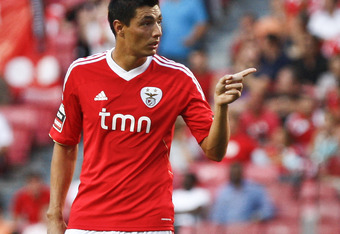 EuroFootball/Getty Images
Chelsea faces similar problems with big names such as Ivory Coast native Didier Drogba and Daniel Sturridge being at odds with how they play along with Fernando Torres drifting in and out of formation at his leisure. 
Benfica also carries quite a bit of momentum into this matchup, coming off two straight wins and a draw. Chelsea has just recently rebounded with a win in its last match following a two-game span where it saw a draw and a loss, scoring only one goal during that time.  
Being away from home will not hurt the Portuguese side. Benfica fans will be out in full force to rally behind their team, which has done very well this year and has a legitimate shot at the cup.  
Benfica sits at 18-5-2 and has been lighting up the Portuguese soccer leagues all year, earning victories by decent margins and several multi-goal shutouts.
Benfica is a very young and talented team that will be looking to outpace the older, slower vanguard that is Chelsea. Benfica will be looking to take advantage of Chelsea's historically shoddy UEFA play and lack of cohesiveness among its ranks as they play for the semifinal slot. 
Although Chelsea fields the better side on paper, Benfica's youth and pure skill will give them the upper hand to clinch the upset.