Fantasy Baseball Waiver Wire: Ben Revere and Speed Merchants Worth Claiming
April 3, 2012

Craig Lassig/Getty Images
There is no one category that is any more important than another in fantasy baseball, but if you are a contender in stolen bases, then it can give you a leg up on the competition. There are only so many players that can contribute in that category, so it isn't always easy to roster a lot of players who excel in that area.
Most of the players who can steal bases and contribute in other areas are taken quite high in the draft, but there are a few one-dimensional players who slip through the cracks and go undrafted. It's always preferable to draft a player who can help your team in a multitude of ways, but stolen base specialists can be quite beneficial.
Here are three speedsters who are most likely on the waiver wire in your league and would make great additions to your roster if you lack quality base stealers.
OF Ben Revere (MIN)
Second-year Minnesota Twins outfielder Ben Revere may not hit for power, but he has break-out candidate written all over him. As a rookie last season, the speedy Revere stole 34 bases in just 450 at-bats. He was blocked by several players and that made it difficult for him to get extended playing time last year; but with both Michael Cuddyer and Jason Kubel out of town, Revere figures to be a regular starter who will easily eclipse 500 at-bats and should play at least 150 games barring injury.
Revere only hit .267 last season, so he struggled to reach base at times. But he hit over .300 during his minor league career, so there is reason to believe that he can improve in that regard. Don't expect any home runs or many RBI. But as long as he reaches base, Revere is going to run, and that will result in contributions in both steals and runs scored. There is no question that Revere can steal between 40 and 50 bases, and that makes him an extremely valuable commodity.
OF Peter Bourjos (LAA)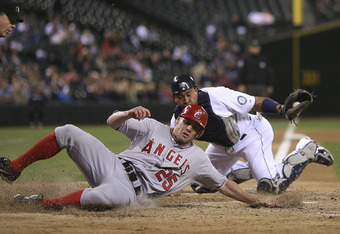 Otto Greule Jr/Getty Images
After a small yet enticing sample size in 2010, there was plenty of intrigue surrounding Los Angeles Angels outfielder Peter Bourjos last season. He didn't disappoint, as he showed a nice combination of pop and speed with 12 home runs, 22 steals and a .271 batting average to boot. The Angels' outfield is a bit crowded at the moment, but because of his supreme defensive capabilities, Bourjos figures to see the field plenty and should be a regular for Los Angeles.
Bourjos will need to improve both his walk rate and contact rate if he hopes to hit as high as .271 again this season, but there is plenty of reason for optimism. With Albert Pujols aboard, there will be no pressure on Bourjos to perform offensively, so he should be playing loose. Also, while it looks like he will begin the season near the bottom of the order, there is a possibility that he could eventually end up being the leadoff hitter. If that happens, not only will he rack up the steals, but he should score a ton of runs as well.
OF Jason Bourgeois (KC)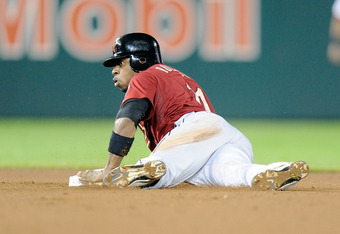 Greg Fiume/Getty Images
If you have never heard of Kansas City Royals outfielder Jason Bourgeois, don't worry— you're not the only one. Bourgeois has played in parts of four seasons with the Chicago White Sox, Milwaukee Brewers and Houston Astros, but he has never been given his big break. That could very well change this season with the Royals, though. Bourgeois figures to start the season as the primary backup at each outfield position, but an injury is bound to strike the team at some point.
Bourgeois only had 238 at-bats for the Astros last season, but he stole 31 bases, so that projects to over 60 swipes if given full-time at bats. Bourgeois has impressed with Kansas City during spring training, as he is hitting .375 with seven steals in just 10 games. Perhaps the most interesting thing about Bourgeois is that he played some second base during his last spring training game. If he is used at second a few times during the regular season, he will gain eligibility. If that comes to fruition and he sees at least 400 at-bats, then he'll be a great weapon coming off your bench.