Boston Red Sox: Why the Theo Epstein "Trade" Is Already a Bust
April 3, 2012
Jonathan Daniel/Getty Images
That's it?
Red Sox fans everywhere were all reacting along the same lines when the news came through that the team would receive Chris Carpenter (no, not the Cy Young winner) from the Chicago Cubs as compensation for departing General Manager Theo Epstein. While the teams also swapped low-level prospects to complete the deal, the principles were Epstein and Carpenter.
The Sox got rid of a man who brought two championships to Boston, and in return got a guy who's barely pitched more than two Major League innings.
Though perspective is important and it may be several years before this "trade" can be assessed fairly, the early returns have been abysmal. The problem has been twofold: Epstein's replacement Ben Cherington has been ineffective in his ability to juggle the needs of the team and the egos of management, and Carpenter has gone from struggling on the mound to simply out of commission.
The first problem is one of what the NCAA likes to term "institutional control." One of the unique aspects of the GM's job is that he must be able to work with people on all levels of the organization, from a 16-year-old prospect who barely speaks English all the way up to a billionaire owner. This environment was where Epstein thrived.
After his standoff with team president/CEO Larry Lucchino and ownership during the 2005-06 offseason, Epstein returned to the Red Sox with a power he did not previously have. He realized, rightly, that the organization needed him significantly more than he needed the organization.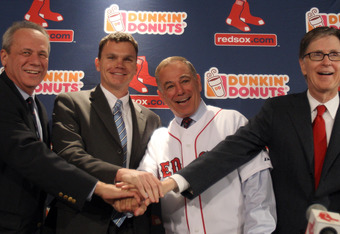 Elsa/Getty Images
As a result, he successfully wielded this newfound influence throughout the rest of his tenure. While it did result in disastrous signings such as Julio Lugo and John Lackey, it also gave Epstein the autonomy to make the moves he thought were best for the franchise.
For better or for worse, there was never a doubt who was in charge of the personnel decisions.
It took all of a few weeks for Cherington to prove he was no Epstein. In his defense, Cherington does not have any leverage over ownership. While in 2005 Epstein was the darling of baseball and could have had any GM job he wanted, Cherington is a relative unknown who has yet to prove himself as a top-level executive.
Regardless, the Bobby Valentine hiring reflected Cherington's lack of control over franchise-wide decisions. It was reported that, from the start, Cherington's choice for manager was Dale Sveum. Like a child bringing home a poor report card, Cherington was scolded and sent back out to keep working until he performed up to management's standards and brought them the person they wanted.
As if that public dismissal of Cherington's abilities wasn't enough to humble the newly-minted GM, ownership waited a full two weeks after their rejection of Sveum to officially hire Valentine. They let Cherington parade in several other candidates, people Cherington thought had a chance but in reality had just a good a shot as you or I.
In the end, the owners got their man. Cherington has subsequently been forced to adhere to a far stricter budget than Epstein ever experienced, trading off moderately-priced veterans in favor of cheaper alternatives. The result is a team with the least depth the Sox have had in several years, thinner than any group under Epstein.
Fans would have expected that, with someone of Epstein's caliber leaving before his contract was up, the team would be compensated well in return. This, too, has not gone in the Sox's favor.
Carpenter, a hard-throwing reliever who the Sox have had their eye on for some time, came into camp with unfair goals, given his career arc. In spite of his inexperience (9.2 Major League innings), many fans were penciling him into Sox bullpen to start the season.
He did not live up to those expectations.
Carpenter managed just two spring appearances, allowing four earned runs in 1.2 innings while walking five hitters and striking out just one. He was shut down with elbow soreness, and last Thursday underwent surgery to remove a bone spur from his elbow.
According to Lucchino, the Sox are "exploring" what recourse they may have in this situation, but they obviously have none. They had full access to Carpenter's medical records. They knew exactly what they were getting. This is simply a lame attempt at saving face.
The reality is that in return for the architect of two championships the Sox picked up a talented but injury-prone player who has yet to crack a Major League roster. Carpenter is 26 years old, and fans have every right to worry that this may only be the beginning of chronic elbow trouble for the right-hander.
While it will take several seasons before we can make a truly informed ruling on whether this "trade" of Epstein for Carpenter was a success for the Sox are not, fans should be very concerned over the early results.