AFC South Advanced Stat of the Week: Jacksonville Jaguars
April 3, 2012

Al Messerschmidt/Getty Images
Welcome to the Advanced Stat of the Week for the AFC South. This week we'll be discussing Catch Rate. Catch Rate is a deceptively simple stat that can lead to very wrong conclusions about wide receivers if misused.
I first encountered Catch Rate on the FootballOutsiders wide receiver pages. Catch rate is easy to calculate. Take the number of time a wide receiver catches the football and divide it by the number of times he is "targeted" by the quarterback. Ratio of catches to targets is his catch rate.
Catch Rate = Receptions / Targets
Catch rate divorced from the overall context of a receiver's profile is meaningless. You can't simply say, "Wes Welker has a catch rate of 71 percent and Calvin Johnson has a catch rate of 61 percent." Without more information, you cannot judge the players at all using this stat.
However, if in addition to catch rate you add yards per reception, targets and quarterback overall completion percentage, you can get a more complete view of the skill set and effectiveness of the pass catcher.
When it comes to the Jacksonville Jaguars, we don't need catch rate to tell us that the wideouts were bad in 2011. There are more than enough stats to show that. The real question is whether that was mostly their fault or did the fault lie with Blaine Gabbert?
The Jaguars may not have elite wideouts, but they are not devoid of talent at the skill positions. Both Marcedes Lews and Maurice Jones-Drew are among the best at their respective positions. In this case, we can use catch rate to benchmark the performance of their quarterback.
Jones-Drew saw no real difference in his traditional receiving numbers in 2011. His catches, yards and touchdowns were all roughly what they had been in recent years. His yards per reception were a little low, but not as low as in 2009. The big number that jumps off the page was his catch rate of just 68 percent.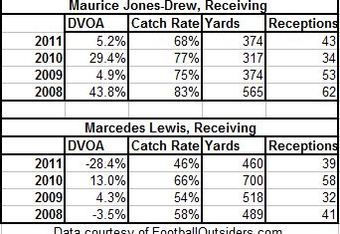 Catch rate for running backs is often much higher than for wideouts. The reason is obvious: shorter routes. It's easier to throw a dump pass to a back than to hit a wideout breaking free in the secondary.
Jones-Drew has been always been a great receiver, and was second in the NFL in catch rate in 2008, topping out at 83 percent. He's been well over 70 percent every year since his rookie season. Suddenly, last year his catch rate dipped to just 68 percent, well below his recent numbers, and the lowest he's had since 2006.
Either there's something wrong with Jones-Drew or his quarterback was particularly inaccurate.
Lewis has a similar stat line. Lewis had a breakout year in 2010, but in 2011, he ranked as the worst receiving tight end in football. Tight ends should post catch rates in the middle to high 60s, but Lewis caught fewer than 50 percent of the balls thrown his way. He had some leg issues last year, and that could be responsible for his drop off in production, but it's much more likely due to bad play from the quarterback.
In this case, catch rate can help us detect subtle differences in performance that wouldn't be as noticeable using conventional stats. That nagging sense that Jones-Drew and Lewis weren't having great seasons catching the ball is confirmed when factor in the number of passes they were thrown.
Blaine Gabbert may not have had much to work with on the outside, but catch rate helps us see he also failed to utilize the two weapons he did have.