San Jose Sharks: Who Pays the Price If the Sharks Do Not Make the Playoffs?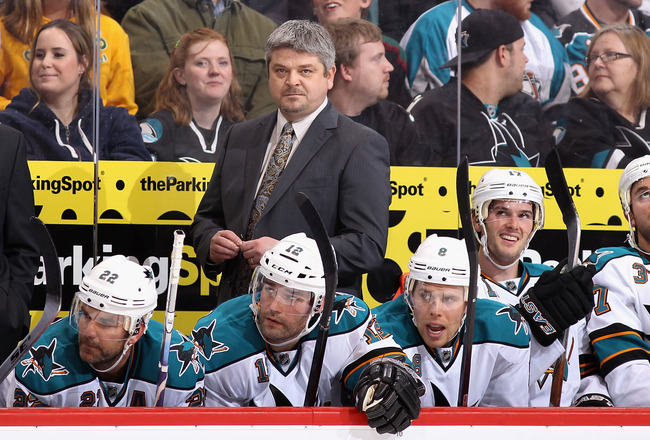 Christian Petersen/Getty Images
Whether or not the San Jose Sharks make the playoffs this season, things are about to drastically change in San Jose.
It has simply been a weird year for the franchise. GM Doug Wilson trades away scorers Dany Heatley and Devin Setoguchi in pursuit of speed and defense, something that has been lacking in the team's previous playoff runs.
The goal was to better prepare this team for a Stanley Cup Finals run. What it did was cause the franchise to rethink who should be running this team and which players should be on it.
Granted, the Sharks did lose Martin Havlat for a significant period of time and the team had struggles thereafter, but a team of the Sharks' caliber was never thought likely to be in a wild playoff run heading into the final week of the season.
If the Sharks make the playoffs, things will feel that tiny bit better. But missing out on postseason hockey may take this franchise to a place it never wanted to be in.
Someone has to take bullet for this disastrous season, and there are few names in the running for that rightful dishonor.
Todd McLellan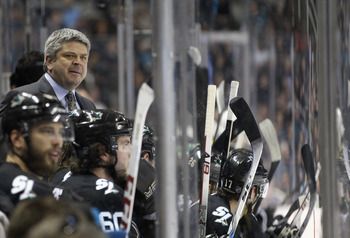 Ezra Shaw/Getty Images
The obvious choice here is coach Todd McLellan. He has arguably the best overall group of players this franchise has ever owned, a good mix of young and experienced talent—and his team is fighting for a playoff spot.
Something does not add up.
Credit him for trying, though. He has flipped around the starting lines several times and even worked in his talented backup netminder when he has needed to.
However, for every good move, there are a few bad ones for McLellan. His style of play is getting old, with the Sharks constantly firing shots at the net with few results. Even his degradation of the team at point and Antti Niemi at another had some scratching their heads as to how this team was being run.
McLellan may not be the rightful person to take this blow, but he is probably the most likely to get the boot out of San Jose if the pieces do not fall into place in this final week of the regular season.
Doug Wilson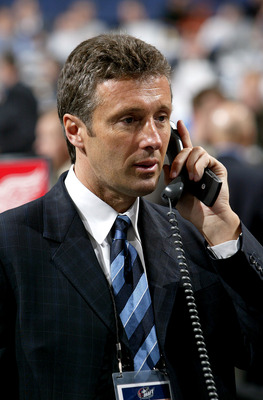 Dave Sandford/Getty Images
It is hard to point the finger at someone who has done nearly everything to make the Sharks one of the best franchises in the NHL, but this is as good a year as any for Wilson to receive the blame.
He messed with one of the most talented offensive rosters in the NHL. He got greedy, and he is paying the price for it by watching his team struggle to make the playoffs.
The goal of last offseason for Wilson was to make this Sharks team more well-rounded and more of a complete team. Back-to-back years of Western Conference Finals losses to far superior teams will do that to a general manager.
But maybe he did too much this last offseason.
Staying pat with still one of the best rosters in the NHL would have been conservative, and reaching for speed and defense while trading young and experienced talent was the risk.
The risk did not pay off and Wilson is paying for it by having his job on the line.
The Sharks will fire Wilson only if the Sharks miss the playoffs and the franchise decides to go in an entirely different direction in the offseason.
That is to say they will blow up the team and start from scratch.
The Players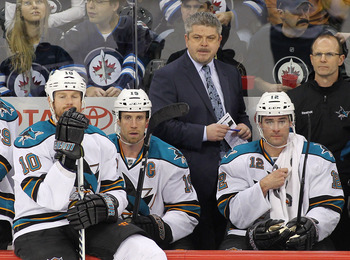 Marianne Helm/Getty Images
It is obvious to see that the Sharks' core group of star players is simply not cutting it.
We have known it for some time, but nothing puts the spotlight on the problem more than a team struggling to make the playoffs with their stars nowhere in sight.
Just ask Patrick Marleau, who has one goal and two assists in his last eight games during the most pivotal point in the NHL season.
He would seem to have the bullseye on his back if things go awry in this next week.
This is still a group talented players that can play hockey at a high level, but their games simply have not meshed together thus far. Blame that on the total amount of time they have been together or that their styles of play are not similar, but the names on paper identify this team as a Stanley Cup contender.
The problem here is that there is not one player on this team that can be counted on to contribute on a nightly basis. Thornton and Pavelski have their moments, but Marleau, Clowe and Havlat have not been a consistent supporting cast, as they should be.
For that reason, this team roster may be shaken up this offseason.
The Columbus Blue Jackets' Rick Nash seems to be the likely option as a player the team can count on night after night, and odds are the franchise will support the idea that no player on this current Sharks roster is untouchable in return for him.
Keep Reading

San Jose Sharks: Like this team?