NBA Mock Draft: 7 Players Boston Celtics Can Draft to Build Around Rajon Rondo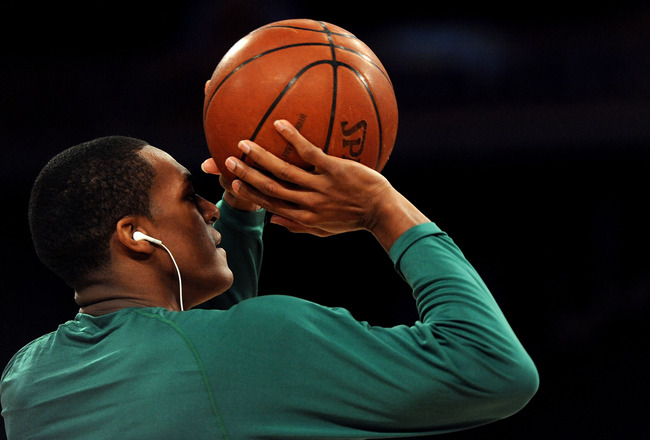 Lisa Blumenfeld/Getty Images
Heading into the 2012 NBA Draft, Boston Celtics' general manager Danny Ainge, and coach Doc Rivers must realize the time has come to replace the Big Three.
Although the trio of stars still have some solid basketball left in them, this is the year when draft picks could prove utterly vital to the team's future.
The strategy of drafting is complex, yet the Celtics' goal should be simple — draft around Rajon Rondo.
Rondo is having yet another tremendous season, averaging a double-double while leading the league with five triple-doubles. He's done more than enough to prove he is the key to success in Boston's future.
With two first round picks that will be somewhere between the middle and end of the round, I will only focus on players that may be available. I will also target the middle of the second round players.
Austin Rivers SG Middle First Round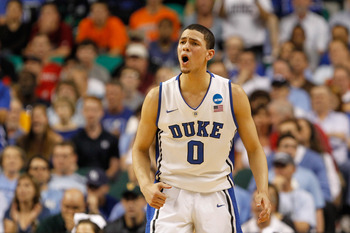 Streeter Lecka/Getty Images
After rummaging through countless mock drafts, I find Rivers predicted to come off the board in the middle of the first round.
The idea of the Boston Celtics drafting Austin is quite intriguing—considering he is the son of Doc Rivers.
Rivers is an explosive guard with an extremely quick first step. Utilizing his first step, he has the ability to attack the rim with creativity or shoot off the dribble consistently from as far as 25 feet.
Standing 6'4" with a 6'7" wingspan, Austin has enough size to play at the shooting guard position—though he needs to get stronger.
Pairing Rivers with Rondo could be a threatening combination of guards.
Austin already has a good NBA range three point jumper, and would provide Rondo with a very good outlet shooter, who can also drive to the basket.
With his good ball handling skills and ability to draw defenders, Austin can also become another set up man for others.
As a natural scorer with instincts that soar off the charts, Austin Rivers will help relieve pressure off of Rajon while adding a much needed shooting element.
Tyler Zeller C Middle First Round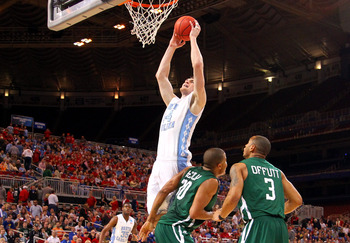 Dilip Vishwanat/Getty Images
Tyler Zeller is a true seven foot prospect, with quick speed and athleticism for his size. Not surprising, since he started for the perennial fast-paced Tar Heels.
Zeller would be a perfect Center for Rajon Rondo. Zeller's quickness and ability to run the break will equal easy baskets for the young big man as well as more assists for Rondo.
Zeller has developed an impressive right hook and has the potential to be a serious threat from 18 feet.
The main concern drafting Zeller would be his strength down low and his ability to rebound. In a category the Celtics already struggle, Tyler would have to really improve.
Overall, his athleticism and scoring abilities could complement Rondo's fast pace and passing abilities. As long as Tyler Zeller works on his strength, he could be a very versatile center.
Tony Mitchell SF/PF End First Round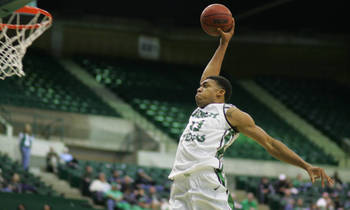 Image courtesy of dfwcollegesportsbeat.com
Tony Mitchell may be one of the most under the radar players in the nation. He did miss the first nine games of the season, but he is playing at a very high level since coming back.
Tony will most likely be utilized as a small forward in the NBA, but he has the skill set to also step in at the power position when needed.
He's an intense defensive player who averaged three blocks a game. He is tough-minded and creates turnovers.
Offensively, Mitchell has become an excellent shooter. He can move without the ball, but sometimes can be reckless with the ball.
Since Rajon Rondo loves to run the court, the fact that Tony Mitchell is often up-court waiting for a lob pass makes this duo a great match. His speed and skill set will enable Rondo to add to his already impressive assist totals.
Arnett Moultrie C/PF/SF Middle First Round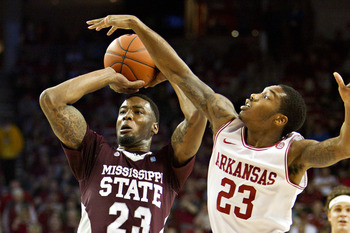 Wesley Hitt/Getty Images
Some big boards have Arnett Moultrie in the top 10, where as others have him being drafted right around where the Celtics will pick.
If Moultrie were to fall into the hands of the Celtics, he would give them much needed versatility as a big man.
He's got the size and the motor to be the Celtics center.
Although his interior game is impeccable, he also has the ability to step outside the three point line on pick and pops.
Moultrie's leaping ability and strength make him a great rebounder, something the Celtics will be coveting in the upcoming draft.
Furkan Aldemir PF Middle Second Round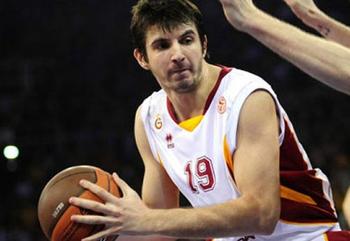 Image courtesy of spor.mynet.com
Although he has the skills to play at center, he lacks the toughness to bang inside the paint with NBA big men.
Furkan is a reliable scorer and rebounder and a good free-throw shooter.
Furkan still needs to improve on creating his own shots in one-on-one situations, but his coordination is impressive for his size.
Andrew Nicholson PF End First Round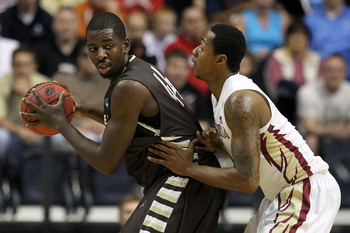 Jamie Squire/Getty Images
Andrew Nicholson is not great in any area, but very good in all of them. He has a very high basketball IQ to boot.
Nicholson can beat you in a variety of ways on the offensive end. Inside the paint he has developed a good left hook to go along with a very good spot-up shot.
Most surprising is Nicholson's ability to shoot outside. He went 19-for-30 from long range in his final 10 games this year.
Andrew's strength and size does need to improve — 6'9" and 225 lbs. — but he has worked on his build continuously throughout college and will continue to do so in the NBA.
The interesting part of Nicholson's game that will look great in a Celtics uniform alongside Rajon Rondo, is his amazing ability to set screens and work off of a pick-and-roll.
John Jenkins SG End First Round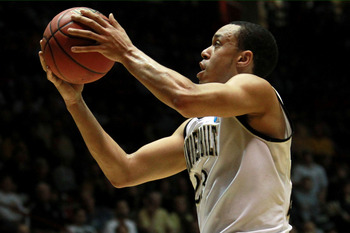 Ronald Martinez/Getty Images
If the Celtics were to look for a player to replace Ray Allen, it does not get any better than John Jenkins out of Vanderbilt.
Jenkins does lack the pure athleticism you see a lot at the shooting guard position, but he is an extremely effective shooter.
Just like Ray Allen, Jenkins works very well off of screens and can catch and shoot, and we've seen how well Rondo and Allen work together.
Jenkin's shot is as fluid and effortless as they come, and he can already shoot a high percentage from NBA range.
A bonus for the Celtics would be his passing game. Although not extraordinary by any means, he is a smart player who will be more likely to create points rather than turn the ball over.
Keep Reading

Boston Celtics: Like this team?