The Top 25 Best 'Little-Guy' Home Run Hitters in Baseball History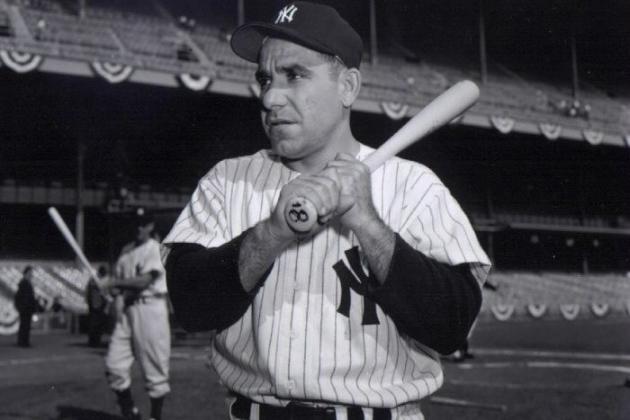 At 5'7, What Yogi Berra Accomplished Throughout His Career is Remarkable
To qualify as one of the best little-guy home run hitters in baseball history, I made the height cutoff at six feet and the weight had to be less than 200 pounds, with the exception of two players who changed the game.
There were no limitations in regards to position or era in which the player lived. Total home runs played a part in the ranking, but the player's height and how good he was compared to the players in his era were the two main factors.
With that being said, here is my list of the 25 best "little-guy" home run hitters in baseball history.
Begin Slideshow

»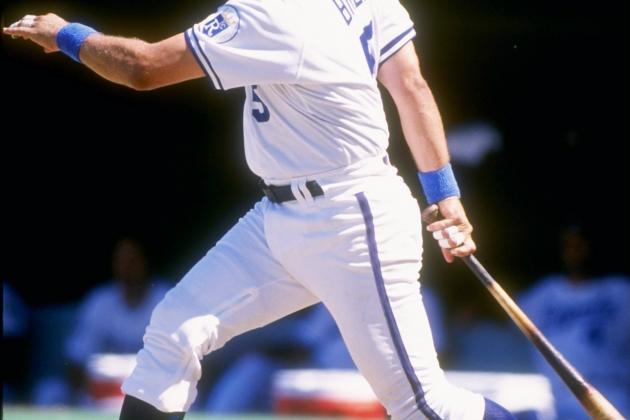 Jonathan Daniel/Getty Images
George Brett
317 Home Runs
To start off this list, we begin with one of the most passionate players to ever play the game, George Brett.
While he gained a lot of notoriety from his pine-tar incident, with 20-plus home runs in eight seasons and 317 over the course of his career, he earned a spot on this list.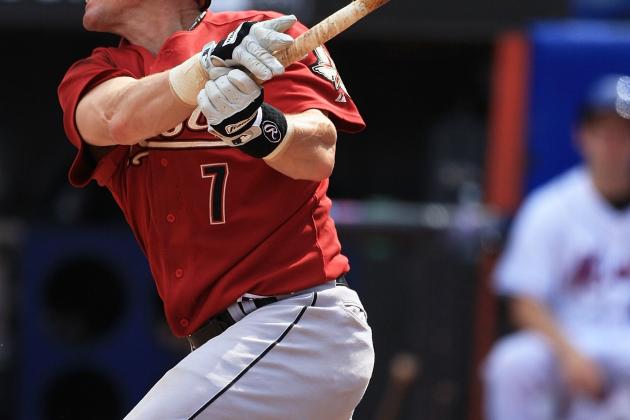 Travis Lindquist/Getty Images
Craig Biggio
291 Home Runs
The first of the two "Killer B's" to make this list, Biggio turned out to be quite a power hitter despite his limited size.
After only 30 home runs in his first five seasons combined, Biggio averaged 17 home runs over his final 15 seasons playing a variety of positions for the Houston Astros.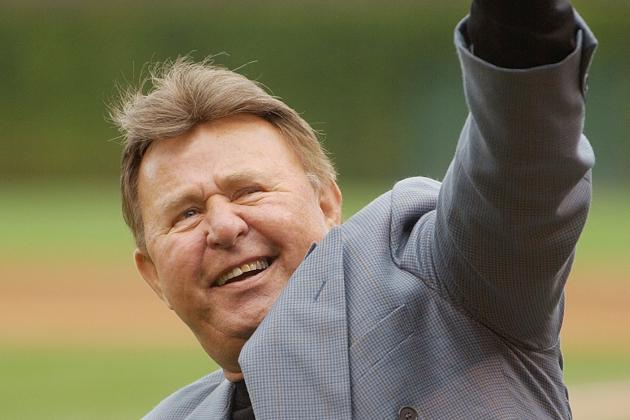 Jonathan Daniel/Getty Images
Ron Santo
342 Home Runs
From 1963-1970, Ron Santo was one of the best third basemen in all of baseball. With a .500 slugging percentage and an average of 29 home runs over that time span, Santo put on a power display for the fans at Wrigley every season.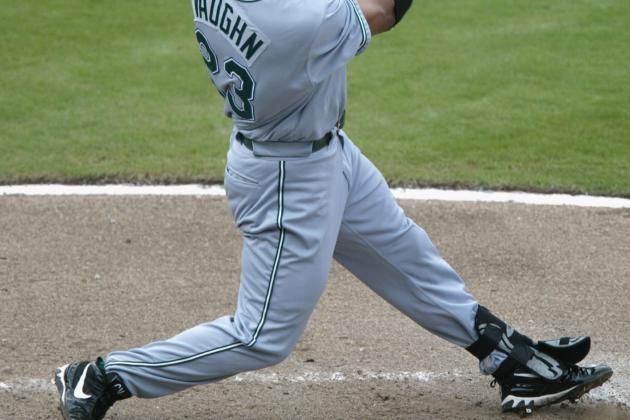 Eliot J. Schechter/Getty Images
Greg Vaughn
355 Home Runs
Greg Vaughn was never a great all-around player, but one thing you could never question was his power.
With three seasons of 40 or more home runs, including 50 bombs in 1998 to lead the San Diego Padres to the World Series, Vaughn continually proved he had massive power despite his limited size.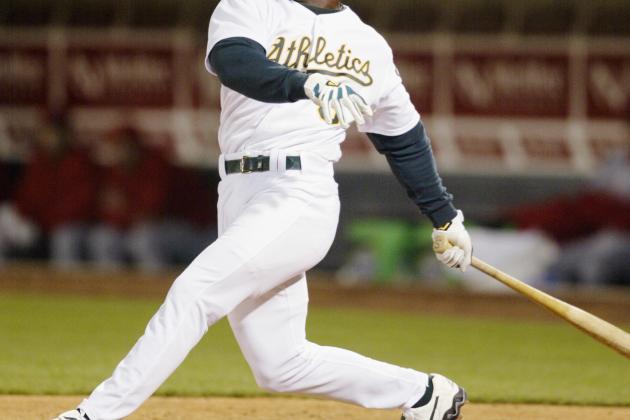 Jed Jacobsohn/Getty Images
Ron Gant
321 Home Runs
The fact that Ron Gant only played in more than 140 games five times in his 16-year career makes his 321 career home runs even more impressive.
From 1990-1996, Gant was one of the best power hitters in the league, topping 30 home runs four times. When he retired, his 162-per game average was 28 home runs, so had he stayed healthy, Gant may have finished a lot higher on this list.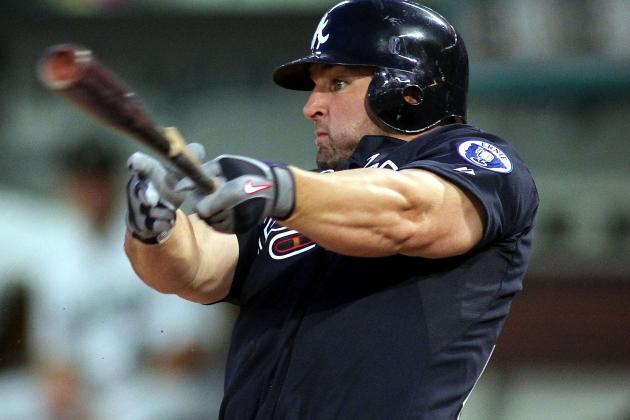 Marc Serota/Getty Images
Dan Uggla
190 Home Runs
Not many players have had a better first six seasons from a power standpoint. With 190 home runs after his first six professional seasons, Dan Uggla has quickly become one of the game's best power hitters regardless of size or position.
Because Uggla is only 32 years old, he should have plenty of great years left before his career is finished, so he may go down as one of the best power-hitting second baseman in the game's history, if not the best.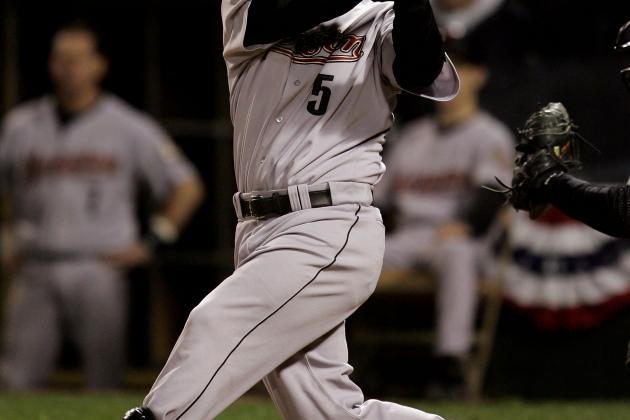 Jonathan Daniel/Getty Images
Jeff Bagwell
449 Home Runs
I thought of Bagwell only because he made himself look so small in his batting stance, but after seeing his stats, his power is undeniable.
In a 10- year stretch from 1994-2003, Bagwell hit the fifth most home runs in baseball behind only Sammy Sosa, Barry Bonds, Rafael Palmeiro and Jim Thome. Three of those listed have been accused or caught cheating with PED's.
With nine seasons of 30 or more home runs and a .574 slugging percentage over those 10 years, Bagwell finished with the 35th most home runs in baseball history.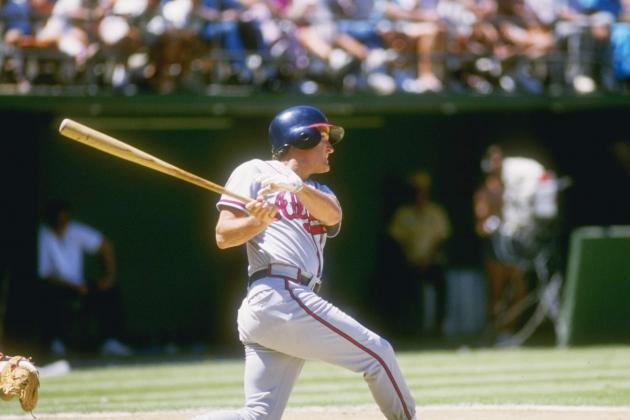 Stephen Dunn/Getty Images
Graig Nettles
390 Home Runs
Graig Nettles may never have topped 40 home runs in a single season, but in the 1970s and 1980s, he was one of the most consistent power hitters in the game.
Nettles finished tied for sixth in all of baseball in home runs during the 1970s, averaging 25 homers a season and even led the league with 32 homers in 1976 in spite of his small size.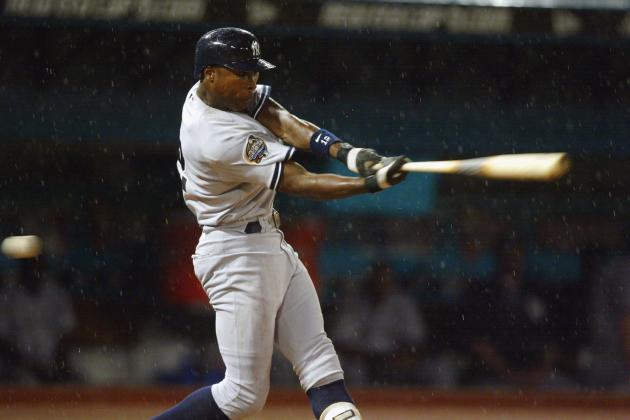 Jed Jacobsohn/Getty Images
Alfonso Soriano
340 Home Runs
The Soriano who made this list is the one from the New York Yankees, the sweet-swinging second baseman whose power was instrumental in their run to the 2001 AL Pennant. Soriano averaged 37 home runs his first six seasons as a second baseman.
At this point in his career, he is nowhere near the same player, but since his first season where he hit 18 homers, he has never had a season less than 20. Very impressive for such a small, frail player.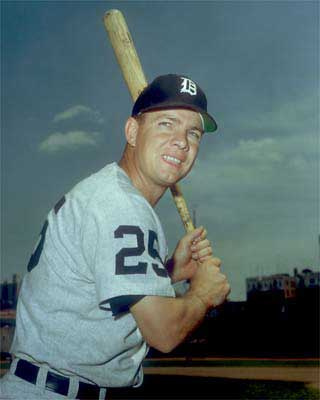 Norm Cash
377 Home Runs
With 41 home runs, 119 runs and 132 RBI in his first full season with the Tigers, Norm Cash showed off his power from the very beginning.
Cash followed up that season with 150 home runs over the next five seasons combined, finishing with the seventh most home runs hit during the 1960s.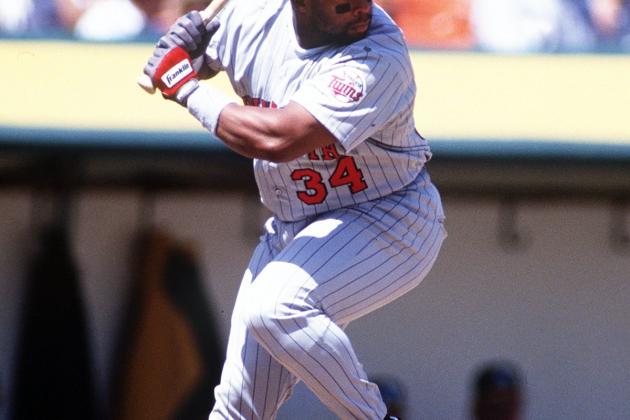 Otto Greule Jr/Getty Images
Kirby Puckett
207 Home Runs
After a tremendous 12-year career, Kirby Puckett woke up one morning without vision in his right eye and was forced to retire.
Even though he was only 5'8", Puckett still managed 10 double-digit home run seasons, topping 20 home runs six times.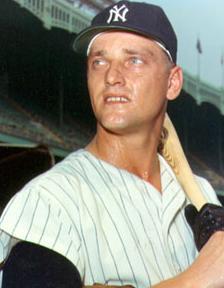 Roger Maris
275 Home Runs
The man who broke Babe Ruth's single-season home run record had to make the list, right?
Despite not having the prolific numbers at the end of his career that many others on this list have, Roger Maris showcased unbelievable power from 1960-1962.
Nobody will ever forget his 61 in '61, but he also added 39 homers in 1960 and 33 more in 1962, giving him one of the greatest three-year spans in the game's history.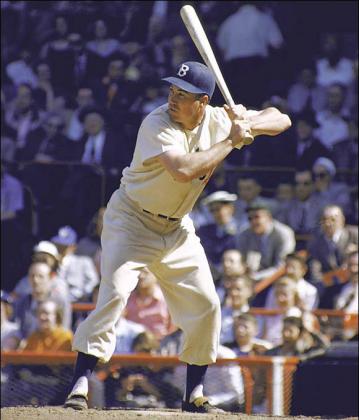 Duke Snider
407 Home Runs
Much like the next man on our list, Duke Snider's power did not come from overwhelming muscle. At 6'0", 179 pounds, Snider had such a quick bat through the zone that he never struggled generating power, leading to five consecutive 40-plus home run seasons from 1953-1957.
Even with the incredible talent that was the 1950s, Snider finished the decade with more home runs than any other player.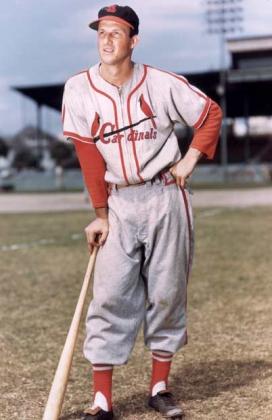 Stan Musial
475 Home Runs
Talk about a sweet swing. Despite being as skinny as they come at 6'0" and weighing 175 pounds, Stan "the Man" Musial hit 475 home runs over the course of his career, never hitting fewer than 10 in a single season.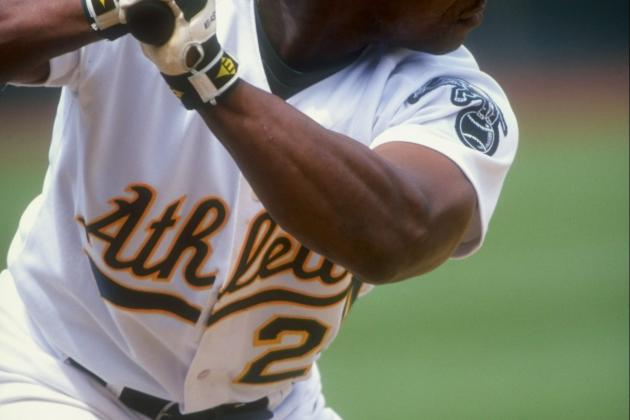 Otto Greule Jr/Getty Images
Rickey Henderson
297 Home Runs
Rickey Henderson is the greatest leadoff hitter of all time, bar none.
Part of what made Henderson such a force at the top of the order, outside of the obvious, was that he was always a threat to hit the ball out of the ballpark. With 81 career leadoff home runs, Henderson is first on the all-time list in that category, not to mention his 12 seasons with 10 or more homers.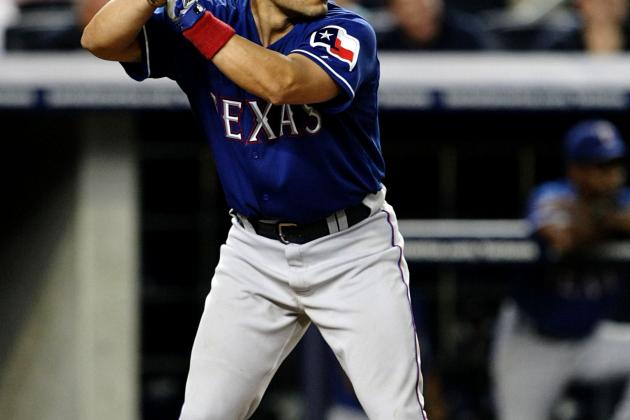 Al Bello/Getty Images
Ivan Rodriguez
311 Home Runs
Despite his small stature, Ivan Rodriguez still managed to post 15 consecutive seasons of double-digit home runs, including six straight seasons of 20 or more. What makes that even more incredible is that he had to withstand the bumps and bruises that come with playing catcher every day in the big leagues.
Pudge is one of the greatest power hitters to ever play the game.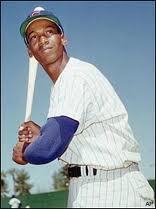 Ernie Banks
512 Home Runs
While Ernie Banks was a little over-qualified, standing at 6'1", he was still only 180 pounds according to baseballreference.com, so he was still a "little" home run hitter.
Banks is so high this list because he transformed the position of shortstop from a pure defensive position into the dynamic force on the offensive end that it is today. Banks won back-to-back MVP awards in 1958 and 1959 and hit 40 home runs in four consecutive seasons.
Banks changed the game despite his diminutive stature at the plate.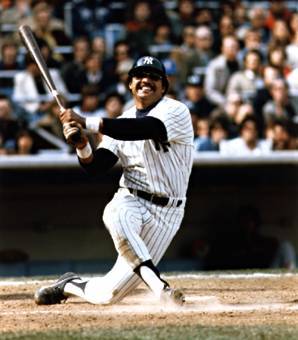 Reggie Jackson
563 Home Runs
When I saw that Reggie Jackson was only six feet tall, I have to say I was surprised.
Jackson is one of the greatest power hitters the game has ever seen and has hit some of the longest and most important home runs in postseason history. Jackson finished second in home runs in the 1970s, and he would probably stay around eighth on the greatest home run hitters of all time, regardless of height.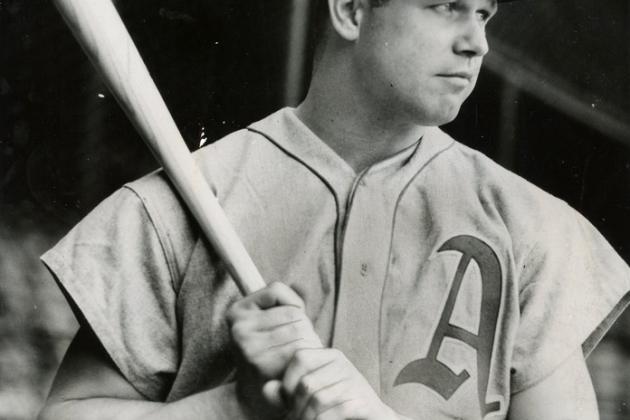 Jimmy Foxx
534 Home Runs
In the 1930s, an era where power did not dominate the game, Jimmy Foxx hit 415 home runs, 68 more than the man who finished in second place.
Lou Gehrig finished in second place.
At 6'0", 195 pounds, Foxx is as close to the brink as you can get for this list, but with 534 home runs and a 58 home run season in the day when that type of power simply did not exist, his place on this list is undeniable.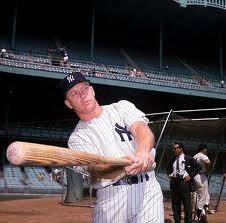 Mickey Mantle
536 Home Runs
With the legacy surrounding "The Mick," one would have thought he would be 20 feet tall and 1,000 pounds. Believe it or not, he was not even six feet.
After clubbing 536 home runs in an injury-shortened career, who knows the type of career Mantle would have had without the party and nightlife that was New York City in the 1950s.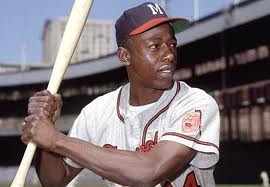 Hank Aaron
755 Home Runs
Hank Aaron at No. 5? He has 755 home runs, how is that possible?
Well, remember, this is a list about the best "little" home run hitters, not the best overall power hitters so despite his massive total, his size has him in the fifth spot. There is no denying that with 755 homers, Aaron is one of the greatest home run hitters in baseball history.
However, for the next four hitters to accomplish what they did in spite of their respective heights, they deserved higher spots on this list.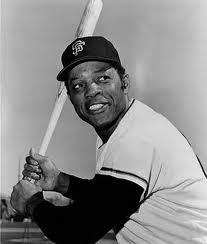 Willie Mays
660 Home Runs
Despite 85 fewer home runs, Willie Mays beat out Hammerin' Hank because he was two inches shorter and 10 pounds lighter.
The "Say Hey Kid" hit 30 or more home runs an incredible 11 times and made the All-Star team 19 consecutive times from 1954-1972. To say he belongs on this list would be quite the understatement.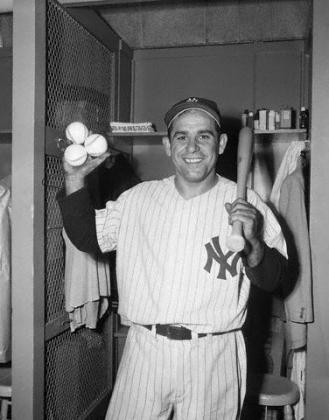 Yogi Berra
358 Home Runs
Five foot-seven.
Think about how small that is. Five foot-seven.
It is incredible that Yogi Berra, in spite of his limited height, finished sixth in home runs for the 1950s, ahead of players like Willie Mays, Ernie Banks and Ted Williams. Even though he never led the league, Berra had 20 or more homers in 11 different seasons and won three MVP awards in his 19 big league seasons.
When you consider that for the majority of his career he played catcher and had to deal with the physical limitations that come with playing the position, his home run total and stat line are even more impressive.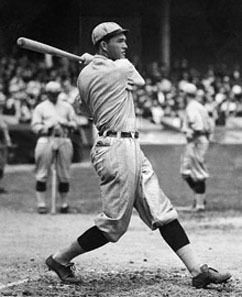 Rogers Hornsby
301 total home runs.
For more than 50 years, the game of baseball was played without a dominant home run hitter. When the 1920s came along, all of a sudden there were two. One I am sure you know: Babe Ruth. The other, a name many young fans do not know but should, is Rogers Hornsby.
Take 1922, for example. The National League as a whole, which consisted of eight teams, hit 530 home runs. Rogers Hornsby hit 42 that season, accounting for eight percent of the league's total.
To further explain just how extraordinary that is, in 2007 the National League hit 2,705 home runs. That means, someone would have had to hit 214 home runs (eight percent of 2,705) in order to make up the same percent that Hornsby did back in 1922.
Unbelievable.
In spite of his limited size, Hornsby had three seasons of 39 or more home runs and finished with a career slugging percentage of .577. He is one of the most underrated power hitters in baseball history.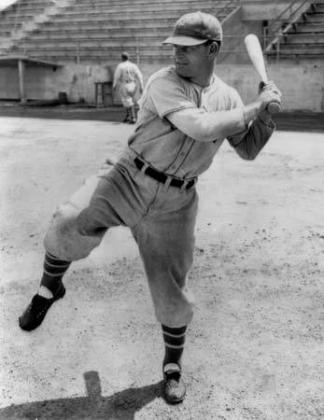 Mel Ott
511 Home Runs
How do you top Rogers Hornsby? You add 210 home runs and shrink two inches to get Mel Ott, the most underrated power hitter in baseball history.
Despite only standing at 5'9", Mel Ott averaged 29 home runs a season for an incredible 17-year stretch, leading the league in homers six times.
In 1929, at 20 years old where he probably was not even 5'9" yet, Ott hit 42 home runs.
Yes, 42 home runs, in 1929, at 20 years old.
Players of "Master Melvin's" size and immense power simply do not exist anymore. Ott is the shortest player in baseball history to accumulate more than 500 home runs over the course of his career, and there will never be another player like him.