Steven Stamkos Has Hart: Why Evgeni Malkin Won't Run Away with the NHL MVP
April 3, 2012

Bruce Bennett/Getty Images
As the NHL season winds down, there are fewer bubble teams and more clear playoff-bound clubs. The line has been drawn between pretenders and contenders, and despite fighting for much of the season to stay playoff-relevant following their Cinderella run to a 1-0 Game 7 loss against the eventual Stanley Cup champion Boston Bruins in the Eastern Conference Finals last year, the Lightning are going to spend this spring on the outside looking in.
However, that certainly hasn't stopped superstar center Steven Stamkos from delivering his most outstanding season to date.
While the lack of a playoff berth will certainly hurt Stamkos' chances at consideration for the Hart Memorial Trophy—the NHL's Most Valuable Player award—there is certainly still an argument to be made for the Lightning's top sniper and the league's leading goal scorer.
Pittsburgh Penguins forward Evgeni Malkin is currently the front-runner, with most fans and writers all but handing him the award, as the Lightning are now officially eliminated, while Penguins are still jostling for playoff position. But a studious statistical comparison of each player's season so far reveals that this race may be closer than some are willing to admit.
Stamkos has certainly proven his clutch ability this season as a player who rises in high-pressure games and situations. He has 10 "first goals" this year to Malkin's seven, 12 game-wining goals to Malkin's nine, and a new NHL record five overtime goals to Malkin's one. With Stamkos leading the way, the Lightning have been stiff competition for even the strongest teams in the league—the Lightning are 24-3-7 this season in one-goal games, greatly due to Stamkos' heroics.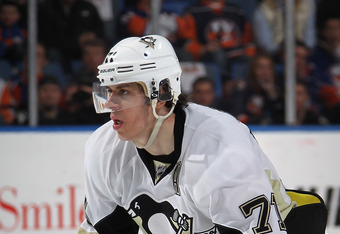 Bruce Bennett/Getty Images
Furthermore, Stamkos has also shown significant improvement in defensive ability, as he continues to develop into a more complete player. He is a stellar plus-five on the season on a defensively-challenged Lightning squad which sports a minus-45 team goal differential. Malkin is plus-14 on a team that is plus-54.
In addition, Stamkos' improvements in his own zone have even led to the Lightning coaching staff trusting Stamkos with penalty-killing duties, especially late in the season. Stamkos has logged 40 minutes of penalty-kill time this year (:31 per game) to Malkin's three minutes (less than :03 per game), further demonstrating Stamkos' overall value, leadership and willingness to take on any task for Guy Boucher and Co.
Evgeni Malkin has certainly shown some unbelievable offensive ability this season, both setting up and finishing plays from all areas of the offensive zone. But even though Stamkos has played more games due to a minor injury to Malkin, the Penguins forward has still logged more time in power-play situations than Stamkos (315 minutes vs. 303) and a staggering advantage in power-play time on ice per game (4:23 per game vs. 3:50 per game).
This has led to 33 power-play points for Malkin, to just 25 for Stamkos. Percentage wise, almost a third of Malkin's points have come with the man advantage (31.7 percent), compared to just over a quarter for Stamkos (26.3 percent).
While it's true that even-strength points aren't worth more than those scored with the man advantage, it is still salient to note this difference between the two superstar forwards. Stamkos has maintained a spectacular scoring pace despite seeing significant less time with the extra attacker.
Ultimately, Malkin has a points lead that Stamkos is not likely to overcome—he is currently leading the race for the Art Ross by a score of 104-95. Malkin has undoubtedly had a phenomenal season and is deserving of any and all recognition he receives for his work this year in helping push the Pittsburgh Penguins into what will likely be a deep playoff run.
That said, too many hockey fans and pundits are too quick to overlook the word "valuable" in the NHL's MVP award. The Penguins have proven over the last two seasons that even without superstar talent leading the way, the Jack Adams Award-winning coach Dan Bylsma is one of the best coaches in the game today. He took a a Pittsburgh Penguins team that was without top-three centers Sidney Crosby, Evgeni Malkin and Jordan Staal for various stretches of the regular season and playoffs last season, and led them to Game 7 of the Eastern Conference quarterfinals against the Lightning.
Without Steven Stamkos leading the way, where would Tampa Bay be?
In my opinion, battling Columbus in the lottery to see who gets to draft Nail Yakupov.
Stamkos is that valuable. Hart worthy? Maybe not. But he's at least worth a second look before we hand it to Malkin.