WWE News: Raw Report Card, April 2, 2012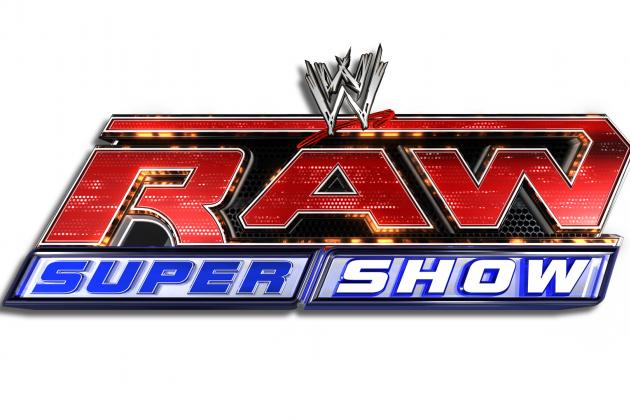 Introducing the RAW report card, where we take each individual match and segment, give it an overview and a grade.
It was the first RAW after Wrestlemania, and what a night it was.
Sheamus beat Daniel Bryan in 18 seconds to win the World Heavyweight Championship. We had some great matchups in Punk-Jericho, as well as HHH-Undertaker inside the Hell in a Cell.
Team Johnny won the 12-man tag-team match, which means John Laurinaitis is now general manager of both RAW and Smackdown. And finally, The Rock laid the smackdown on John Cena in the "once- in-a-lifetime" match in front of his hometown Miami crowd.
So what did last night's edition of RAW have in store for us? Let's take a look.
Begin Slideshow

»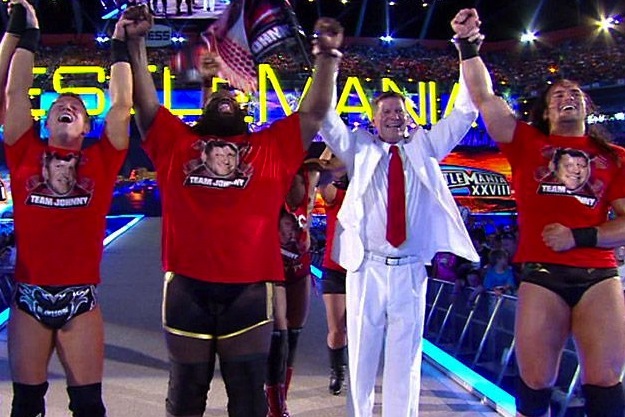 We start off Monday Night RAW with John Laurinaitis and David Otunga, fresh off his win over Team Teddy.
He tells Santino he will defend his U.S. title against Dolph Ziggler and Jack Swagger.
CM Punk, though, interrupts, telling them he speaks for the people.
I notice Great Khal in a dressy t-shirt. Just wanted to say that.
Punk tells Laurinaitis that he's still a giant toolbox, but Johnny says he will defend the WWE Championship against Mark Henry.
A new era begins tonight, says Lauriniatis, an era of "People Power."
Grade: D+
Was expecting something more for the first RAW after Wrestlemania. I mean, Punk vs. Henry? Really?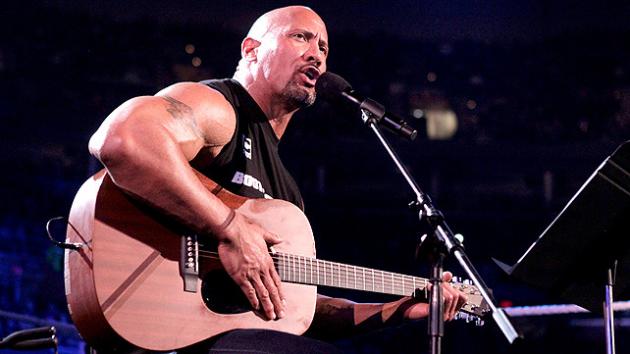 We then have The Rock coming out, who beat Cena at Wrestlemania 28 (of which, I'm very happy about).
Crowd goes silent for a bit, then cheers again when he walks down the ramp.
After what seems like half an hour, Rock finally gets a mic and begins to speak.
Rock begins with a promo, talking about how historic his match was.
"Finally, the Rock has come back...home!" And it's true. Rock shows the goosebumps on his arm.
He thanks John Cena and the crowd instantly boos.
He does give credit to Cena for giving him a fight and bringing his A-game, and said that it was an honor to battle him.
In the end, though, he says, it's not who wins or loses, but it's how historic the match was.
He thanks Cena, he thanks the millions (and millions) of fans, and says how happy he is to be the "People's Champ."
But is this the end for The Rock? No, it's only the beginning, says The Rock.
The crowd thanks him.
Rock talks about how he had a vision, and that people thought it was impossible. What is that vision? That he's going to walk down that aisle as WWE champion!
Grade: A-
It felt good. It felt honest. As I watched Rock, it looked like he truly cared, regardless of what others say about him. And he made me believe that will happen. The question would be, when? Next PPV? Summer Slam? Wrestlemania 29? Hopefully, we'll see.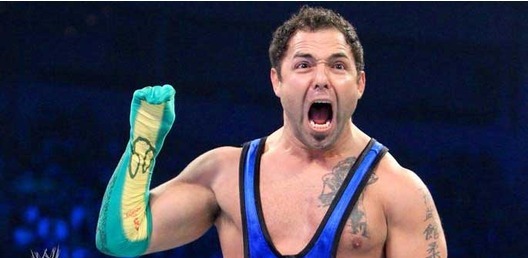 It's time for a United States title match!
Vickie Guerreo comes out and introduces Swagger. Swagger is sporting an interesting blue outfit. It's very...um...blue. Next, is Ziggler.
How will Santino defend his title?
We start off with Santino dodging the two, and we get a small Santino chant. However, Ziggler and Swagger begin to overpower him.
Ziggler does sit-ups to taunt him. Swagger does push-ups. But Santino makes some nifty moves and throws Ziggler over the top rope.
But Swagger knocks him down, as we head to commercial.
We come back, and the twosome of Swagger and Ziggler are keeping Marella down.
But Santino licks Swagger, gets Ziggler down, and head-butts Swagger.
Is it time for the Cobra? Nope, as Ziggler delivers a neck-breaker.
A nice double-team move by Swagger and Ziggler. Ziggler goes for the pin, but Swagger stops it.
The two argue, and Swagger delivers a belly-to-belly suplex to Dolph. He goes for the slingshot but can't get it, and Ziggler drop-kicks him. Santino reverses against Dolph and delivers the Cobra to Swagger.
Santino Marella wins and retains the title!
But Swagger and Ziggler aren't happy. Santino escapes as the two try to go after him.
But here comes Brodus Clay. Brodus knocks Ziggler down!
Santino and Brodus celebrate with dancing. I find Santino's dancing hilarious!
Grade: B
A solid first wrestling match on the card. Santino, the underdog, defies the odds and gets the win, which is nice to see. I was hoping to see a bit more bickering between Swagger and Ziggler, maybe sow the seeds of a breakup between the two, but I guess not yet.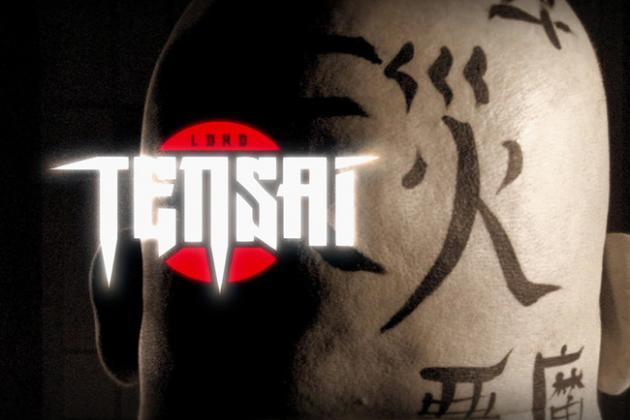 And now, we get to the debut of Lord Tensai.
His manager, Sakamoto, comes out, throws salt above his head, as Lord Tensai looks like some kind of shogun warrior.
Good to see Prince Albert/A-Train. He looks good, after so many years away from WWE, though I kind of miss the hairy chest and back. To those who don't know, he's been a star in Japan the past several years, where he was known as Giant Bernard.
He faces against Alex Riley. Lol.
Tensai starts off with an elbow and shows off his power.
He look really intimidating. The face, the tattoos, everything.
Tensai delivers a bunch of headbutts in the turnbuckle.
Tensai, lifts him, looks like an implant-buster, and slams him.
He follows with two elbow drops. The 360-pound Tensai is pulverizing him!
More elbows to Riley against the turnbuckle, and Riley just drops to the floor.
"Let's go Riley!" chants? I'm surprised.
Tensai delivers a huge choke-bomb, and he wins by knockout.
But it's not over yet, as Tensai's hand is salted and he grips against Riley's head.
Grade: B
A solid squash. It wasn't a quick match like you see with Brodus Clay, and it showcases the arsenal of powerful moves that he has.
Looking forward to seeing Tensai in the future.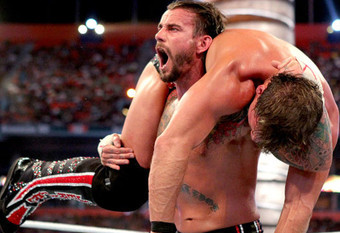 Punk comes out, but is in a bit of pain after defending the WWE Championship against Jericho last night. A fantastic match, by the way.
And now here comes Mark Henry. He was at Wrestlemania last night, helping Team Johnny win.
Yes, the last three segments of this show have had a big guy involved: Brodus, Lord Tensai and Henry.
We start off with Henry overpowering him in a lockup. Punk thinks a bit different, applying some kicks to his legs. Punches and chops by Punk. A dropkick. A second dropkick, but Henry blocks him.
Henry delivers a double-axe handle and grabs him from under the ropes.
Henry delivers a couple stomps to Punk's already-damaged back, then steps on him, holding onto the ropes.
But Punk comes back with some knees. He bounces off the ropes, but Henry delivers a clothesline! He goes for the pin, but goes for the two-count. Henry shouts, "I own you!" All I can think of is Call of Duty.
Continuing to show his power. Henry says, "You move when I tell you to." I laugh.
Punk tries to fight back with some more kicks. He goes for a cross body, but Henry delivers a bear-hug. Punk gives him some chops to get out, then delivers a DDT. Punk goes for the pin, but it's a two-count.
Punk kicks him in the chest, then knees against Henry's head. Punk goes for another pin, but Henry has his hand on the ropes.
Now CM Punk jumps off the turnbuckle, but Henry catches him and delivers him against the turnbuckle.
Henry climbs, but gets stuck. Punk tries to do something, but Henry gives him a big boot.
Henry attempts to slingshot-body press him, but CM Punk avoids the 412-pound behemoth.
Punk slingshots him over the top rope, but Henry clotheslines him, and we go to a commercial.
We come back, as Punk is on the top rope, jumps off again, but another boot. We see during the commercial, Henry delivers a massive punch to Punk's face.
Henry makes a submission attempt, but Punk is able to get out of that. More kicks by Punk follow, but Henry continues to deliver the power. There are more kicks and chops to Henry again. After a high kick Henry's face, he's down.
Is the third time the charm on the top rope? A Macho Man Randy Savage elbow drop ensues, but Punk took some pain from the hit, as well. Henry gets up faster than Punk, which is weird.
There's a Shining wizard, and a second one. Punk tires a Bulldog attempt, but Henry overpowers him and drops him over the top rope.
However, Punk can't get back in the ring. He gets the 10-count, but Punk retains the title because you can only win by pinfall or submission.
Henry isn't happy with this,and delivers a World's Strongest Slam on the floor.
John Laurinaitis comes out and tells him he wants more competitive matches.
Jericho comes out. He says how their match was a classic. He's got a bottle of alcohol with him, and pours it all over him. He kicks him, but slips. I laugh at that. Jericho fetches another drink and slams it against Punk's head.
Grade: B-
It was actually a very solid match. Good showing by Henry, who had been squashed in recent weeks. What ruins this grade is the ending and the whole alcoholism storyline. Seriously, do we need to incorporate Punk's family and their drug problems into the mix. Wasn't this feud supposed to be about who's the "Best in the World?" Yeah...whatever happened to that?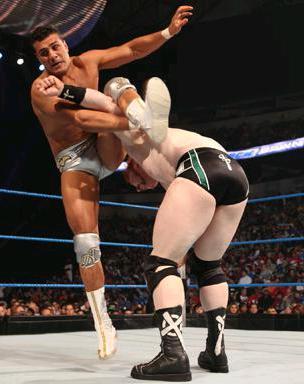 Sheamus gets a mixed reaction when he comes out.
He beat Daniel Bryan last night in 18 seconds to win the World Heavyweight Championship. Seriously? 18 seconds?!?!
Sheamus says just three words, but then Alberto Del Rio comes out (complete with Ricardo Rodriguez and a $400,000 Mercedes-Benz).
Good to see the two return.
Alberto Del Rio tells Sheamus that no one will remember his title win in a month, because he is Sheamus' newest challenger. Del Rio gets "Si!" chants, and the crowd boos.
Sheamus looks ready to deliver a Brogue Kick, but Del Rio calms him down.
Alberto tells him they have a match on Friday's Smackdown. If he wins, he gets a title match.
Something happens to the mic (uh oh, technical problems?). Ricardo gives him a new mic, but as soon as Del Rio turns around, Sheamus gives him a Brogue Kick.
Grade: C
Nothing particularly special. But it's nice to know that Del Rio will be returning to action, and I love to hear Ricardo announce his name. It's just awesome.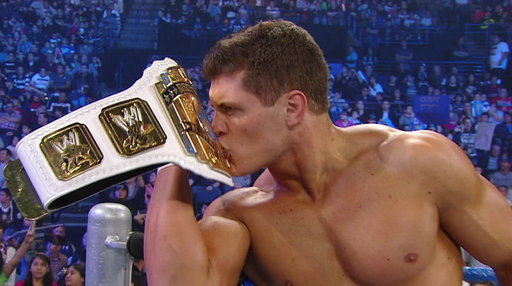 Cody Rhodes is out, no longer the Intercontinental Champion, after losing to Big Show last night.
He is now facing Kofi Kingston.
The match begins as Rhodes attack Kingston aggressively, clearly upset about losing his title. He throws him into the turnbuckle, but Kofi kicks him.
There's a Cross Body by Kingston, but he only gets a two-count.
Then Rhodes, out of nowhere, givies Kingston the Beautiful Disaster but no pin attempt.
Big Show comes out and shows Rhodes his own embarrassing Wrestlemania moment, losing to Big Show.
Cody is clearly peeved, but Kofi Kingston delivers a Trouble in Paradise. Cody gets a taste of his own medicine and loses the match.
Grade: C+
A rather quick match, but still rather amusing to see Rhodes get a taste of his own medicine from Big Show.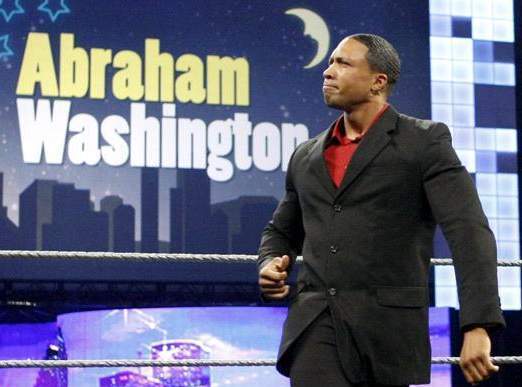 Abraham Washington? He's back? Um...OK?
Apparently, Abraham Washington has a plan for Henry. He says he needs hustle to go along with the muscle. He gives him a business card and Henry questions him.
Grade: Incomplete.
Is Abraham Washington a new manager? Well, as long as he's not as annoying as he was during his so-called "talk show," I'll be happy.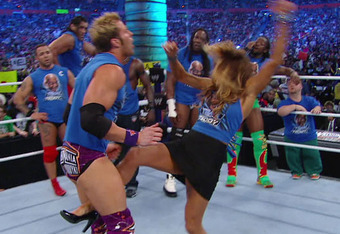 Eve comes out and tells the audience how she manipulated Zack Ryder and had her Wrestlemania moment.
She says how people with power cannot be manipulated and says a-OK to "people power."
Grade: C-
Not much else to say. Eve is bad, whoop-de-dittiliy-doo. Apparently, she's done with Ryder, so now what?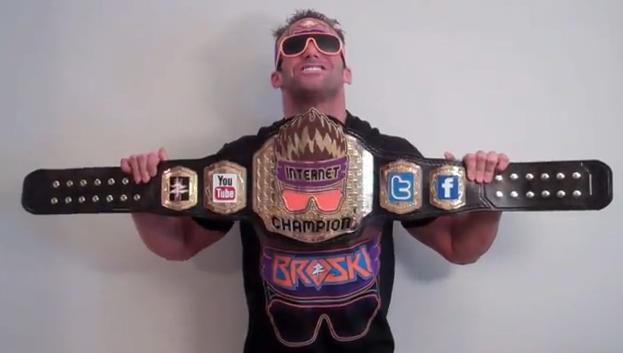 The Miz comes out. Michael Cole has an orgasm at the sight of him and compares him to Peyton Manning. What?
And he's facing Zack Ryder, who got a special in-depth article in WWE Magazine, as John Cena just arrives in the building...at 10:49 p.m. EST. Are you serious, bro?!
Zack Ryder goes after him in the start of this match. He goes for a pin, but Miz gets out at one.
However, Ryder continues to deliver, but Miz gives a shot.
Now, The Miz pounds at Zack Ryder on the ground and applies a submission.
Some back and forth, and he puts Miz against the clothesline. Broski Boot by Zack Ryder. He goes for the pin, but only gets a two-count.
Zack Ryder is still on the offensive. He goes for a neck-breaker, but Miz counters and slams into the turnbuckle. Miz then delivers a Skull Crushing Finale and gets the win.
Grade: B-
Not bad. Surprised to see Zack Ryder deliver so much offense in this match, but it was different and I liked it. Even though I'm a big fan of Ryder, I liked that they are giving Miz some momentum.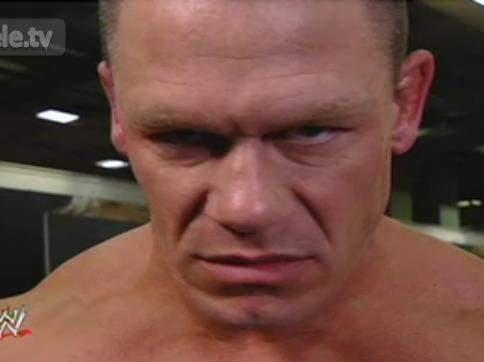 We finish off tonight's edition of RAW with John Cena coming out to speak out about his loss to The Rock at Wrestlemania.
By the way, I actually like that green jersey.
Anyway, Cena's scratching his head and takes some time before beginning to speak.
He says he never thought about losing.
Cena says how much he talked, and that he did mean everything he said. He's not taking back any of his words, like some others.
So, how is he taking it? Well, the fans call him a loser. Is he going to lash out against the WWE Universe? The fans want him to, but Cena says that he won't. Fans don't like Cena owning up and accepting defeat.
He thanks all of those who had supported him and apologizes for disappointing anybody.
Cena then invites The Rock down, saying how he has earned his respect, and that he considers him a champion and inspiration.
He admits defeat, saying Rock was the better man, and congratulates him on the victory.
But wait! Here comes the pain, it's Brock Lesnar!
The fans go crazy, and chant "Holy ****!"
Brock delivers an F-5 to Cena and RAW comes to an end.
Grade: A
I enjoyed Cena's promo. Like it was with The Rock, this promo felt honest and heartfelt. Like many, , I was wondering what happens to Cena now that his match with Rock has come and gone. And who shows up? Brock Lesnar! Great end.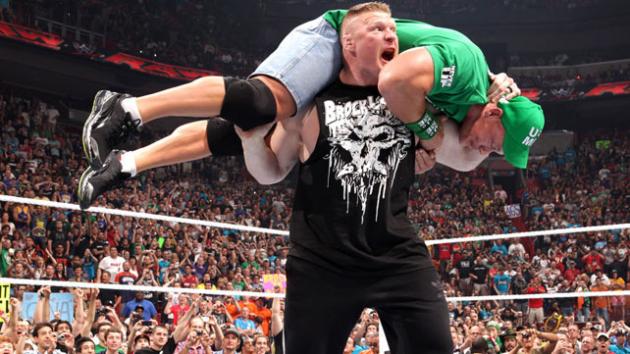 Grade: B+
It started off poorly, but RAW was great throughout. Mostly solid promos, some fun matches, a solid debut from Lord Tensai and the return of Brock Lesnar!
A good way to kick off the first RAW after Wrestlemania. I'm looking forward to what will happen next week.