NBA Draft 2012: 10 College Basketball Stars Who Must Not Leave Early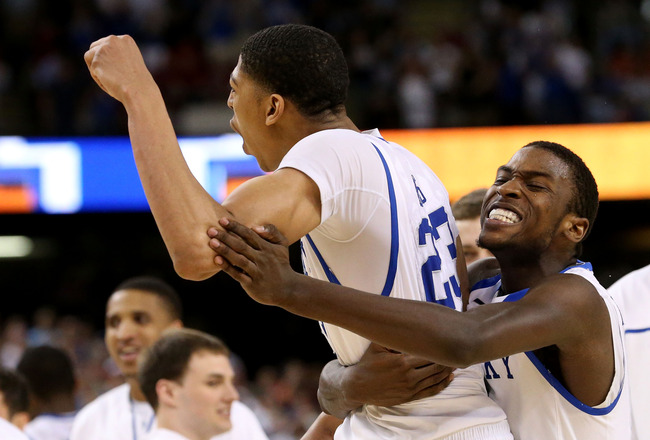 Ronald Martinez/Getty Images
One-and-done is a term that has become synonymous with men's college basketball.
Under the current collective bargaining agreement, players must be one year removed from high school before they can enter the NBA Draft.
For many players like Anthony Davis, Austin Rivers, Kyrie Irving and John Wall, that brings the whole one-and-done attitude.
Now, I think one-and-dones are hurting the college game, as well as wasting tax-payer money, and I firmly believe something has to change.
They can take the NFL route and keeping players from playing in the NBA until they're out of high school for three years; or the MLB route of allowing players to be drafted out of high school, but if they elect not to go to the pros, they can either go into the draft the next year by going to junior college or wait three years by going to a major school.
But, that's an argument for another day.
This year's draft class looks to be stellar with the likes of Davis, Rivers, Michael Kidd-Gilchrist and Thomas Robinson, among others. There are some players who have declared or are still deciding.
Whether it's because they're not ready for the pro game or they're already going to be drafted low because of the depth of players in this year's draft, some players would be best served to spend another year on campus.
Here's a look at 10 players I believe should stay in the college ranks for another year.
Jeff Withey, Kansas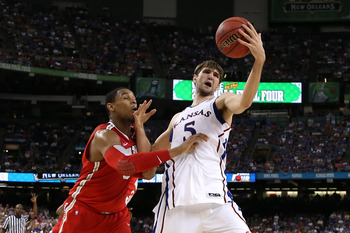 Chris Graythen/Getty Images
Withey has the size for the NBA, but I still think he needs to add 15-20 lbs. of muscle before becoming an NBA center.
With teammate Thomas Robinson expected to enter the draft, another year in Lawrence would be great for the 6'11" junior.
He'll be the focal point for the Jayhawks in the middle, as he'll get the opportunity to be the man and see what he can do inside.
Plus, he's projected to be a mid-second-round pick, which leaves no guarantees.
Another year under Bill Self should propel him into the first round of the 2013 draft, with his ceiling likely being at the end of or just outside the lottery picks.
Hollis Thompson, Georgetown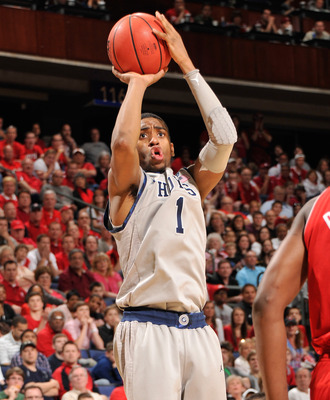 Jamie Sabau/Getty Images
As it stands right now, I don't see Thompson even being drafted.
Although that leaves room for him to sign with any team he wants as an undrafted free agent, I think he would be better served going back to school.
Thompson is a great shooter, as evidenced from his 48 percent from three-point land, but he's just that—a shooter.
He's not able to create his own shots, struggling with his first step, which is something NBA defenders will eat him alive for.
While he's shown steady improvement over the course of this season, I think coming back to Georgetown would be the best thing for him, although he's likely going anyways.
Sean Kilpatrick, Cincinnati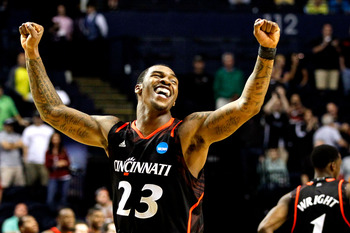 Kevin C. Cox/Getty Images
I went back and forth on Kilpatrick, but I really think it would be best for him to stay at Cincinnati for another year.
If he continues his development at his current pace, I see no reason why he won't be a lottery pick next year.
After he averaged 14.3 points this year, I could see him averaging 18 to 20 next year for the Bearcats.
Most of his game is strong, but he still has a little work needed on defense, as NBA players are faster in the frontcourt than he's accustomed to in the college game.
DeShaun Thomas, Ohio State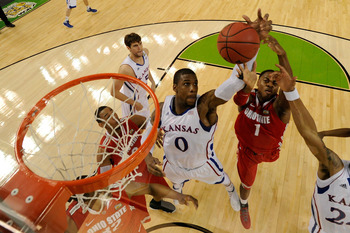 Pool/Getty Images
Thomas won't get selected this year if he opts to enter the draft.
Known as a "tweener" forward, Thomas is likely more suited for small forward, but still has some things to work on to be an NBA forward.
He's got the build, now he has to work on the explosiveness. He's not going to rely on his power as much in the NBA and is going to have to learn how to play better perimeter defense.
The one thing that will serve him well, should he go to the NBA, is his knack to crash the boards and his hustle.
If he can do that on a daily basis, even if he's not drafted, he'll make an NBA team as a free agent.
Trent Lockett, Arizona State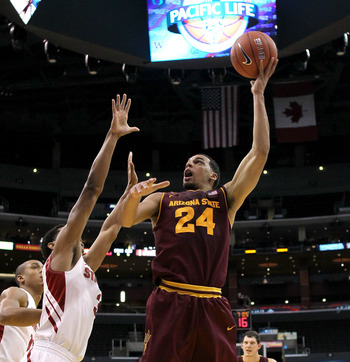 Stephen Dunn/Getty Images
Lockett is more of a driver than a shooter, which doesn't translate well for many players going into the NBA.
He's going to have to develop his mid-range jumper and become more confident in his outside shot if he ever wants to succeed in the NBA.
The guard is another one of those players that I think is going undrafted and would be better served to stay in school another year.
If nothing else, he'll be a senior next year and can earn his degree, which will definitely serve him well if the NBA doesn't work out.
Victor Rudd, South Florida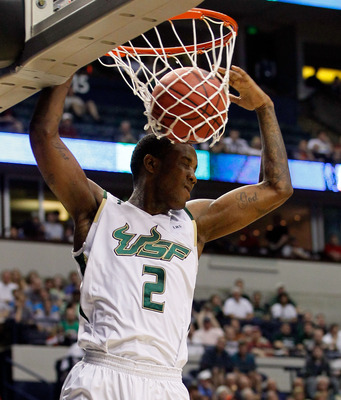 Kevin C. Cox/Getty Images
This is a case where a player has overhyped himself.
Rudd had a great NCAA tournament and he thinks that will translate into a great NBA career.
It's expected that he won't get drafted, and I agree with that expectation.
He can't even average 10 points a game in the college ranks. What makes him think that he could play in the NBA?
There are some players who don't score a lot of points, but are great rebounders or passers. Rudd isn't one of them.
Since he's declared for the NBA draft, I guess we'll be seeing him (or not) overseas in Israel or someplace else.
J'Covan Brown, Texas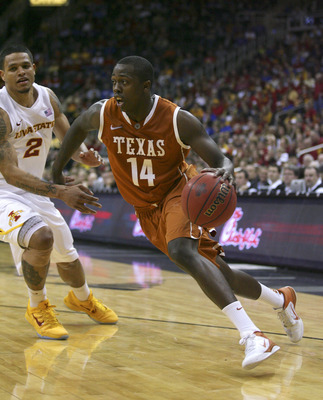 Ed Zurga/Getty Images
Not only do I expect him not to get drafted, but I think he's the one player that will benefit the most by returning to school.
He'll be able to help Texas step back into the national spotlight, while simultaneously improving his draft stock to where he could become a first-round pick next year.
It's amazing what one year can do for a player, as evidenced by Mississippi State's Arnette Moultrie.
If Brown returns, we'll be able to see if his 20.1 points per game this season were because he was the only true scorer on the team, or if he can still get his points with other legitimate scorers on the floor.
Many NBA scouts likely believe the former, which is why he's not expected to be drafted.
Trey Burke, Michigan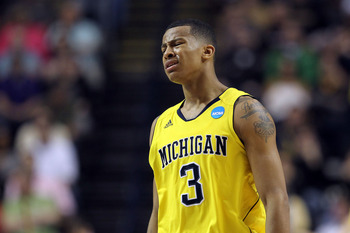 Jamie Squire/Getty Images
Burke is one of my favorite players in all of college basketball, but I still don't think he's ready for the NBA.
The point guard position is very delicate and only a few have managed to make a good transition to that after one year of college into the NBA.
Should Burke return to Ann Arbor, he'll have another year to hone his skills and could become one of the best point guards in the nation (I truly believe it).
This time next year, I believe we could be talking about him as a lottery pick, as long as he puts in the work.
John Jenkins, Vanderbilt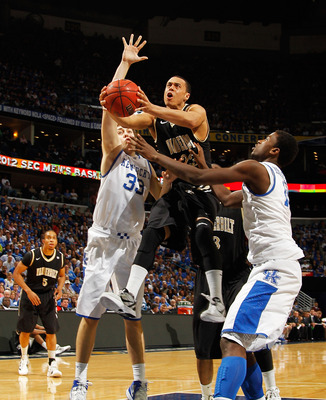 Chris Graythen/Getty Images
My biggest fear for Jenkins is that he'll get buried on an NBA bench, kind of like Jimmer Fredette has.
Jenkins is an exciting player to watch and can definitely succeed in the NBA.
But there are a lot of good players in this year's draft, so some are going to be picked much later than they normally would.
Jenkins is one of those who I think could slip to the second round, which leaves him in a non-guaranteed spot, although is anyone's spot really guaranteed coming out of college?
Give it another year and I expect him to be a lottery pick.
Michael Snaer, Florida State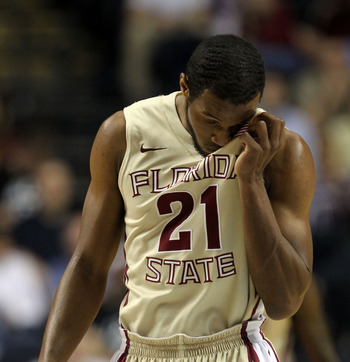 Jamie Squire/Getty Images
Snaer still has a lot to prove with his game.
Sure, he has an excellent jumper, but I want to see more out of this kid before I think he's ready for the NBA.
His ball-handling skills have to improve. For him to operate out in open space like he wants, he can't be shaky with the ball, which is one of the first things scouts notice about him.
I'll give him his shooting ability, though. He has a sweet stroke.
But so do hundreds of other college players.
Does that mean they'll be NBA players?
Keep Reading