NBA Draft 2012: Prospects Who Boosted Their Stock During March Madness
April 3, 2012

Jeff Gross/Getty Images
Every year during the NCAA tournament, there are players who boost their draft stock with stellar performances. This season is no different. Some players—like Kentucky's Anthony Davis—are solidifying their draft stock, while others—like Florida's Bradley Beal—have seen their draft stock rise due to their play in the tournament.
These are the draft prospects that boosted their draft stock due to excellent performances during the NCAA tournament:
Anthony Davis, Power Forward, Kentucky
Davis didn't boost his draft stock necessarily, but that's because he was considered the top draft prospect entering the tournament. But what Davis did do is separate himself from the field. Now instead of being considered the top prospect in this draft, he's getting comparisons to some of the top prospects of all time.
I saw a graphic on SportsCenter that compared Davis to NBA Hall of Famer and Georgetown standout Patrick Ewing. While I generally hate such comparisons and find them extremely premature, in this case it's warranted.
In Ewing's senior season he averaged 14.6 points, 9.2 rebounds and 3.6 blocks per game. He also won the Naismith Player of the Year award that season. This season, Davis averaged 14.4 points, 10.2 rebounds and 4.6 blocks. Davis also won the Naismith Player of the Year award this season.
Just based on the numbers, the similarities are striking. But the scariest part of all is that those numbers were from Ewing's senior season, while Davis' numbers are from his freshman season.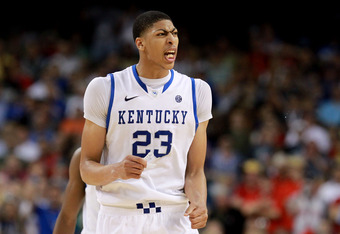 Ronald Martinez/Getty Images
Numbers aside, Davis has been an absolute beast throughout the tournament, even winning the Final Four Most Outstanding Player award. But going into the tournament, we knew he could score, rebound and defend the basket. However, Davis has also shown incredible agility, athleticism and ball-handling skills for somebody of his size.
His one-handed putback dunk against Louisville in the national semifinals was absolutely amazing. Making the play under normal circumstances is tough enough, but on this particular play, the ball was deflected and changed trajectory. Davis showed the wherewithal to adjust to the ball in mid-air, before thunderously slamming it home.
Bradley Beal, Shooting Guard, Florida
Beal had an excellent showing in the NCAA tournament for Florida. He displayed his ability to shoot the ball consistently, shooting 23-of-38 (60.5 percent) throughout the tournament, including an 8-of-10 performance against Marquette in the regional finals.
On top of his accuracy from the field, Beal showed the makings of a consistent all-around game. He showed the ability to rebound—averaging 8.25 boards during the tournament and the ability to defend on the perimeter.
After entering the tournament at No. 5 on Chad Ford's big board, he's now moved up to No. 3.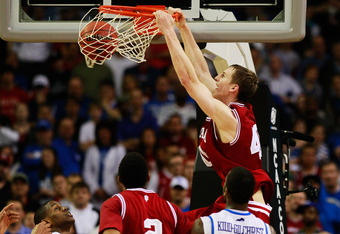 Kevin C. Cox/Getty Images
Cody Zeller, Center, Indiana
Zeller had a nice showing for the Hoosiers during their run to the Sweet 16. He averaged 16.7 points and 8.7 rebounds during three tournament games. While Zeller was clearly solid throughout, it was his play against Anthony Davis in the regional semifinals that raised eyebrows.
Entering the tournament, the knock on Zeller was that he couldn't compete against players with NBA length. But against Davis—a fellow big man and the top prospect in the draft—he scored 20 points on 9-of-14 shooting and hauled in seven rebounds.
While Zeller is only a freshman and is unlikely to declare for the draft, if he does, he's sure to be selected in the top 10. That's something you couldn't say about Zeller before the tournament began.
Jared Sullinger, Power Forward, Ohio State
As Chad Ford wrote in his most recent scouting report on Jared Sullinger, "Scouts are still split on Sullinger. Some see a super-skilled big man with a soft touch, great hands and the ability to carve out space in the paint. Others see an undersized, slightly overweight big man who plays below the rim."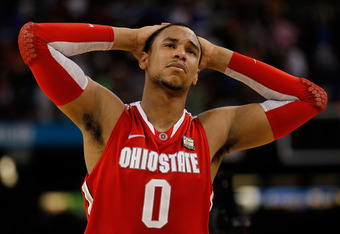 Chris Graythen/Getty Images
Sullinger has shown to be more of the former than the latter in the NCAA tournament. As Ford points out, one of the knocks on Sullinger is that he's undersized for his position. While that may be true, he's shown the ability to stay productive when playing against bigger players.
Take Saturday's semifinal against Kansas for example. Sullinger went against a bigger player in Jeff Withey, but he was still able to come away with 11 rebounds, including six offensive rebounds. He also had three blocks against the Jayhawks.
Thomas Robinson, Power Forward, Kansas
Robinson's had a nice showing in the NCAA tournament. He's scored in double-digits in every game and is averaging 16.7 points throughout the tournament. After averaging 11.7 rebounds during the regular season, he's kept up his production on the glass during the tournament, averaging 12.5 rebounds per game.
It also doesn't hurt when you put up a spectacular performance against the top prospect in the national championship game, which is what Robinson did. Against Kentucky and Anthony Davis, Robinson scored 18 points and hauled in 17 rebounds.
On top of the raw statistics, Robinson's shown a nice repertoire of moves around the basket. He has a nice jump shot that he hits consistently from 12-15 feet. He has also shown the ability to knock down a hook shot when he gets the ball in the low post.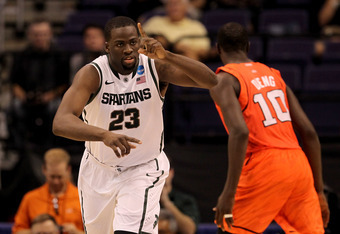 Jamie Squire/Getty Images
Draymond Green, Small Forward, Michigan State
There are those that knock Green because he doesn't play an explosive style of basketball or because he's undersized for his position. Those critiques are certainly true, but as Chad Ford points out, there's plenty that Green does do. "What he does have is basketball IQ and the skills to make it lethal against his opponents. He can shoot, handle the ball, pass like a guard and isn't afraid to bang in the paint. There's little he can't do."
Talk about banging in the paint. Green averaged 10.6 rebounds per game in the regular season. During the tournament, he bumped his rebounding up to 13.7 rebounds per game. Undersized or not, the guy is a rebounding machine.
After going off in the first two rounds of the tournament, Ford pointed out how Green has raised his draft stock. "Most scouts have had him on the first-round bubble for a while; with this weekend's performance, he's probably done enough to secure being selected in the first round."
Michael Kidd-Gilchrist
Kidd-Gilchrist might have moved himself to the No. 2 pick in the draft after his performance in the tournament. His production wasn't out of this world, but with Kidd-Gilchrist a lot of it's about intangibles.
According to Chad Ford, "Kidd-Gilchrist may lack the typical tools of a No. 2 pick, but his motor, toughness and leadership on the court have made him Kentucky's emotional leader. Scouts think it will translate at the next level, too.
If Kidd-Gilchrist and Anthony Davis are selected No. 1 and No. 2, it will be the first time since the NBA adopted the draft lottery that two teammates are the top two selections in the draft.
Note: Player positions are based on where they're projected to play in the NBA, so in some cases it may differ from their position in college.