Matt Cain and San Francisco Giants Reach Agreement: Does This Deal Make Sense?
April 2, 2012

Christian Petersen/Getty Images
Congratulations are in order for both Matt Cain and the San Francisco Giants. As reported by CBSSports.com, the two sides reached agreement on a five-year, $112.5 million contract extension that ensures Cain will be a Giant through the 2017 season, with an option for 2018.
The deal will guarantee Cain $127.5 million over the next six years, including $15 million that he was already due for the coming season. 
I fully believe this deal makes excellent sense for both the Giants and Cain. If Cain were to become a free agent following the 2012 season, he would have commanded much more on the open market.
In reality, the cost to keep Cain in San Francisco now was a lot less than it would have been after the season. We would have seen several teams—most likely the Yankees, Red Sox, Cubs, Angels and Rangers—making a major play for Cain's services.
In addition, the Los Angeles Dodgers and their new ownership group would have undoubtedly jumped into the foray. The new owners have already proven that they don't care about overspending, so they also would have been prime suitors for Cain.
This extension is also great for Cain. He has stated on numerous occasions that he would like to remain a Giant, and he has a young family in the San Francisco Bay Area. This gives him and his family long-term stability and security.
Cain has earned this deal with seven stellar seasons in San Francisco. He has thrown 200 or more innings in each of his last five years and made at least 31 starts every year since 2006.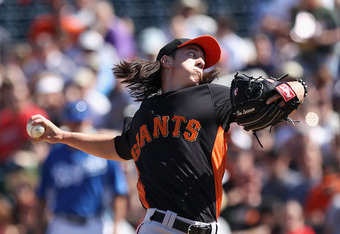 Christian Petersen/Getty Images
Cain has a career ERA of 3.35 and is coming off a career-best 2.88 ERA since he became a Giants mainstay in 2006. His career win-loss record of 69-73 is due to a lack of run support, not Cain's ability to pitch effectively.
Cain was also a postseason hero in the Giants' playoff and World Series run in 2010. He threw 21.1 innings and did not allow an earned run in the postseason.
At the age of 27, Cain is still in his prime and young enough to fulfill this deal. He has a proven track record of reliability and consistency. I believe that this contract extension is a huge win for both sides.
I also believe this deal gives the Giants a better chance to retain Tim Lincecum. Having two ace-level pitchers, along with a young, up-and-coming Madison Bumgarner, will give the Giants a chance to win every year this trio is together.
Lincecum does not have the family roots established in San Francisco and has no real ties to the Bay Area. However, if Lincecum feels he has a chance to win, he will also be more apt to stay in San Francisco. With Cain locked up through 2017, Lincecum has to feel more confident about the Giants' future.
The Giants have a lot of money coming off the books after the 2012 season, as Aubrey Huff is being paid $10 million, Freddy Sanchez $6 million and Aaron Rowand $13.6 million. Huff has a $2 million buyout coming, so the total savings on just these three contracts is $27.6 million.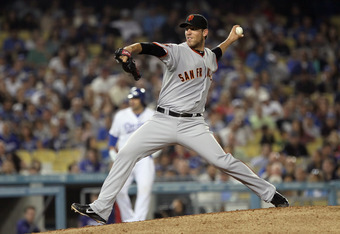 Jeff Gross/Getty Images
The Giants have used that money very wisely by dedicating it to Cain.
In addition, Barry Zito's contract will be off the books following the 2013 season, and that money can and should be dedicated to Lincecum.
The Giants still owe Zito $19 million in 2012, $20 million in 2013 and a $7 million buyout in 2014. The Giants' ownership group have probably already written that off, and it will be a glorious day when they are finally done with that albatross of a contract. 
This was the first step for the Giants to ensure that they will have a contending team for several seasons to come. A starting pitching staff consisting of the big three of Lincecum, Cain and Bumgarner gives the Giants the foundation for another title run.
Last week, I wrote an article imploring the Giants to step up and sign Matt Cain. The numbers I threw out there were five years and $105 million. The Giants felt he was worth even more than that.
Even though they agreed on slightly more than I had anticipated, this deal just made perfect sense for both the Giants and Cain.