Boston Bruins: 4 Reasons Why Defending Champs Are in Trouble Entering Postseason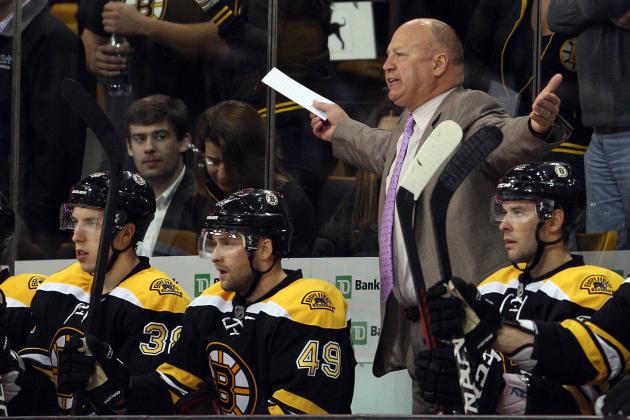 Elsa/Getty Images

The Boston Bruins are playing quality hockey at the perfect time.
Just three games remain between the Bruins and postseason play where they will attempt to be the first team to repeat as Stanley Cup Champions since the Detroit Red Wings.
Boston has gone 7-1-1 in their past nine games and seem to be relatively healthy heading into the playoffs.
However the Bruins still have major obstacles in their way of a quest for another title. Here are some challenges Boston could face over the coming weeks as they try to bring yet another championship to Beantown.
Begin Slideshow

»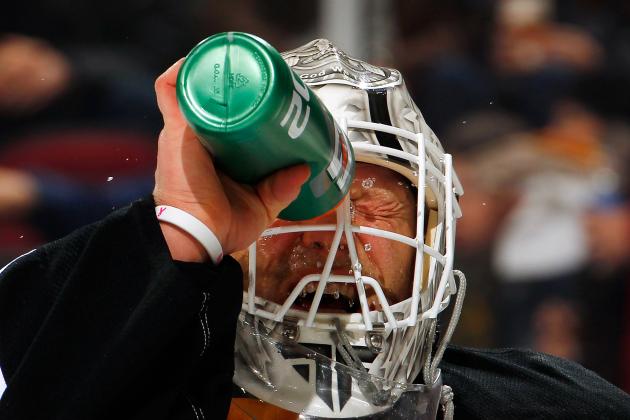 Paul Bereswill/Getty Images

Tim Thomas is a horse and the Boston Bruins have been riding him hard ever since Tuukka Rask went down with an injury in early March.
Thomas has played in 58 games this season; a high number for any goaltender, never mind a 37-year-old net minder.
Not only has Thomas played in a ton of games this season, he played in every game during the championship run last season that consisted of 25 playoff games.
Although he has picked up his play in the past few games. Thomas went through an uncharacteristically poor stretch of play, calling into question his workload.
Now that they have cemented a No. 2 seed in the Eastern Conference, the Bruins can afford to rest Thomas a bit, but it could prove to be too late.
If the Bruins are to make another deep playoff run, Thomas must be on his game. With his massive workload this season, he may not be able to hold up at an elite level.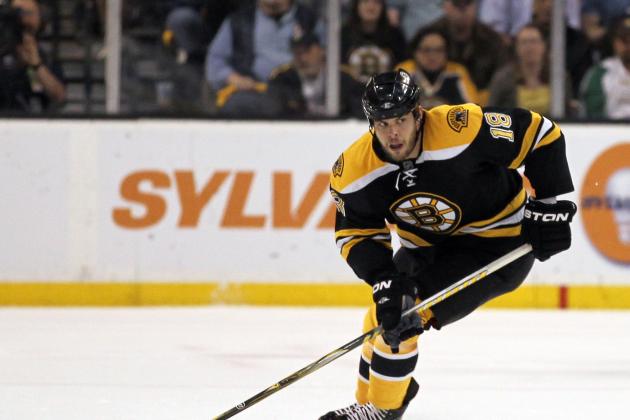 Jim Rogash/Getty Images

Without Nathan Horton, the Boston Bruins may not have gotten out of the first round last season.
Horton scored the game-winning goal in Game 7 versus the Canadians last season and propelled the B's into the second round.
However, it is likely that Horton won't return for the playoffs as previously expected, due to a lingering head injury.
Horton is very valuable to the Bruins and his presence will be missed come playoff time.
Not only does Horton have great scoring ability, he provides depth along all lines. Bruins fans would certainly much rather see Horton playing over someone like Benoit Pouliot, who is wildly inconsistent.
The impact of Horton's loss might not have been fully appreciated during the regular season, but the Bruins will feel the full impact come playoff time.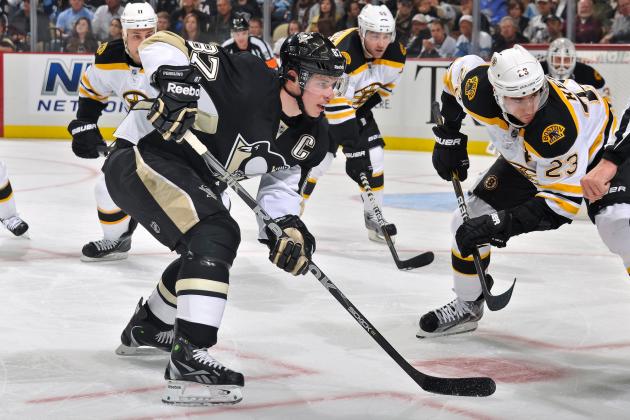 Jamie Sabau/Getty Images

The absence of Sidney Crosby was devastating for the Pittsburgh Penguins' title hopes last season.
Now, Crosby has returned just in time for the playoffs and seems to be starting to play like his former dominant self.
With the New York Rangers already a major threat to the Bruins' quest for a title, the Penguins have entered the picture as a serious contender as well.
Evgeni Malkin and Crosby, when healthy, form the most potent offensive duo in the NHL. Crosby facilitates to the rest of his teammates and even Zdeno Chara would be hard-pressed to shut down the high-scoring duo.
While the Bruins are a balanced team, the Penguins are deep and talented and could prove to be a difficult matchup down the road for Boston.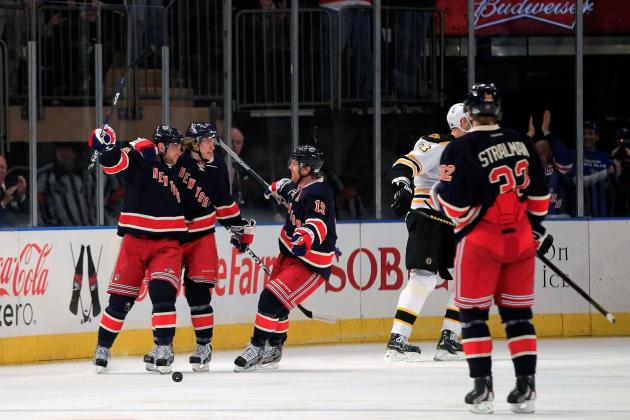 Chris Trotman/Getty Images

Playing from behind can be a dangerous trend.
And that is exactly what the Boston Bruins have been doing dating all the way back to January.
Since mid-January, the Bruins have only held a lead entering the third period nine out of 38 games. That is only 23.7 percent.
On top of that stat, the Bruins have only played about .500 hockey (18-17-3) during that stretch.
When postseason play begins, it will be even tougher to overcome a third period deficit, making it essential for Boston to score early and keep that momentum through the third period.
Sooner or later this trend will hurt the Bruins if changes aren't made. Playing from behind could kill their attempt at another Duck Boat ride through Boston.