Tennessee Football: 10 Reasons the Volunteers Will Dominate in 2012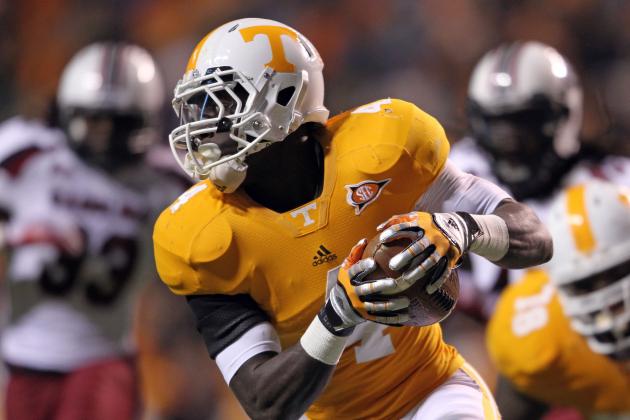 Andy Lyons/Getty Images

Derek Dooley's subpar beginning to his tenure at Tennessee will soon be forgotten after a season in which the Volunteers will climb their way to contention in the SEC.
Led by junior-to-be gunslinger Tyler Bray, the Vols could boast one of the most lethal offenses in the nation's best conference next season.
Coaching turnover was expected to be a speed bump into the offseason, as seven new assistant coaches will take over, including defensive coordinator Sal Sunseri and four other new coaches on the defensive staff. However, many new additions have gelled nicely and it will prove to be a strength instead of a weakness.
If Phillip Fulmer's final season and Lane Kiffin's backstabbing in recent years weren't all-time lows for this Tennessee team, their final loss of 2011, which knocked them out of a bowl and broke their 26-year win streak over Kentucky, was.
After a brutal schedule that had the Vols facing teams that finished Nos. 1, 2, 5, 9, 19 and 25 at the end of the 2011 season, Tennessee's upcoming schedule looks to be decently lighter and more in the Vols' favor.
With a constructive offseason behind them and the maturation of some top talent, expect the Vols to do what they haven't done in many years: win big games.
Begin Slideshow

»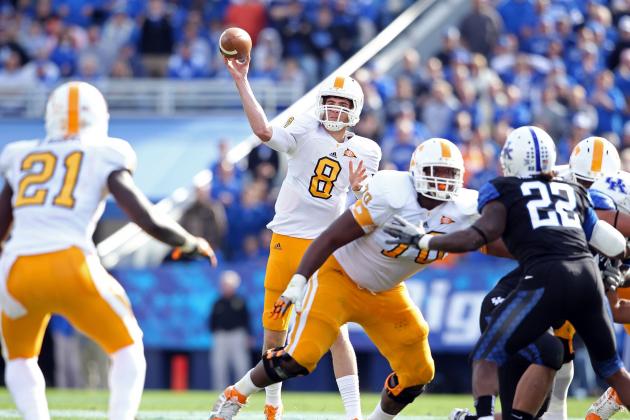 Andy Lyons/Getty Images

It's scary to think of how different 2011 would've been had Tyler Bray's thumb never made contact with that Georgia pass-rusher.
After a blistering beginning to his sophomore campaign which had him leading many statistical categories and had overexcited Vol fans whispering of a Heisman Trophy, Bray went down just before Tennessee's brutal October schedule and missed crucial games against Alabama, LSU, South Carolina and Arkansas.
The Vols lost all four games and their offense looked decidedly horrendous without Bray. Even when he came back against Vanderbilt and Kentucky, his effect on the passing game wasn't the same.
Bray's thumb is all healed and the motivated California kid is ready to make his noise against the SEC's best. He's even taken to Twitter over the offseason to emphasize his hype over the Vols' new, deadly receiving core.
"Can't wait to add all these new Wr's to our already great receiving core of @justinhunter_11 (Justin Hunter) @darickrogers (Da'Rick Rogers) @Mr_VD4 (Vincent Dallas)" - via @tbrayvol8 on Twitter
Last year, Bray was stuck with virtually one solid vertical threat in Rogers after Hunter's injury. This year, they have endless options with which to stretch the field. They should have no problems in the passing game if everyone stays healthy.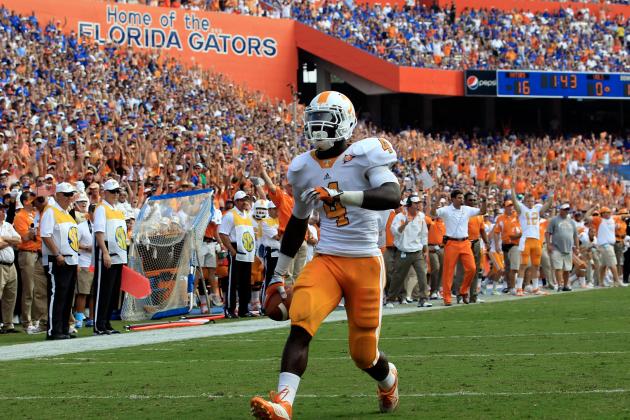 Sam Greenwood/Getty Images

Tennessee's woeful rushing attack was all too dependent on senior Tauren Poole in 2011, and his lackluster season combined with a weak offensive line combined to make the Vols the SEC's worst running team.
Dooley's acquisition of South Carolina running backs coach and former Vol great Jay Graham was a home-run hire for easily the Vols' biggest need.
This year's squad at RB is young, but not inexperienced. Sophomore stud Marlin Lane got nearly 100 touches last year and scored four touchdowns with 3.7 yards per carry. His impressive combination of strength and speed should make him a solid starter in Tennessee's backfield.
Lane won't have to muscle the whole load. After a year spent at receiver, where he averaged more than 20 yards per catch, junior Rajion Neal has been moved exclusively to the running back position. His vision and blistering breakaway speed should complement Lane well.
Behind Lane and Neal should be Tom Smith and Devrin Young. Smith is a pounding runner with good potential and Young, Tennessee's assumed punt returner, has a small build at 5'8", but quick speed reminiscent of Darren Sproles.
UT's fifth- and sixth-string backs could even make a splash if the Vols face injury or production problems. Freshman acquisitions Davante Bourque and Alden Hill are both big bodies who have devastating power.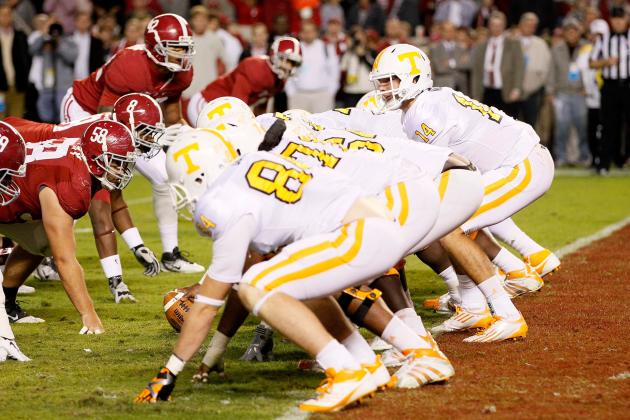 Kevin C. Cox/Getty Images

Led by new offensive line coach Sam Pittman, the Vols will have an experience-laden and motivated group in the trenches this fall.
Tennessee finally has a battle-tested senior on the line in Dallas Thomas, who has been around for a lot more bad than good in his time with the Vols. The fifth-year senior wants to send himself out with a thrilling season.
The talent is there. Rising junior Ja'Wuan James was one of the nation's top O-line recruits and has started at tackle all of 25 games since the beginning of his true freshman year.
Juniors Zach Fulton and Alex Bullard both started all 12 games for a Vols team that should be starting an all-junior and senior O-line that's average size will be around 6'5", 310 pounds.
There was a bright spot for Tennessee's offensive line in 2011, as they only let up 1.5 sacks per game. That stat was good for third best in the SEC.
Pittman seems to be motivating the line to perform up to their high potential in the running game this year.
"He brings a totally different vibe," James said. "I feel like he relates to us more. He's looking to help us on the field and off the field at the same time so we can perform better on the field. He's trying to get the most potential out of us." - via Chattanooga Times Free Press
If he can get his squad to play up to their potential, the Vols should be able to do what they've traditionally dominated by doing: running the football.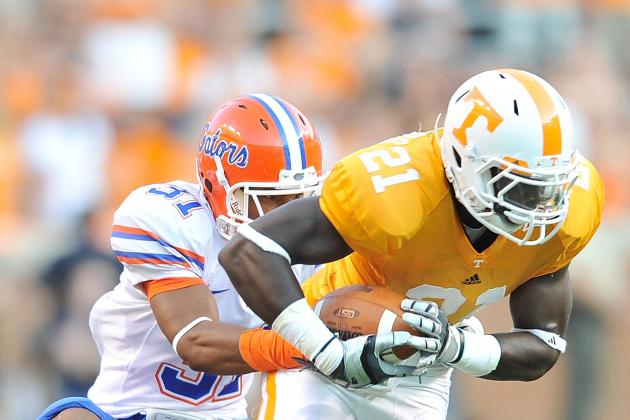 Grant Halverson/Getty Images

After a below-.500 record at Louisiana Tech, Dooley needed to make a great first impression on Vol fans. He did that by getting stud receivers Justin Hunter and Da'Rick Rogers to commit just days before signing day.
Both wideouts have grown into dominant forces in college football. Hunter proved he could get the ball virtually whenever he wanted in his sophomore season, setting the UT record for most receiving yards in the first two games of the season with 302 yards.
Hunter and Rogers seemed unstoppable when they were on the same field. In a non-conference game between two evenly-matched teams early in the season, the Vols stomped on Cincinnati and the two were the first duo in Tennessee history to both get 10 receptions in the same game.
Hunter's healing ACL doesn't look to slow him down. Tyler Bray's no doctor, but he gave his diagnosis of Hunter's health on Twitter back in January.
"Just got done throwing to J. Hunt. Still looks like he did before Florida. #swag" - via @tbrayvol8 on Twitter
Don't forget about JUCO transfer Cordarrelle Patterson. The Vols somehow got him over Georgia, LSU and Auburn to add to their arsenal. He's ranked as a 5-star recruit by 247 Sports and he could surpass one of the Vols' starting WRs if he breaks out impressively enough.
They also add incoming freshmen Drae Bowles and Jason Croom. Bowles should help to replace DeAnthony Arnett in the slot and Croom (6'5", 212 pounds) has the size and skill set to make a splash, even as a true freshman.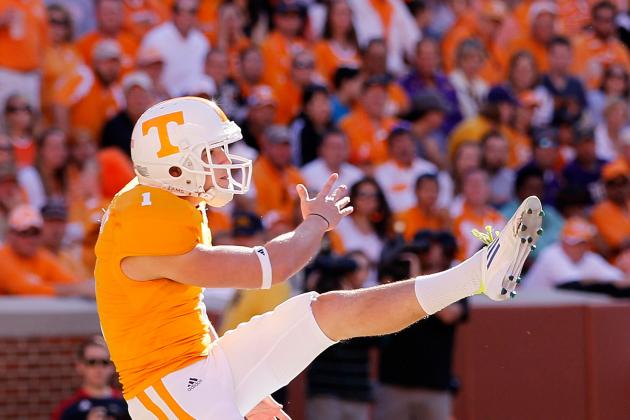 Kevin C. Cox/Getty Images

Once a highly-coveted recruit, Michael Palardy can no longer use his inexperience as an excuse.
Palardy took over during his freshman year and became the starting placekicker as a sophomore, but made only nine of his 14 attempts in 2011. The Vols were forced to punt in many situations that called for 45- to 55-yard field goals because of their inability in the kicking game.
Now a junior, Palardy will have some competition. Dooley signed local kicker George Bullock from West High School, who booted 86 percent of his kickoffs into the end zone as a senior.
The Vols' kicking game needs confidence, which they clearly lacked last season. Palardy and punter Matt Darr were both top recruits in their class, but combined for one of the SEC's worst kicking games.
Rising sophomore Devrin Young will also have some help in the return game. He was virtually alone last year, but should benefit from incoming receiver Drae Bowles and deep running back and receiver positions.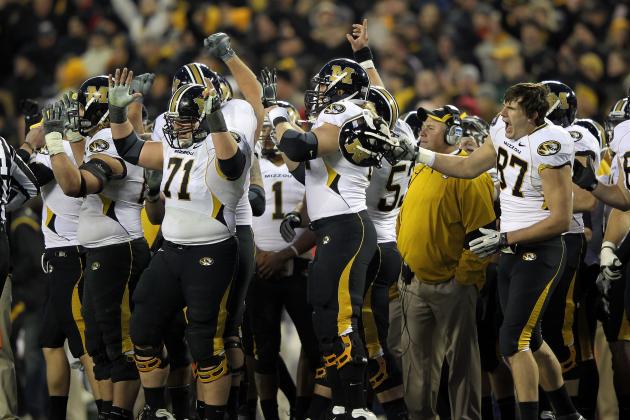 Jamie Squire/Getty Images

An incoming Missouri Tigers team means the Vols will have to play one less team from the treacherous SEC West.
Dooley's squad will still have to play bitter rival Alabama, who should be in the top five and contend for another national championship. After that, it's much less dangerous than last year.
Tennessee has a cupcake of a non-conference schedule—other than their Chick-fil-A Kickoff game against N.C. State—in which they play Georgia State, Akron and Troy.
The Vols should be favorites to beat Missouri, a team that has struggled recently. They also match up well against Mississippi State.
They finally get a weak Florida team at home, and they have their best chance yet to win against the Gators for the first time since 2004. Remember, Urban Meyer's gone.
At the end of the day, there's no LSU or Arkansas on the schedule. That alone makes it a much easier schedule.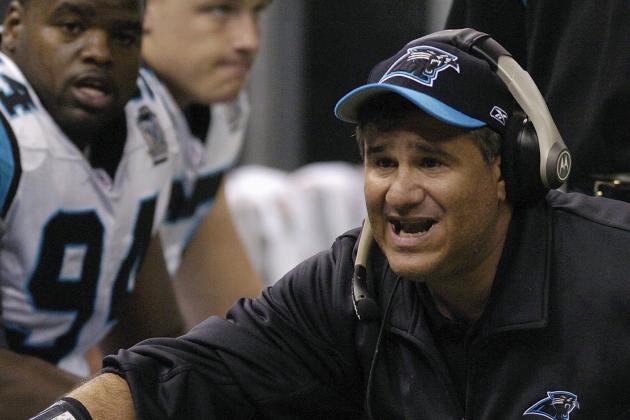 Chris Graythen/Getty Images

Much of the Tennessee fanbase was disappointed when they didn't get Randy Shannon for the defensive coordinator position, but Sal Sunseri will prove to be the right hire.
The Vols should be using a base 3-4 defense this season, a switch from the 4-3 they've used for years. The 3-4 fits them much better right now, as they have more dominant athletes at linebacker and some athletic pass-rushers in this intricate defense.
Sunseri will be switching things up quite a bit in his new defense. He's already added former starting fullback Channing Fugate to his linebackers squad. He also converted standout safety Brent Brewer, who's bulked up since his season-ending injury, to LB as well, but he should see time in both positions and play more of a combo pass-protection spot.
Tennessee's defense was all too predictable in 2011 and it relied too much on their line. When the Vols line up with a different formation each play, it will give them a strategic advantage that they never had under Justin Wilcox.
Wilcox's departure was a big dagger for UT at the beginning of the offseason, especially since he took linebackers coach Peter Sirmon with him. Both were stellar recruiters, but Sunseri brings more of an advantage on the field.
Sunseri's defensive staff will be able to recruit as well. Don't forget that if there's one thing Dooley knows, it's recruiting, from his days at LSU under Nick Saban.
Sunseri's fiery attitude will reflect on his players. It's also convenient that his expertise is at linebacker, where the Vols have two freshman All-SEC studs in A.J. Johnson and Curt Maggitt.
Courtesy of TNJN
Da'Rick Rogers has been suspended off and on since the culmination of an ugly 2011 season, but he promised to the media and his team this week that he's done diverting attention away from his team.
"Oh man, no controversy," Rogers said. "Just had some little things to handle off the field, got those handled and now we're looking forward to becoming a championship-contending team." - via GoVolsXtra
Rogers has irked many Vol fans with his seemingly selfish and immature attitude since the team's season-ending loss to Kentucky, but coming out and putting all the negativity to rest is a very smart move for the All-SEC stud.
A junior-to-be, it's time for Rogers to realize that he has first-round NFL draft potential and put his play first. Not many players of his caliber have the motivation that he does, playing beside an equally talented receiver and enjoying the rockets of a soon-to-be elite force in college football.
As equal as Rogers and his fellow receiver Justin Hunter are on the field, Hunter has always appeared as a much more quiet and kept person off the field. With his latest comments on Rogers, Rocky Top should be ready to believe in Rogers and give him full support.
"He just needed to calm down," Hunter said. "We were there for him, talking to him and telling him everything is going to be all right and we'd be there for him whatever he wanted to do. ... The talk that we had put him at 110 percent. He doesn't have any more distractions; he's a hard worker and he's ready to work." - via GoVolsXtra
It's unclear if Rogers mulled the option of transferring, but he's apparently all in now. He made the right decision, because Tennessee's arguably one of the best places in the nation to be for a receiver right now, as they build back WR-U.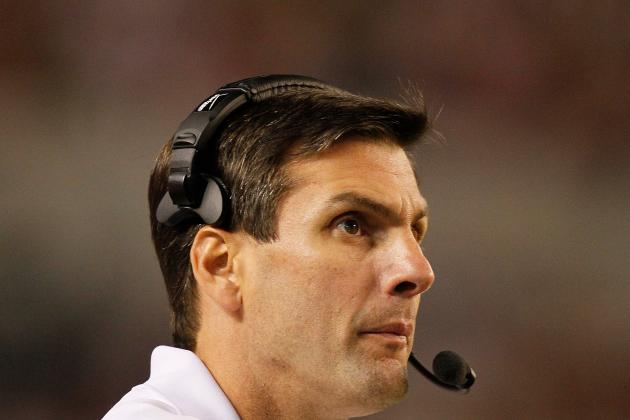 Kevin C. Cox/Getty Images

With as bad as the situation was for Derek Dooley in his first few years at UT, he felt the heat in the offseason as he ruined one of Tennessee's long-time bragging rights in their win streak against Kentucky.
It's since been reaffirmed that he'll be the guy this season, but it's widely understood that another sub-.500 year could be his last as the head coach of Tennessee.
There's always been excuses for Dooley's team—not that he's always used them. Inexperience, lack of depth and injuries have crippled his team's chances of being competitive with elite teams in his first two seasons.
The excuses have finally run out, and Tennessee looks to have a team that is experienced enough and talented at nearly every position. If they can avoid the injury bug in 2012, the Vols will have no excuse for winning only six or even seven games.
Tennessee's got the money to throw at nearly any coach they want, and the last five years of football mediocrity at best should motivate new athletic director Dave Hart to back up the dump truck full of cash at the front doorstep of Jon Gruden or another big name with connections to Tennessee.
I've always been a firm believer that Dooley has what it takes to bring the Vols back to glory, but the results haven't shown on the football field. His team has plenty going for them with a healthy stud quarterback, one of the best receiving cores in the nation and a favorable schedule.
Another five to seven years will be Dooley's last, so you can bet he's going to get everything possible out of his players.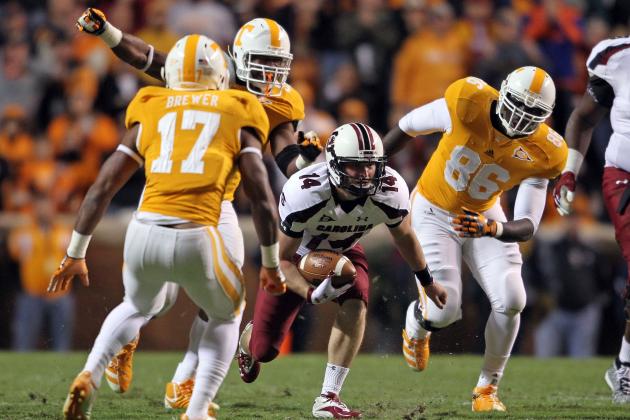 Andy Lyons/Getty Images

Dooley himself would tell you that he's finally caught up with his SEC foes.
In 2010, the Vols found themselves starting three or four freshman offensive linemen each game, and poor play by Matt Simms eventually resulted in true freshman Tyler Bray taking over the starting spot.
As much as inexperience played into Tennessee's 6-7 record in 2010, they returned an even younger team in the following season. They lost most of their defense and were forced to start two true freshmen at linebacker and two freshmen in the secondary.
Dooley's first recruiting class, featuring Bray, Da'Rick Rogers, Justin Hunter and Ja'Wuan James, are all in their junior seasons and have two years of time left to make their mark in the college game and at Tennessee.
This team has enough veterans like Herman Lathers, Prentiss Waggner and Dallas Thomas to lead the team, while this team is a year away from being absolutely loaded with seniors.
No longer will Tennessee be forced to throw players out on the field against the nation's best teams that clearly aren't ready for action at the next level. All of these players are battle-tested and have been working harder than ever to get back and redeem themselves for their last two seasons.
When it comes down to it, little of the play on the field will be a product of Dooley's work. The players have to go out and prove that they've been working harder than the other team and can make more plays.
The Vols will be able to do that in 2012 to the tune of a nine- or 10-win season.