Wrestlemania 28: Maria Menounos Is Best Celebrity Performer in History of PPV
April 2, 2012

Mike Coppola/Getty Images
When a celebrity makes an appearance at WrestleMania they usually are there to help promote whatever they're working on outside of the WWE. However, the performance from Maria Menounos last night at WrestleMania28 separated herself from the other performers who have wrested at the big event. 
Menounos wasn't there to promote her television show "Extra" or her competition on "Dancing With The Stars." Instead she was there solely to put on a great match with her tag team partner, Kelly Kelly, against the team of WWE Divas Beth Phoenix and Eve Torres. 
Before last night's pay-per-view, Menounos suffered two broken ribs while practicing with her dancing partner, Derrick Hough. 
However, from the NYDailyNews.com, Menounos said in an interview with Us Weekly about the injury:
I kept saying, "We are not talking about this! We are dancing," she told Us Weekly in a post-show interview Monday. "I am having the best time of my life and I need to power through."
Other celebrities could have packed it in or said that they were only going to stand on the outside of the ring during the match. However, that "power through" attitude from Menounos not only kept her dancing but led her to being heavily involved in the tag team match. 
Even Menounos tweeted out after the match that she had an amazing experience and let everyone know that that was Eve's makeup on her pants and to not get any different ideas.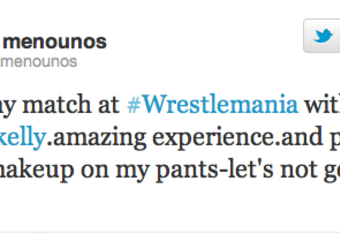 Her efforts were rewarded by the WWE for putting on such a tough performance and she ended up pinning the Divas champ with a roll up. 
Menounos will go back to the "Dancing With The Stars" set and the WWE should get mentioned on tonight's show (ABC 8PM ET) whenever her dancing number is about to go on.
The WWE has used celebrities in a number of WrestleMania matches. However, none of them have put on such a gutsy performance as Menounos did last night with her broken ribs and hectic television schedule.