NCAA Tournament 2012: Top 25 Moments of the Big Dance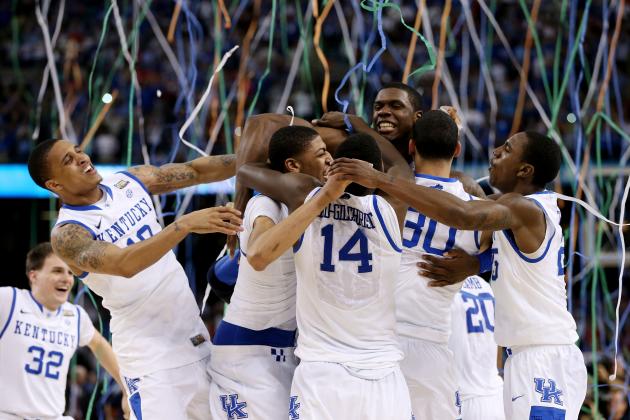 Jeff Gross/Getty Images

Many fans view college basketball as a dying game. Stars are gone within a year, two at the most. Players are unrecognizable to the average viewer. Dynasties are a thing of the past.
The NCAA tournament changes all of that. Maybe we don't have players like Patrick Ewing, who make a name for themselves in college, but we get to watch new players introduce themselves to the nation every year.
There was no shortage of great matchups, compelling games and star performances in 2012's version of March Madness.
With the tournament sadly behind us, it's time to take a look back at the greatest moments we just experienced for the past two and a half weeks.
As always, this is just one man's opinion. Everyone will disagree with something, and I encourage you to share your thoughts and favorite moments in the comments. I thoroughly enjoy sharing opinions. Enjoy the slideshow.
Begin Slideshow

»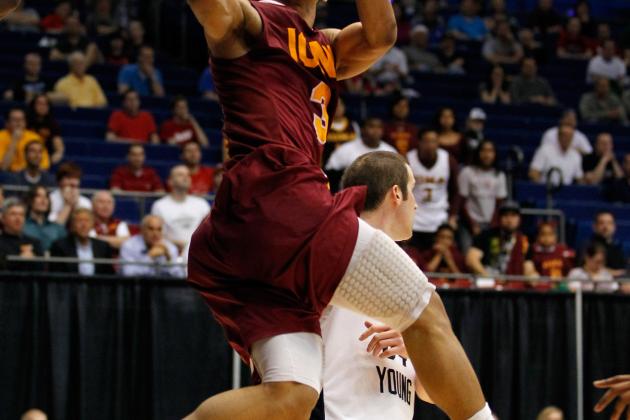 Gregory Shamus/Getty Images
Machado electrified the First Four...for a while.
The Iona Gaels were a controversial pick in the field of 68. Many people felt a team like Drexel had done more to earn the bid.
Well, for 15 minutes, Iona proved everyone wrong. Going against a bigger BYU team, the Gaels just overwhelmed the Cougars with superior speed, quickness and shot-making.
Led by tremendous point guard Scott Machado, Iona put on an impressive display of basketball.
They stormed out of the gates, shooting 68.6 percent, with 14 assists against zero turnovers, in building a 55-31 lead with 4:34 remaining in the first half.
At the half, Iona had people talking about them as "this year's VCU." It was one of the most incredible stretches of basketball in the entire tournament, but it only lasted for 15 minutes.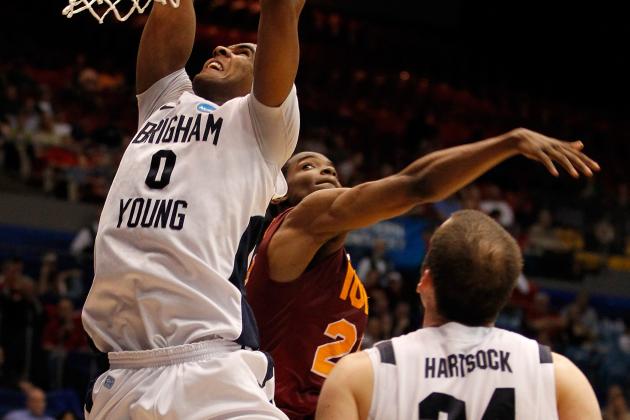 Gregory Shamus/Getty Images
Davies was too much inside for Iona.
Trailing 55-40 at the half, few gave BYU a chance the rest of the way against Iona. The Iona attack was so impressive early that people didn't realize BYU was on a 9-0 run to close the first half.
In the second half, the Cougars' size and toughness proved to be the difference. Iona looked sapped of energy, as they managed just 17 points over the final 20 minutes.
BYU held the Gaels to 7-of-29 shooting in the second half and forced Iona into 12 second-half turnovers after failing to force even one in the first half.
The Cougars didn't to it with a quick burst, either. They just pounded the ball inside, played tough defense and pounded the glass, taking their first lead with 2:28 remaining.
Brandon Davies and Noah Hartsock proved to be too much, combining for 41 points, 20 rebounds, four blocks and four steals. As electrifying as Iona was, BYU still came out on top.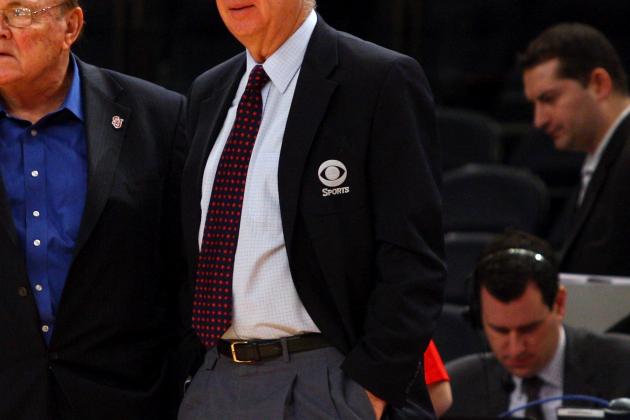 Chris Chambers/Getty Images
Raftery is a college basketball treasure.
When it comes to college-basketball color analysts, Dick Vitale gets most of the publicity because he is the loudest. Clark Kellogg gets a ton of attention, too, as the top guy for CBS.
Admittedly, this is incredibly self-indulgent, but Bill Raftery is the absolute best in the business. Vitale is hard on the ears. Kellogg is good, but "pumpkin" and "spurtability" are kind of played out. Raftery, on the other hand, is a joy to listen to.
Whether it's his opening announcement of "Man-eh-man!" in recognition of a man-to-man defense or his proclamation of "Onions!" for a player who had the, um, guts to hit a big shot, his catch phrases always entertain me.
A couple of other personal favorites are:
"Send it in, big fella!"
"A little lingerie on the deck!"
"The kiss-eh!"
You may not agree, but Bill Raftery is the greatest color commentator in college basketball.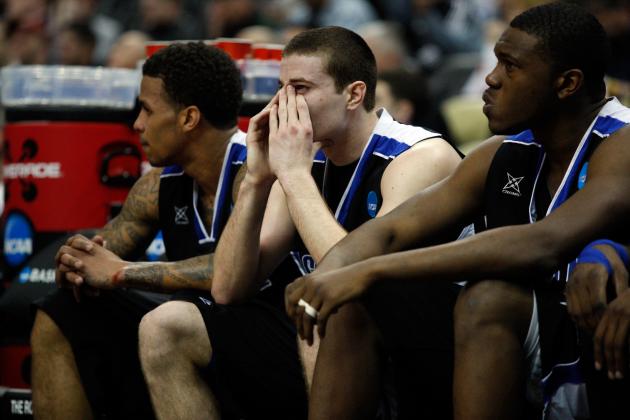 Jared Wickerham/Getty Images
Dickey had a day to forget against the Orange.
Syracuse entered the field as the most vulnerable No. 1 seed, with the absence of center Fab Melo.
UNC-Asheville seemed to think the Orange were more vulnerable than anyone expected.
The Bulldogs came out to compete from the start, playing solid defense, crashing the boards and nailing gutsy shots.
They led Syracuse, 34-30, at the half and remained ahead until six minutes remained. Helping UNCA's case was the fact that Syracuse was the first No. 2 seed to lose, so why not make them the first No. 1?
With 1:20 to go and Syracuse leading 62-58, Scoop Jardine missed the front end of a one-and-one. UNCA grabbed the rebound, looking to make it a one-possession game. Unfortunately, a lane violation was called, and Jardine made the ensuing free throws.
Just 45 seconds later, Brandon Triche knocked a ball out of bounds. UNCA would get the ball, trailing just 66-63. Once again, the refs put the Bulldogs behind the eight ball, saying it was Syracuse's ball.
UNC-Asheville didn't play a fluky game; they played well, and they played tough. A few breaks late in the game, and they may have been playing Kansas State two days later. Even more impressive was that they did it while leading scorer Matt Dickey shot just 1-of-13 from the field.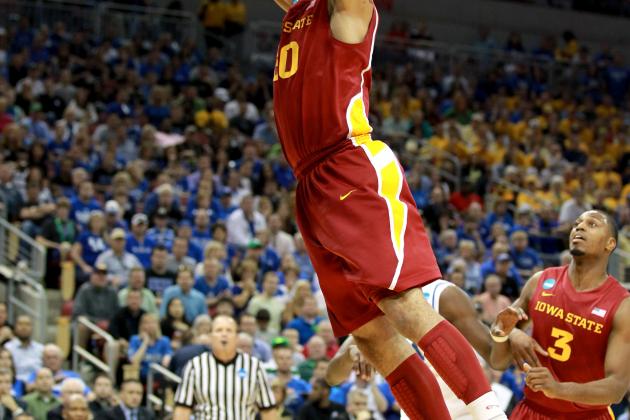 Andy Lyons/Getty Images
White showed everyone his all-around game.
All season, Royce White has been a tremendous, all-around player with little recognition.
For an Iowa State team that was very under-the-radar, he led the team in scoring, rebounding, assists, blocks and steals. Against Kentucky on a big stage, he got the chance to show everyone.
The Cyclones were incredibly outmatched, but White kept his team in the game as long as he could. He scored 23 points, grabbed nine rebounds, dished out four assists, swiped three steals and blocked a shot.
On a night when his teammates shot a combined 16-of-49, White knocked down 9-of-12. The highlights were two end-to-end dunks that showed he has the athleticism to hang with the big boys from Lexington.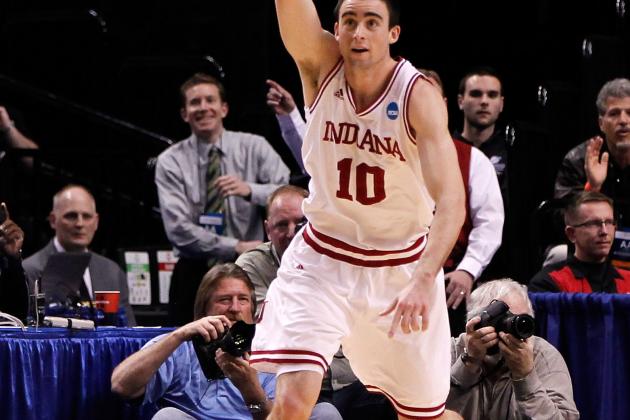 Jonathan Ferrey/Getty Images
Sheehey hit the game-winner over the Rams.
Under Shaka Smart, VCU is known for suffocating pressure and forcing turnovers. The Rams did exactly that to Indiana.
They forced the Hoosiers into 22 turnovers for the game. VCU appeared in control most of the night, leading by as many as nine and up, 57-48, with 12:20 to go in the game.
Then, Indiana decided to play some defense of its own, holding VCU to just four points on 2-of-15 shooting the rest of the way.
Cody Zeller scored 16 points and grabbed 13 rebounds, and Will Sheehey hit a jumper to give the Hoosiers a 63-61 victory.
Indiana somehow scrapped together a win despite the turnovers and taking 11 shots less than their opponent.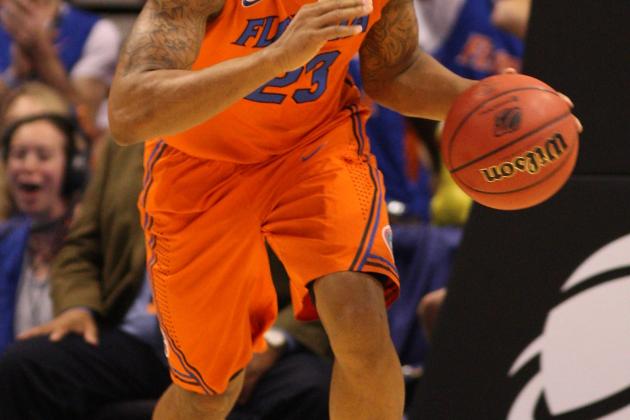 Christian Petersen/Getty Images
Beal showed what a talent he is against the Golden Eagles.
The Gators were the definitive underdog against a tough, rugged Marquette team led by stud players in Jae Crowder and Darius Johnson-Odom.
No one would think Florida could have pulled off the upset if they shot 40.7 percent from the field and 25.9 percent from three. Luckily, Florida had an incredible freshman to bail his team out.
Bradley Beal torched Marquette's upperclassmen for 21 points on 8-of-10 shooting, including 3-of-5 from beyond the arc. He was able to score inside and out, and Marquette could find no answer.
Beal isn't the most popular freshman in college basketball, but he put together one of the most dominant freshman performances of the tournament in a 68-58 upset.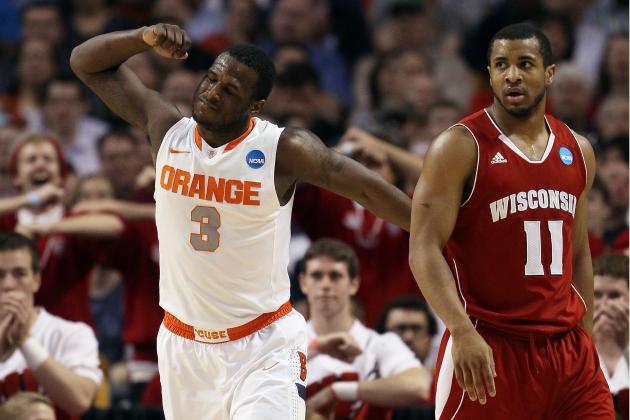 Elsa/Getty Images
Waiters managed to overcome the great Jordan Taylor.
Anyone who knows college basketball knows that Wisconsin plays tight defense and efficient offense. If someone told you the Badgers shot 14-of-27 from behind the arc, to go along with 15 assists to just six turnovers, you would think it was a blowout victory.
That wasn't the case against Syracuse. As tough as Wisconsin is defensively, the Orange used their size and athleticism to combat it, shooting 55.1 percent from the field—unheard of against Bo Ryan's team.
Syracuse used the same formula to completely shut down Wisconsin's offense inside the arc, holding them to just 7-of-22 shooting on two-pointers.
The game was back-and-forth, with Wisconsin taking a 59-56 lead on a Jordan Taylor three. Syracuse got tough on both ends, scoring on four straight possessions and keeping the Badgers from getting good shots on the other end.
Ultimately, Philly guards Scoop Jardine and Dion Waiters scored the last six points for the Orange, as they capped off a hard-fought 64-63 win over Wisconsin.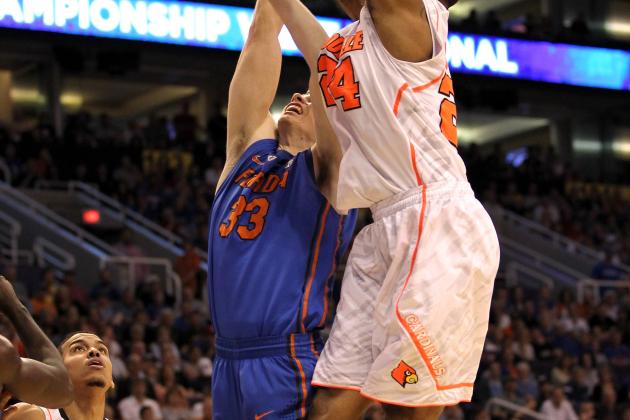 Jamie Squire/Getty Images
Behanan, another freshman, came up huge for the Cardinals.
This was one of the most hyped Elite Eight games due to the teacher-against-student coaching matchup between Rick Pitino and Billy Donovan.
What appeared to be a very bland on-court performance turned into an instant classic within minutes.
With 8:33 remaining, Florida led, 63-52, with Louisville clearly in the rearview mirror. Freshman forward Chane Behanan hit two free throws followed by a rare three, cutting the lead to 65-57.
That was the start of a 19-5 run to close the game for the Cardinals. Behanan was fantastic, scoring 11 of the 19 points on 4-of-5 shooting while adding a block on a Bradley Beal layup to keep a 69-68 lead.
Both teams were surprise Elite Eight entrants, but Louisville pulled off a surprise comeback to launch themselves to the Final Four.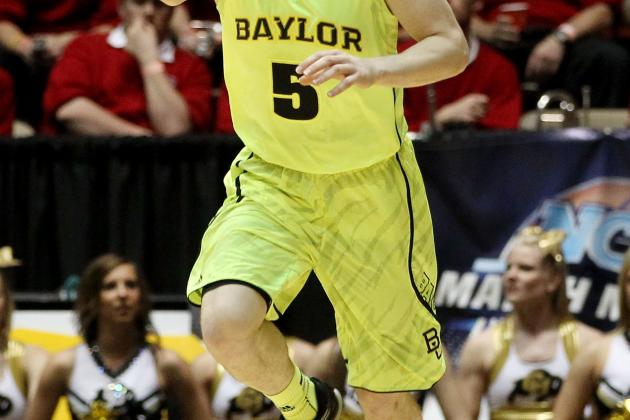 Christian Petersen/Getty Images
Heslip made that gesture eight more times on the night.
With all the talent on the Baylor roster, Brady Heslip can often become a forgotten man. Unfortunately for Colorado, they forgot about him all too often on defense.
Colorado made a surprise run to win the Pac-12 tournament and pulled off an impressive upset of thoroughly tested UNLV in the previous round. The Buffaloes were showing a dangerous combination of defense, rebounding, athleticism and shooting.
Heslip started out the game as the only consistent weapon for the Bears. With Colorado playing tough, Heslip hit six threes in the first half, scoring 18 of his team's first 37 points.
He cooled in the second half until his team needed him. He hit his first three of the second half to tie the game at 54. His second gave Baylor a 66-60 lead, and his ninth and final three of the game capped an 11-0 run that put Baylor up, 72-60.
In all, Heslip scored 27 points on 9-of-12 shooting from deep. Only three players have ever hit more threes than Heslip in an NCAA tournament game, and it was a performance for the ages.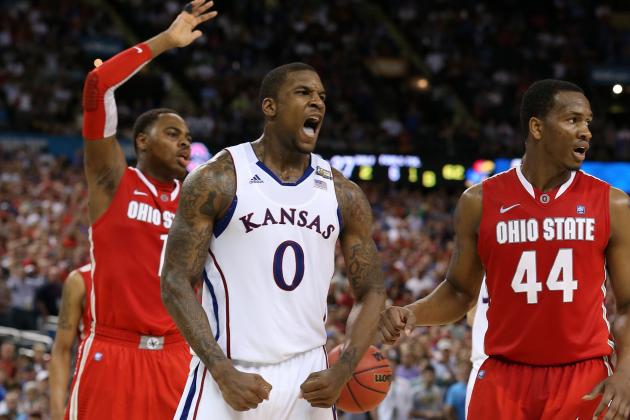 Jeff Gross/Getty Images
Robinson helped will the Jayhawks to overcome Ohio State.
Kansas couldn't have started any worse, especially against a tough defensive team like Ohio State.
It was the way the Jayhawks did things the entire tournament, though. Start slow, finish strong. Never say die.
Trailing by 13 points on several occasions in the first half while shooting just 11-of-30 from the field, Kansas showed their grit once again by locking up Ohio State's offense and dominating the boards.
Kansas willed its way to victory, holding the Buckeyes to just 34 percent shooting for the game and winning the rebounding battle, 41-30. On the flip side, Kansas shot 54 percent in the second half.
Thomas Robinson and Jeff Withey proved to be a dominant combination, with Robinson scoring 19 points and grabbing eight rebounds and Withey blocking seven shots. Kansas seems at its best in close games, and this 64-62 win was no exception.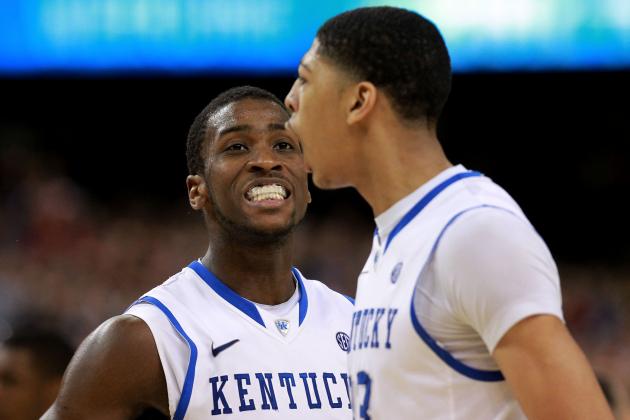 Ronald Martinez/Getty Images
Davis and MKG are college basketball's two best players.
Louisville made a great tournament run and provided a tough test for the Kentucky Wildcats.
What they couldn't do was match Anthony Davis and Michael Kidd-Gilchrist.
These two freshman truly owned the game and made plays that no other tandem could in college basketball. In the process, they proved that two freshmen were the best non-NBA players on the planet.
Davis threw down thunderous dunks, blocked shots all over the floor and grabbed every big rebound.
Kidd-Gilchrist, who sat most of the first half with foul trouble, stepped up the second Louisville made a game of it. Once the Cardinals tied the score, Kidd-Gilchrist went to work, scoring all nine of his points from that point on.
He got to the rim at will, once with an impressive spin move through the lane that led to an emphatic dunk.
They aren't just the best duo in the college game; they are the two best players, period.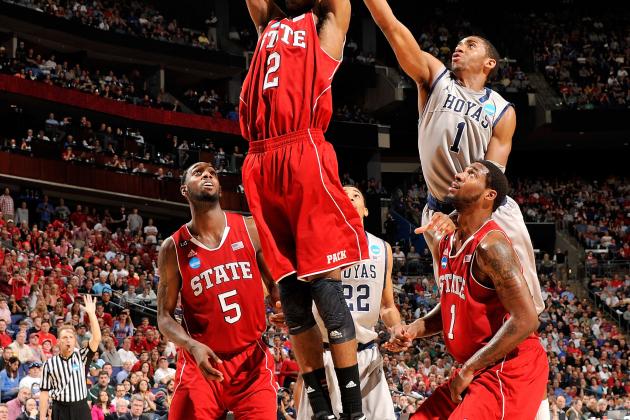 Jamie Sabau/Getty Images
Brown took over against the Hoyas.
The Wolfpack was criticized for celebrating so raucously upon the announcement of their inclusion in the field of 68. They continued to celebrate all the way into the Sweet 16 with a great upset win over Georgetown.
Some felt that Georgetown's defense was reminiscent of the "Hoya Paranoia" of the 1980s, but NC State was not the least bit paranoid. After falling behind early, the Wolfpack slowly took control of the game with the front line of C.J. Leslie and Richard Howell.
Trying to stave off the Hoyas late, Lorenzo Brown scored seven of the last nine points for NC State, including five clutch free throws to seal the game. In addition to his 12 points, Brown added seven assists and six rebounds.
The Wolfpack managed to reach the Sweet 16 for the second time in seven years as a double-digit seed.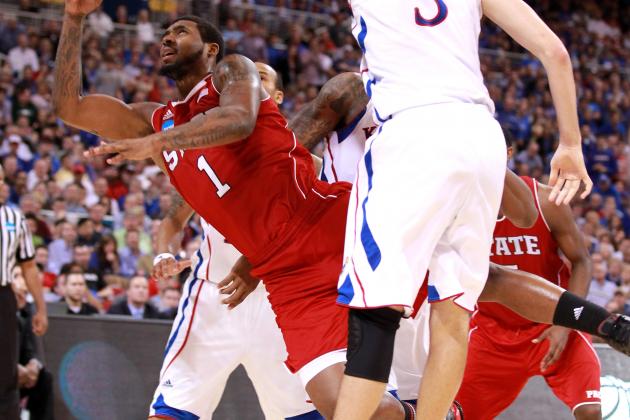 Andy Lyons/Getty Images
Withey completely changed the game against the Wolfpack.
NC State managed to knock off both San Diego State and Georgetown on their way to the Sweet 16. The Wolfpack were actually a trendy pick to upset Kansas as well.
They were able to beat opponents with great play by point guard Lorenzo Brown and a dominating front line of C.J. Leslie and Richard Howell.
Jeff Withey put an end to that all by himself. After NC State jumped out to a 13-3 lead, Kansas really locked in, led by Withey's defense.
The Jayhawks went on a dominant 47-30 run over the next 24 minutes, only to see the Wolfpack claw back themselves.
Trailing by as many as 10 points, NC State battled back to within a point, 58-57. With under a minute left, Leslie had a point-blank opportunity to give NC State the lead, but Withey recorded his 10th block of the game to preserve what would be a 60-57 victory.
He also chipped in eight points and five rebounds.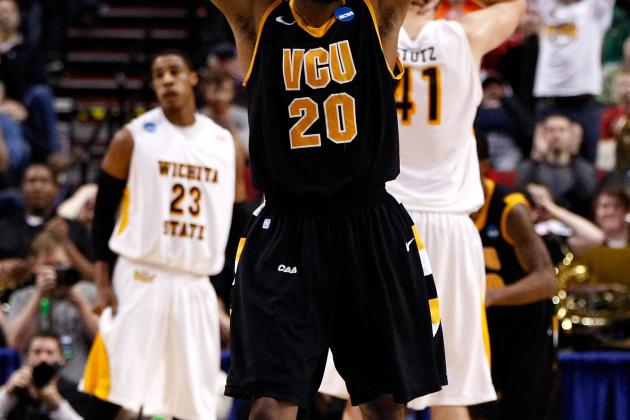 Jonathan Ferrey/Getty Images
Burgess hit the game-winner against Wichita State.
The game itself wasn't pretty, but it was exciting. Wichita State was a sleeper team that a lot of experts thought would win at least two games. VCU picked up right where they left off in 2011.
The Rams came out and blitzed the Shockers with suffocating defense. Wichita State trailed by as many as 13 points in the second half before storming back to take a 59-57 lead.
Just 32 seconds later, Bradford Burgess drained a three of his own to give VCU a 60-59 lead, which they would not relinquish.
The game was entertaining, and it came down to the wire, as Wichita State had a three-point attempt to tie the game at 62 when time expired. However, what made this moment special is that it showed Shaka Smart and his team were for real.
VCU is a program to watch as long as Smart is around.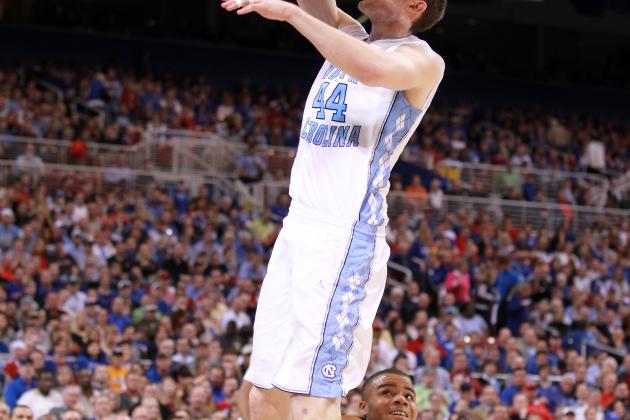 Andy Lyons/Getty Images
Zeller used his size to dominate the feisty Bobcats.
North Carolina was reeling from the loss of point guard and leader Kendall Marshall. Marshall is the engine that makes the Tar Heel offense go, but still, no one thought Ohio would give Carolina trouble.
Since the game actually has to be played on the court, Ohio proved everyone wrong by giving the Tar Heels all they could handle, and maybe even a little more.
After falling behind, 22-8, Ohio battled back with a vengeance. The Bobcats closed the first half on a 14-7 run, trailing, 29-22. In the second half, they went toe-to-toe with the mighty Tar Heels, playing a one-possession game throughout.
At one point, Ohio actually led, 57-53, but Carolina ultimately survived, 73-65, in overtime by simply out-sizing the Bobcats.
Zeller played a huge part, scoring 20 points, grabbing 22 rebounds and blocking four shots. On a day where Harrison Barnes shot just 3-of-16, Zeller bailed Carolina out in a big way.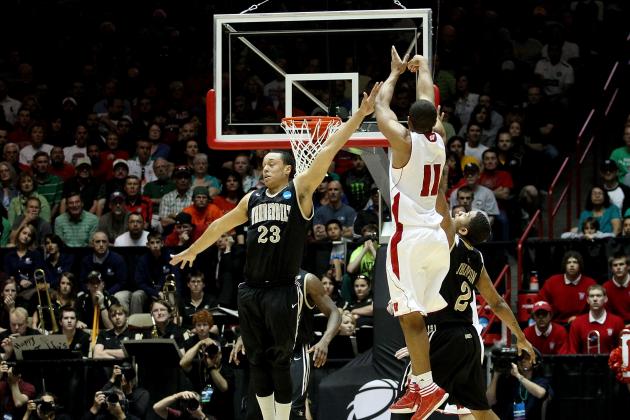 Christian Petersen/Getty Images
Taylor hoisted the biggest shot of the tournament at that point.
In one of the most anticipated matchups of the tournament, rugged Wisconsin took on flashy Vanderbilt. Vanderbilt was a trendy Final Four pick after beating Kentucky in the SEC tournament final.
It was a brutal showdown with Vanderbilt, and Taylor shot just 5-of-15, but made one of the biggest shots of the whole tournament.
In one of the tightest games of March, Vandy took a 57-56 lead. Wisconsin led throughout and faced only its second deficit of the second half.
Just then, Taylor launched a deep, deep three—with a hand in his face—that found the bottom of the net.
Those turned out to be all the points the Badgers would need, representing points No. 57, 58 and 59 in a 60-57 win. Unfortunately, he missed a similar shot that would have beaten Syracuse in the next round.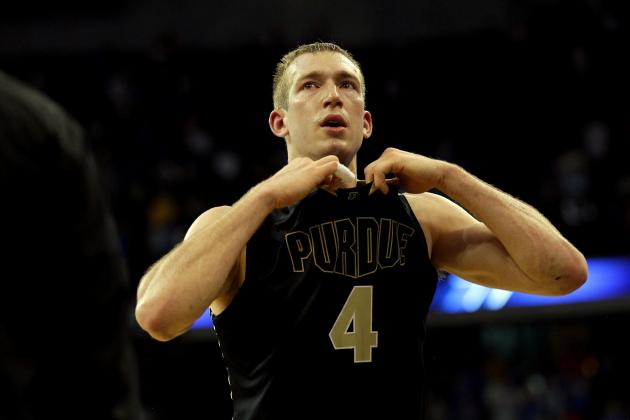 Doug Pensinger/Getty Images
Hummel had nothing to be ashamed of in defeat.
There aren't many players like Robbie Hummel. He gave everything he had—even his knee—to the Purdue basketball program.
Going up against No. 2 seed Kansas, Purdue was a huge underdog. Hummel played as if he wouldn't be denied. He had the game of his life, scoring 26 points, grabbing nine rebounds and dishing out three assists.
He also shot an incredible 9-of-13 from the field, including 5-of-9 on threes. He had Purdue in front for the entire game until, finally, Kansas did what they seemed to do all tournament long.
The Jayhawks hung around and struck with 3:06 remaining, taking their first lead, 57-56. Purdue went back on top, 60-57, only to see the game slip away in the final moments.
Hummel left the court in tears, but he should be proud of the game he played and the career he had. An NBA team would be lucky to have a gutsy player like him in its rotation.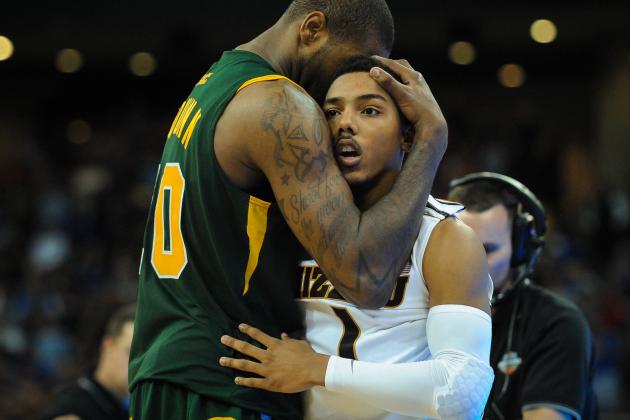 Eric Francis/Getty Images
O'Quinn consoling Pressey after the biggest upset in over a decade.
Missouri was one of the nation's top teams all season. The Tigers were the most efficient offense in college basketball. They beat Kansas. They knocked off Baylor three times. Missouri was also the Big 12 tournament champion.
Some felt Mizzou was worthy of a No. 1 seed. Despite a lack of size, Missouri was considered a legitimate Final Four threat. Norfolk State used out-of-this-world three-point shooting and an incredible performance from center Kyle O'Quinn to change everything.
O'Quinn was dominant, scoring 26 points with 14 rebounds and two blocks. On the outside, the Spartans lit up the Tigers on 10-of-19 shooting from three.
In the end, Norfolk State was simply better and became the first No. 15 seed to win an NCAA tournament game since 2001. The success was short-lived, but it was a tremendous performance and a great tournament moment.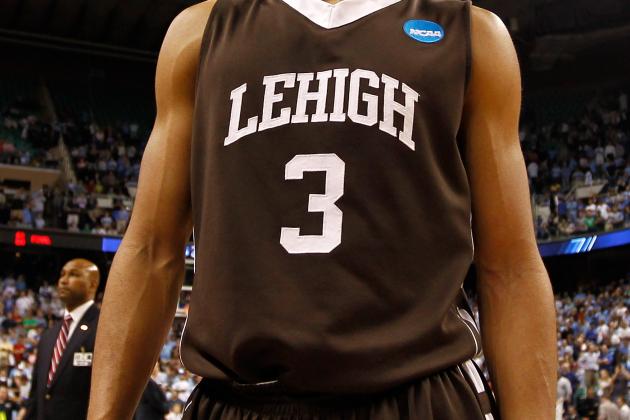 Mike Ehrmann/Getty Images
McCollum scoffed at Duke's history and tradition.
Yes, Norfolk State was the first No. 15 seed to pull off an upset in 11 years, but a few hours later, Lehigh repeated the feat against mighty Duke.
The Blue Devils are steeped in history, tradition and past tournament excellence. Lehigh didn't care. Not one bit.
The Mountain Hawks came out swinging, leading for most of the first half. Duke took a five-point lead in the second, only to see Lehigh swing back again and take the lead for good, 58-57, with 8:23 left.
Guard C.J. McCollum had his way with Duke, exploding for 30 points, six assists, six rebounds and two steals.
Nobody saw Missouri going out before the weekend, but even fewer people could have imagined Duke going down so early. Lehigh showed that confidence can go a long way.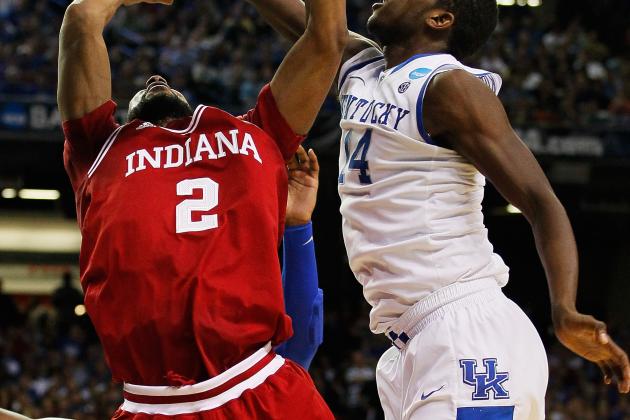 Kevin C. Cox/Getty Images
MKG was dominant against the Hoosiers.
It was truly a historic matchup. The Kentucky Wildcats against the Indiana Hoosiers. Two storied programs playing in the Sweet 16 to become Elite.
In what was probably the the most exciting game of the tournament, the Wildcats and Hoosiers traded haymakers for 35 minutes before Kentucky finally pulled away for good.
It was a free-flowing, up-and-down game, with both teams playing great basketball. They combined for 192 points, 50.4 percent shooting from the field, 35.7 percent on threes and 88.9 percent from the line.
Indiana played with Kentucky like no other team, but still fell short. It's a shame more games aren't played this way in the tournament.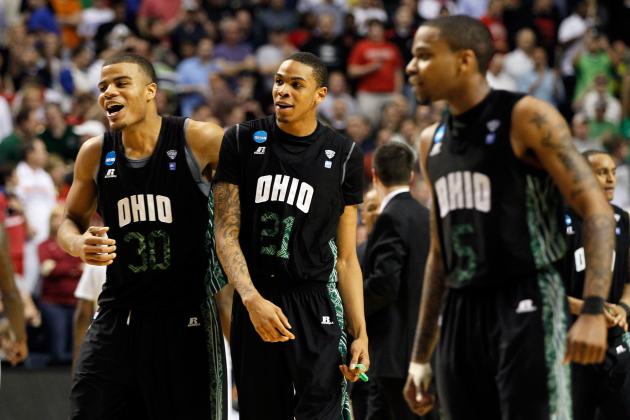 Kevin C. Cox/Getty Images
Ohio shocked everyone by winning two games.
It wasn't a huge surprise to some when Ohio upset Michigan in the Round of 64. Point guard D.J. Cooper had already led a first-round upset over Georgetown two years ago as a freshman.
The surprise came with the Bobcats winning a second game and reaching the Sweet 16. Ohio played an impenetrable defensive force in South Florida, struggling to find offense for much of the game.
It was Ohio's deepest tournament run since 1964, and the Bobcats became the lowest seed to win two games since 2006.
They weren't done once they got there, either. Ohio pushed North Carolina to overtime before finally falling to the top seed. With Cooper returning, don't be surprised to see Ohio make noise again next year.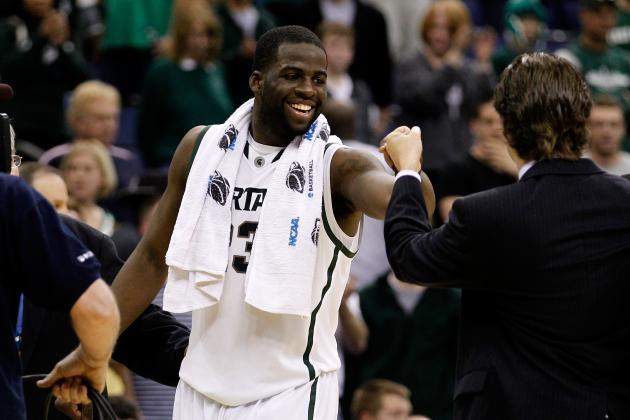 Rob Carr/Getty Images
Green is in elite company despite the early exit.
Michigan State opened the tournament with a predictable, easy victory over LIU-Brooklyn. No fireworks were expected, and the game wasn't supposed to be historic in any way.
Then, Draymond Green made history. In an 89-67 victory, Green became only the third player in NCAA history to record multiple triple-doubles in the tournament.
Green put up 24 points, 12 rebounds and 10 assists to join Oscar Robertson and Magic Johnson in an incredibly exclusive club.
Some people may not be impressed with this moment itself, but anything that puts a player in this type of company is a top moment in my book.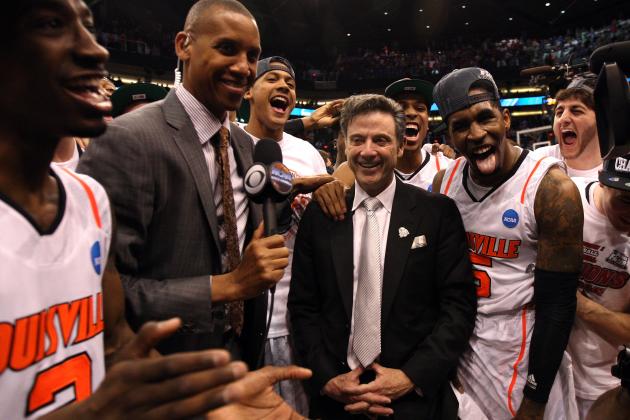 Jamie Squire/Getty Images
Pitino is truly one of the greats.
The Louisville comeback was incredible against Florida, but Rick Pitino's feat is infinitely more impressive.
Not only has he taken three different schools to the Final Four, but he became the third coach in NCAA history to coach a team to the Final Four in four different decades.
Pitino is a great coach who has been great for a long time. He only has one championship, but he's been to six Final Fours and continues to produce great teams.
Pitino is a living legend, and his accomplishment is something to be revered. What makes this particular season so special is that, in February, nobody expected Louisville to make much noise.
With Rick Pitino, anything is possible.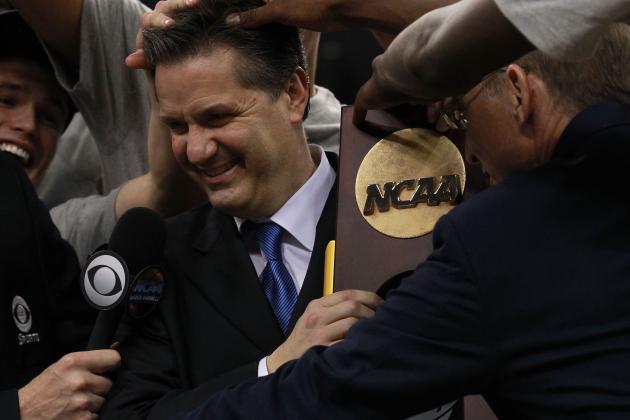 Ronald Martinez/Getty Images
Calipari won his long sought-after championship.
Most college-basketball fans outside of Lexington despise John Calipari. He is the king of "one-and-dones," and he has a track record of NCAA compliance issues under his watch.
Calipari doesn't have a lot of fans beyond Kentucky supporters, this writer included among the dissenters. However, for a coach with his track record and astonishing level of success, it is a truly great and defining moment to win the first championship.
What makes it even more impressive is the fact that Calipari did it with three freshmen, two sophomores and one senior. He did it with the most talented roster in college basketball in years.
He took all that individual talent and molded it into a team. He sculpted roles for each player, sometimes carving new roles for each game. He got the most out of this group, got them to sacrifice. He got them to play winning basketball and turned them into champions.
There aren't a lot of happy college-basketball fans right now, but this Kentucky season was something to behold and a work of coaching art.