St. Louis Cardinals: 5 Things Redbirds Must Do to Repeat as Champions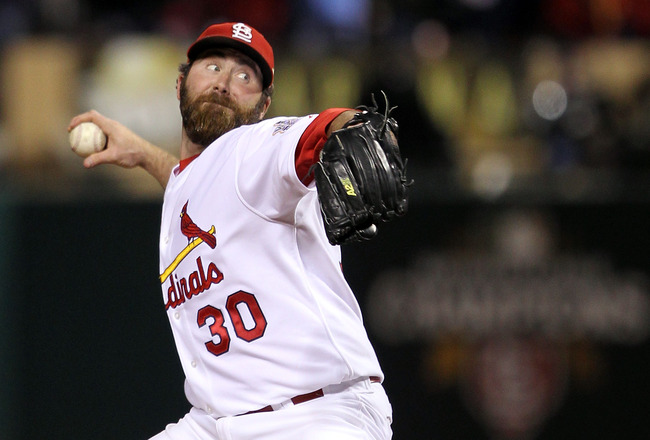 Ezra Shaw/Getty Images
The St. Louis Cardinals have a long road ahead of them if they are going to repeat as World Series champions.
They need to replace star first baseman Albert Pujols and deal with a few injuries to guys like Chris Carpenter and Allen Craig to start the season.
First-year manager Mike Matheny will have a lot on his plate this season, so I'll do my best to help him out a bit.
Here are five things Matheny needs his team to do if they are going to make it back to the playoffs.
5. Better Offense from Second Basemen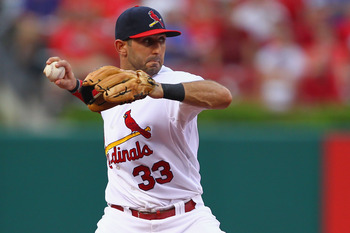 Dilip Vishwanat/Getty Images
Ryan Theriot, Skip Schumaker and Daniel Descalso handled the bulk of the work at second base for the Cardinals last season.
Unfortunately for the offense, they provided little to no pop with their bats.
Schumaker had 367 at-bats, but he only drove in 38 runs. He's going to start the season on the disabled list, but when he comes back, he needs to be more productive.
The Cardinals can't afford another unproductive season from the second base position. Descalso and Tyler Greene need to step it up with their bats this season as well.
4. Better Defense from Shortstops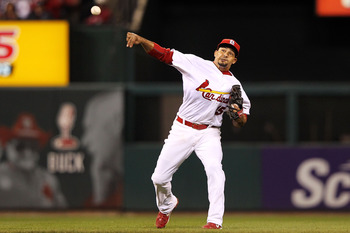 Jamie Squire/Getty Images
In 91 games at shortstop last season, Ryan Theriot had 17 errors. That's unacceptable from the shortstop position.
It didn't get much better when Rafael Furcal took over at short, either. He committed 10 errors in 49 games.
If the defense doesn't improve up the middle, the Cardinals will continue to put themselves into tough situations by allowing unearned runs.
3. More Rest for the Bullpen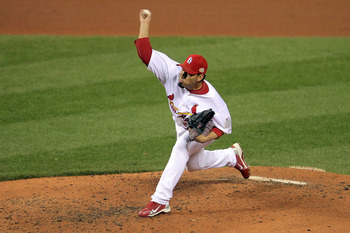 Doug Pensinger/Getty Images
Tony La Russa is gone.
The Cardinals bullpen has to be hoping that new manager Mike Matheny doesn't make as many pointless pitching changes as his predecessor.
Even though most of the relievers were only in for less than an inning per outing last season, the toll of constantly having to throw in the bullpen can wear a pitcher down.
More rest through the summer will do wonders for the Redbirds down the stretch.
2. Convert More Save Opportunities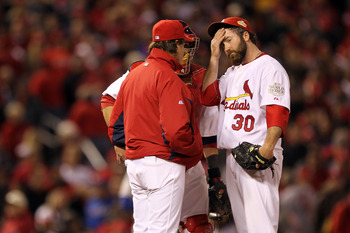 Ezra Shaw/Getty Images
The Cardinals only converted 47 of their 73 save opportunities last season.
This year's closer, Jason Motte, only converted nine of his 13 opportunities in 2011.
Both Motte and the bullpen as a whole must improve in close games this season. They can't rely on sneaking into the playoffs this year like they did in 2011.
1. Run More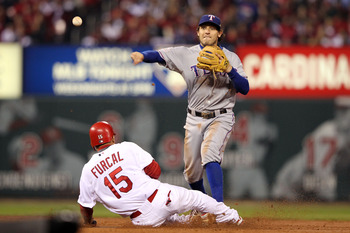 Jamie Squire/Getty Images
The Cardinals only had 57 stolen bases in 2011. That was better than only one team in Major League Baseball.
This team can't rely on the home run as much this year, especially without Albert Pujols in the lineup.
If they attempt more stolen bases, Matt Holliday, Lance Berkman and Yadier Molina won't have as many opportunities to hit into double plays in 2012—something that routinely kills the Cardinals.
Keep Reading

St Louis Cardinals: Like this team?